---
| | |
| --- | --- |
| Wednesday, September 3, 2014 7:01 AM | |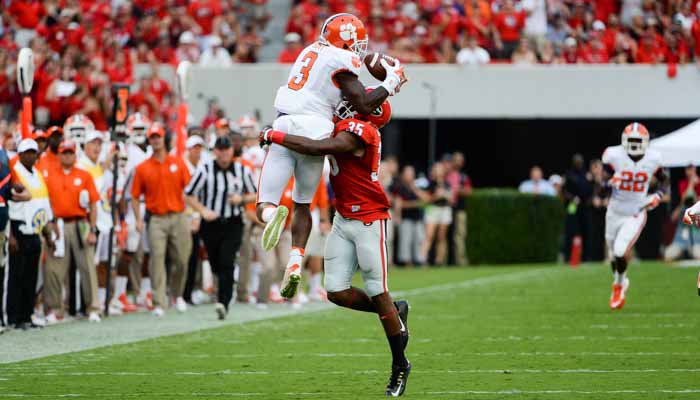 CLEMSON – During the lull between the third and fourth quarters of Saturday's season opener at Georgia, the Clemson offense found itself struggling to move the chains and get a first down, and the pressure was evident in the body language of the offensive players.
Except for one.
Freshman wide receiver Tay Scott (he prefers Tay over Artavis) was having a moment, dancing a little dance in time to the music blaring over the loudspeakers, a young player caught up in the fun of the game and not the pressure of the moment.
Scott told TigerNet this week that football is supposed to be fun, and he treats it that way. Even if there are 92,000 hostile fans in the crowd.
"The first experience was good for me to just have fun and embrace it," Scott said Monday. "Coach always talks about it being just football and having fun. I found my own comfort zone and just went out there did what I normally do. To be honest, I was so focused on the game that when I went out there I didn't even think about how many people were out there. I just went out there and played my game. Everything happens for a reason. When I went out there, I felt comfortable and just played my game."
Scott caught two passes for 41 yards in his collegiate debut, including a nifty 35-yarder over a Georgia defender in the second quarter.
"It was probably the best catch I've ever had," Scott said of the reception. "I just knew when Cole threw it that I had to make a play. I just did what I had to do."
Scott said that being able to play in a game of that magnitude was something he has been dreaming of doing since he started the sport.
"When I first walked out there, I was just like, 'Here it is. This is what I've been waiting for and this is my moment to show what I can do.' I was just so focused on that moment that I didn't really think about anything else but just doing what I had to do when I got called on," he said. "If you get so caught up on the fans being out there, that will just mess up your whole game. You're not there to please them. You're out there to play your game and do what you have to do to play. That didn't have a big factor on me at all. When the coach told me they were depending on me, that was my focus going in there."
Scott currently backs up senior Adam Humphries

Adam Humphries
Sr. Wide Receiver
#13 5-11, 193
Spartanburg, SC
View Full Profile , and said that he is content – for now – learning from Humphries.
"Me and Adam, we just go play. I've learned so much stuff from Adam," he said. "He teaches me. Me playing behind him isn't a big deal. I don't get upset about it because I've learned so much from him being a senior. I follow in his footsteps and look at what he does because it kind of helps my game out. When he leaves, when they need me I know that I'll feel more comfortable because I've been watching Adam to see what he's done before. When I go out there, I'm just calm and collected."
Clemson's freshman class includes quarterback Deshaun Watson

Deshaun Watson
Fr. Quarterback
#4 6-3, 204
Gainesville, GA
View Full Profile and fellow receivers Kyrin Priester

Kyrin Priester
Fr. Wide Receiver
#17 6-1, 186
Lilburn, GA
View Full Profile and Demarre Kitt

Demarre Kitt
Fr. Wide Receiver
#8 6-1, 183
Tyrone, GA
View Full Profile , and Scott said he thinks this group will accomplish big things before their time at Clemson has come to an end.
"In the near future, we're going to do something special. We've got people coming in and we're going to do what we have to do," Scott said. "Right now, if it's not our chance, that's just how it is. It's how our offense is. When the near future comes, we know we're going to develop and just be ball players so when our time is called we can take our opportunity and run with it."
In the meantime, the articulate and well-spoken freshman said he is going to wait his turn.
"It's all a matter of time. It is what it is. Me waiting may be the best thing for me," he said. "When I get my opportunity, I'm going to take it. If it calls for me to wait right now, then I'll wait. When I get in, I'm going to make my opportunity that much better."