| | |
| --- | --- |
| Visitor's Guide To Clemson/A&M Game | |
---
| | |
| --- | --- |
| 2005-08-31 00:55:19.0 | |
The 2005 college football season will kick off in Clemson in less than a week. Clemson fans will descend back into Clemson to watch their beloved Tigers play the Texas A&M Aggies. Several thousand Aggie fans will also make their way to Clemson, most for their first time ever.


I had such a wonderful trip to College Station last year (Aggie Fans Deserve Payback) that I wanted to do my small part in helping Aggie fans (or new Clemson fans) in planning their weekend.


This list is not to suggest that this is all that can be done on game weekends in the Clemson area, as there are many other options to fit your particular needs. I simply tried to condense it as much as possible so those traveling into Clemson this week could have a guide to all of the festivities taking place throughout the weekend.


For Clemson fans wanting to track the travels of Aggie fans, visit Campuscrawl.net to keep an eye on some of our Aggie friends as they make their journey via RV to Clemson.


Before we get started with things to do in Clemson, the links below will help you get around the Clemson University Campus. Print them and bring them with you on your trip.


University Map

Football Parking Map

Gate Access Information


Friday


If you are fortunate enough to get into the Clemson area late Thursday or early Friday, there are a multitude of things that can keep you busy. If golf is your fancy, The Walker Course is a great place to play. The Walker Course is located on Clemson's campus lining Lake Hartwell. The signature hole, #17, has a green with surrounding bunkers that looks like a Tiger Paw. Boscobel Golf Course is the next closest golf course to Clemson, but the upstate has dozens of golf courses convenient to just about anywhere you may be staying.


Speaking of Lake Hartwell, there is plenty of access to this beautiful lake in the Clemson and Anderson areas that offer boat and Jet Ski rentals. If you just want to catch some rays and swim, Y Beach on Clemson's campus is free and has a nice swimming area. Y Beach is also where Texas A&M fans traveling in RV's will be located, so a nice crowd will be around.


If you are in the mood to travel to surrounding areas on Friday, Table Rock State Park in the Great Smokey Mountains is a short drive from Clemson and offers spectacular views. The Chattooga River is also a minimal distance away, offering white water rafting and kayaking on one of the best white water rivers in the south.


Closer to Clemson, Isaqueena Falls and Stumphouse Tunnel Park are great adventures for outdoorsmen of all ages.


If shopping is your thing, the Old Square in Pendleton (just 5 minutes from Clemson) is a great place to shop for unique items and to grab a bite to eat.


On Clemson's campus, there are several items of interest that you may want to take in on Friday. The Military Heritage Plaza is located at Tillman Hall at the epicenter of the Clemson campus. The John C. Calhoun Mansion is located next door to Tillman, offering a unique history lesson on the birth of Clemson College and our military heritage. Jervey Athletic Center serves as the Clemson Athletics museum until the new West Zone is completed.


Cemetery Hill is located behind the South Stands of Death Valley and is a must see for history buffs or those curious as to some of the famous names buried overlooking Death Valley.


Clemson is famous for ice cream and blue cheese dressing at the MicroCreamery, making this a must do for a quick snack if you are touring campus. And it is hard to come to Clemson without eating at the infamous Mac's burger joint just outside of campus, where grease and Clemson football lore are served up daily.


Friday Evening


The first game of the year offers A&M fans the opportunity to watch the traditional First Friday Parade down Highway 93 in Clemson. If you want to recline on a blanket with a cooler and watch the parade, Bowman Field offers a perfect vantage point of the parade and all the festivities. If you want to eat and drink at a restaurant during the parade, the Mellow Mushroom has outdoor seating that will directly overlook the parade route.


Immediately following the First Friday Parade, a soccer match between Clemson and South Carolina will take place at Riggs Field. Both soccer programs are historically excellent, and you will get a first hand look at the intense rivalry between the two schools…even in a soccer match!




Nighttime in Clemson on a game weekend is outstanding. College Avenue is lined with bars and clubs, most notably Tiger Town Tavern and TD's. Clemson fans are eager to repay Aggie fans for their hospitality last year, so make sure you stop in and let a Tiger fan buy you a drink.


The Esso Club, another Clemson tradition, is located just off of College Avenue close to Death Valley. While many Tiger fans visit the Esso Club on game days, Friday nights at The Esso Club are also jammed full of football fans, and sometimes some famous people.


Saturday Pre Game


The first thing you need to know about tailgating at Clemson is that fans arrive early. Really early. Even though kickoff is not until 8:00 p.m., don't be surprised to see the parking lots begin to fill around noon. Most parking at Clemson is reserved for IPTAY members. Visitors will park in Lot 13 or the Y Beach area. Both will fill to capacity long before kickoff, so do not try to roll into Clemson at 6:00 p.m. expecting to park anywhere near Death Valley.

The other unique thing about tailgating at Clemson is that the parking lots are huge. If you want to mingle with fans or simply walk through parking lots, you will have plenty of massive area lots to choose from. See the above linked parking map for Clemson home games to get an idea of the layout.


On your way into Clemson, stop at any of the boiled peanut stands that line Highway 76. If you have never had a boiled peanut, this is a necessary addition to your tailgate food tray.


If you want to shop or browse on game day, the various shops lining College Avenue (TigerTown Graphics, Judge Keller's and Mr. Knickerbockers are the traditional shops) will be filled with Clemson fans purchasing memorabilia. This is also the place where you can purchase the Military Appreciation Day t-shirts for the Clemson/A&M game. Note that there are maroon versions of this shirt for the Aggie fans.


There are two back to back pre-game radio shows that broadcast on WCCP 104.9 FM from just outside of Littlejohn Coliseum. The local pre-game show will air live starting at 2:00 p.m. followed immediately by the network pre-game show at 5:00 p.m. The broadcast area is a great meeting place where fans mingle, tailgate, and listen to the analysis of the game piped out on speakers across the "Lawn at Littlejohn". If you are not coming to Clemson for the game, you can listen to both shows via the Internet at www.wccpfm.com.


As game time draws near, take a quick walk up to the Amphitheater where Tiger Band will hold a pre game concert that is free to the public in this outdoor venue. The performance will start at 6:30 p.m. and upon its end, Tiger Band will make its traditional march into Death Valley. Thousands of Clemson fans will watch the pre-game concert and then follow Tiger Band into Death Valley.


Tiger Band will lead the processional to Death Valley, followed by the City of Greenville Pipe and Drum Band. Behind those two groups will be a rider-less horse to symbolize those who given their lives in battle for our country.

After the horse, any member of the Armed Services (current or past) is encouraged to join the processional (and this would include Aggie Veterans as well). Those wishing to walk in this special section of the processional should gather at the corner of Fort Hill and Klugh Avenue before 6:45 and follow behind Tiger Band for the walk to Death Valley.



Air Force and Army Cadets will be the next to last members of the processional and will be followed by Clemson fans. This is a great tradition, and the view coming down the hill towards Death Valley is simply amazing.

Game Time

The first advice visitors can get when coming into the stadium is to arrive early, especially with all of the construction going on inside of Death Valley. The best advice is to follow Tiger Band into the stadium, which will put you inside the gates about one hour prior to kickoff. This will give you a chance to use the restroom, grab a bite to eat, take a walk around the stadium, and be in your seat by 7:40.

At approximately 7:45, Tiger Band will commence the pre-game festivities inside of Death Valley with the traditional spelling of "Tigers" to the tune of Tiger Rag. Dotting the "I" will be retired Colonel Newt Kyndall (Air Force). Colonel Kyndall was the lead navigator of the squadron 60 years ago this Friday that flew over the USS Missouri during the official Japanese surrender in World War II.

After the National Anthem, four F-16's from the South Carolina Army National Guard will complete a fly over of Death Valley from east to west towards the Clemson sunset.

At approximately 7:55, the Clemson team and coaches will enter their buses from behind the West Endzone (the area under construction) to take the short bus trip to the other side of the stadium and the famous "Hill". As the busses round the corner and come into view, Tiger Band will strike up the traditional Orange Bowl which will bring the stadium to a frenzy.

As Tiger Band sets up formation towards the east end of the stadium, "Orange Bowl" will conclude followed by a four beat cadence. The cannon will fire and the Tigers will rub Howard's Rock and come storming down "The Hill" to the music of "Tiger Rag". In 1986, CBS commentator Brent Musburger coined this entrance "The Most Exciting 25 Seconds in College Football" and it is truly one of a kind. As "Tiger Rag" comes to a close, the traditional spelling of C-L-E-M-S-O-N by the crowd will be deafening.


Another unique addition to the pre-game to honor our military will be a video coin toss live from Baghdad. Several Clemson grads serving in Iraq will join several A&M grads to do a live coin toss from Baghdad that will be broadcast over the new video screen inside of Death Valley.

With ten minutes to go in the 2nd quarter, all military veterans and current service members are encouraged to gather at Gate 1 and line up behind their service flag. During halftime, these military veterans and service members will come down the hill in the east endzone (just like the football team earlier in the day) to be recognized. Families of fallen soldiers will be recognized followed by a 21 gun salute from the Clemson practice fields by three 75 mm Howitzer cannons. Halftime will conclude with the playing of "Taps" as one last recognition of our fallen soldiers.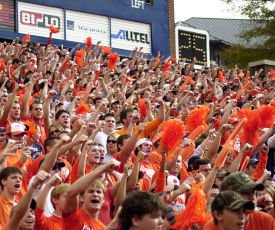 Post Game

After the game in Clemson, fans are allowed onto the field. Win or lose, this is a great opportunity to mingle with the players and to take some fantastic pictures of the massive stands at Death Valley. Another thing you will surly want to do is walk over to "The Hill" area and rub Howard's Rock on your way out of the stadium. But only if you are going to give 110%. Coach Frank Howard would expect nothing less!

You will certainly find that the entire game day experience at Clemson is unique and wonderful all in one breath. Not arriving early and getting stuck in traffic is about the only way to be miserable on a Clemson game day as far as logistics go.

The outcome of the game, at least from our perspective as Clemson fans, is another matter! Hopefully, we will not only repay the hospitality that Aggie fans gave us last year in College Station, but we can also repay on the field with a Tiger victory!

See you in Clemson and take a deep breath…because football is here!
Other Articles by Scott Rhymer