| | |
| --- | --- |
| Visit with Swinney opens up 4-star defensive end's recruitment | |
---
| | |
| --- | --- |
| Tuesday, February 25, 2014 9:50 AM | |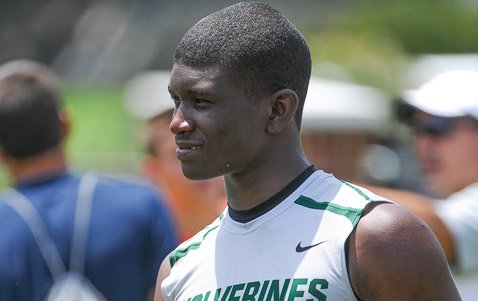 Clemson's closer is now a starter.
Clemson head coach Dabo Swinney

Dabo Swinney
Head Coach
View Full Profile , known in recruiting circles for closing the deal with recruits, opened up the Tigers chances with Michael Barnett

Michael Barnett
Defensive End
6-4, 250
Ridgeville, SC
ESPN:


View Full Profile with a visit to prize recruit's school in January.
The Ridgeville (SC) Woodland 4-star defensive end had been committed to Virginia Tech since late November. However a visit from Swinney was all it took to show Barnett that Clemson was a serious contender.
Barnett told TigerNet Monday night that the fact that Clemson's head coach took time out of his busy schedule to visit him really made a difference.
"Dabo is a pretty cool guy. I mean, he is Dabo Swinney, but he doesn't act like this famous coach," Barnett said. "He is a real family guy. He came by my school (on January 17th) and people were wanting to talk to him and he was just out there talking to people. I am not sure he does that for many people, but it meant a lot to me that he came by my school and did that."
Swinney's message to the 6-4, 245-pound prospect? Stay in state and sign with Clemson for a great chance at early playing time.
"Coach Swinney told me that he really wants me to come to Clemson," Barnett said. "He doesn't want me to leave the state. He said he has some senior defensive linemen, and by the time I get there I might have a chance to compete for a starting spot. I know there are no guaranteed spots in college, and you have to earn a spot, but I will have a chance to earn that starting spot almost immediately."
It's not just the opportunity for early playing time that appeals to Barnett, it's also a mixture of atmosphere at Clemson as well as the new major in sports journalism.
"I like Clemson because of the family atmosphere," he said. "Everything is close together, and you don't have to go too far for anything. Everybody at the school bleeds orange and white, and that is cool. I also want to major in broadcast journalism. I could talk about sports all day long. I talk about sports at school so much they get tired of me. I thought, why not get a job where you can talk about sports all the time? Clemson has a good program."
Since de-committing from Virginia Tech earlier this year, Barnett's recruitment has really taken off with offers from Alabama and South Carolina, adding to an already impressive list.
"Things are going pretty good with recruiting," Barnett said. "South Carolina and Alabama have offered me recently. Coach Sands from South Carolina made the offer. It's not too late for them. I really like the school. They are pretty good and I don't have anything bad to say about them."
Despite the late additions, there are three schools that stand out.
"My top three – the schools that are pretty high right now – are Clemson, Virginia Tech and N.C. State. Those are three that are the highest right now," he said.
However, after pulling the trigger so early and committing to the Hokies and not being completely confident in his decision, Barnett won't make the same mistake twice.
"I am just gonna weigh everything out and look at all of the schools and see what I like about them, make sure they have my major and stuff, and once I do that I will make a decision."
Barnett hopes to make a return trip to Clemson during either spring practice or over the summer..