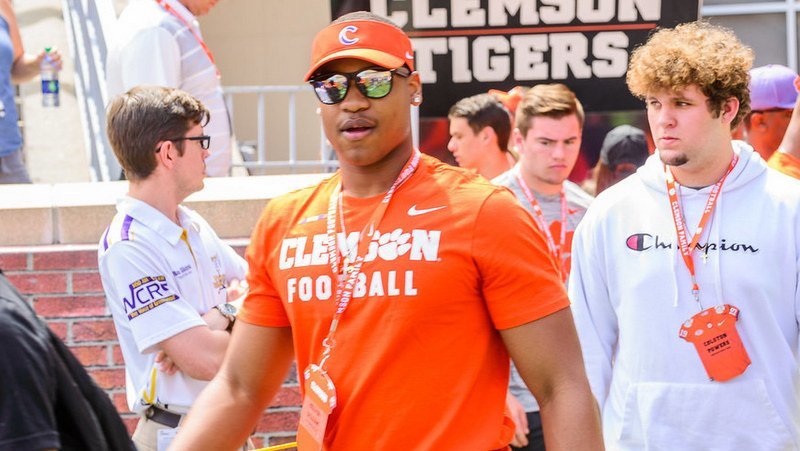 | | |
| --- | --- |
| Virginia defensive end understands how Clemson wins championships | |
---
The offers are starting to pour in for 2021 defensive end Kelvin Gilliam, Jr., of Highland Spring (VA), and he's hopeful a Clemson offer will soon follow, especially now that he knows how Clemson wins championships.
Gilliam (6-3, 230) has offers from Michigan, Michigan St., Virginia Tech, and West Virginia among others, but has recently made an impression on the spring camp circuit. He took time off from the camps to visit Clemson for the spring game and came away impressed with the coaches and the crowd.
"Really, the spring game itself is what stood out," Gilliam said. "I got the chance to look at what commits were, and what recruits were there, and I got the chance to talk to the coaches. I got the chance to sit down with coach Mike Reed and coach Todd Bates. It was a great experience.
"If the people are showing up for a spring game like this, imagine what it would be like for a real game. But I was just amazed by how many people were there just for a spring game. And how much support the Clemson community has for them."
Gilliam said his increased recruited visibility allows him the chance to compare and contrast the different schools.
"The thing that is the most important part about that is the chance to see how all the schools interact with each other," he said. "You see how different schools are and getting to meet the different coaches and meeting new people. You get to see who keeps it real."
One Clemson coach made quite the impression, letting Gilliam know that recruited players take priority in the Clemson system.
"I got the chance to talk to Coach DeAndre McDaniel. He told me how at Clemson they don't take a lot of transfers or JUCO players," Gilliam said. "He says they feel like it's not fair to the guys who commit there and then some JUCO guy comes in. It's something they don't tolerate. He said Clemson is just a different type of program and they want to develop their own guys, and that's how they win all these championships."
Gilliam said he thinks Clemson will make an offer.
"Oh, yes. I talked to a Clemson coach right after I got the Michigan offer and he said that Trevor Lawrence didn't get his Clemson offer until his 11th-grade year, because they don't really offer sophomores," he said. "He said to be patient and trust the process."
A return visit is in the works.
"I definitely want to make it back. Probably during the summertime," Gilliam said. "I will visit for camp, and then I want to come back during the season for just a regular visit."

Upgrade Your Account
Unlock premium boards and exclusive features (e.g. ad-free) by upgrading your account today.
Upgrade Now