| | |
| --- | --- |
| Vic Beasley knows sack record not possible without Grady Jarrett | |
---
| | |
| --- | --- |
| Friday, October 10, 2014 8:01 PM | |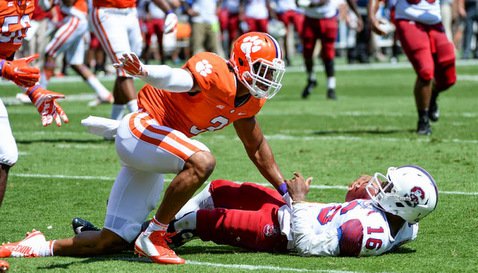 Vic Beasley

Vic Beasley
RS Sr. Defensive End
#3 6-2, 236
Adairsville, GA
View Full Profile has a chance to set one of Clemson's most cherished records Saturday afternoon, and if he blows by a hapless left tackle and sacks one of Louisville's quarterbacks, he will be the sole owner of Clemson's all-time sack record and he said this week that he already has a special celebration planned.
Watching from a short distance away will be defensive tackle Grady Jarrett

Grady Jarrett
Sr. Defensive Tackle
#50 6-1, 290
Conyers, GA
View Full Profile , who can take satisfaction in the fact that Beasley's record is in large part because of his efforts in the interior of Clemson's defensive line. Jarrett likely won't celebrate, leaving Beasley alone with his moment, but he said earlier this week that he takes pride in the fact he was a part of something special even if most fans don't understand the role he played.
"There isn't an answer for his talent. It's God-given. It's as simple as that," Jarrett said earlier this week. "It will be exciting to say that I played alongside him the entire time he was racking up all of those sacks, and it will be a very special moment and I am looking forward to it this Saturday. It's all good. People who watch, they understand. But Vic just has a special talent. It's really hard to explain, but it's a credit to him and his athletic ability. I just try and do my job. But Vic is just a special talent. He hasn't even had two full years of starting yet. This is a special accomplishment that he is coming up on. "
Beasley has 28 sacks – tying him with Michael Dean Perry and the late Gaines Adams

Gaines Adams
Defensive End
# 6-5, 260
Greenwood, SC
View Full Profile for tops on the Clemson list – but he admitted earlier this week that having a player like Grady Jarrett in the middle of the line has helped him achieve the record.
"He means a lot. He brings so much to the table," Beasley said of Jarrett. "He's disruptive in the backfield, and it really helps me a lot in my pass rush because they tend to focus on him or they focus on Corey (Crawford) and it opens up the door for me. Just like when I came into this year, people tried to double-team me and it opened the door for Grady and the others. It's beneficial to me and those other guys."
Jarrett said that with so many dominant players on the Tigers' line, offenses have to pick and choose who to double-team.
"When you get guys like Vic, myself and DeShawn (Williams) and Corey, maybe if we were on a team by ourselves that would demand a double-team," Jarrett said. "But you never who is going to get the double-team. They might take the tackle and the running back and chip Vic, or double the 3-technique inside But when you have athletic guys on the inside who know how to rush and understand pass rush lanes, it makes the offense pick their poison. So that has been a big help for all of us across the line. "
Beasley said he knew going into the season that Clemson's defensive front had the chance to be special.
"I knew we had everything we needed at every position," Beasley said. "We had the most experience in the country and we've played a lot of snaps, and it has paid off for us this year."
It's been a special season already, one that will be even more special once Beasley breaks the sack record. Beasley will have his moment to celebrate, but he has already tipped his hat in respect to one of the players that helped him get there.
"If you understand the game of football, you understand how dominant Grady is," Beasley said. "He has done that all year. If you understand football and you understand how that goes, you understand that Grady is one of the best players on the defensive line."