| | |
| --- | --- |
| Vic Beasley evokes visions of Babe Ruth, calls his shot on draft night | |
---
| | |
| --- | --- |
| Thursday, April 30, 2015 10:42 PM | |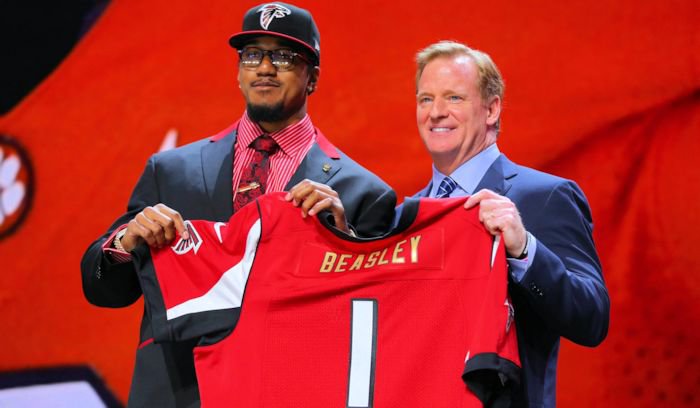 Former Clemson defensive end Vic Beasley

Vic Beasley
Defensive End (2010 - 2014)
#3 6-2, 236
Adairsville, GA
View Full Profile evoked visions of Babe Ruth Thursday night, "calling his shot" on the team that would eventually draft him.
Beasley was selected by the Atlanta Falcons with the eighth overall pick in the NFL Draft on Thursday, the third consecutive year the Tigers have had a first round selection. The Adairsville, Ga., native is Clemson's all-time sacks leader, and he showed up in Chicago for the draft wearing a suit that featured Falcons' colors.
Clemson head coach Dabo Swinney

Dabo Swinney
Head Coach
View Full Profile , defensive coordinator Brent Venables

Brent Venables
Def. Coordinator / Linebackers
View Full Profile and defensive ends coach Marion Hobby

Marion Hobby
Co-DC / Defensive Ends
View Full Profile were in Chicago in support of Beasley, and Swinney said that Beasley called his shot in going to the Falcons.
"Vic called his shot. He is the Babe Ruth of the draft, and come to think of it Ruth called his shot in Chicago (in the 1932 World Series)," Swinney told the school's website. "When I saw him tonight, he had a white and red suit on. I asked him about wearing those colors and he said they are the colors of the Atlanta Falcons. That is where he wanted to go and where he thought he would go."
Beasley said he knew he would wind up as a Falcon, saying, "I knew there was a high chance that they would pick me. It means a lot. It's right down the road from where I stay. I'm just ready to get down there and play ball in the Georgia Dome."
Beasley joins new head coach Dan Quinn, the architect of a Seattle Seahawk defense that helped lead the team to two consecutive Super Bowls. Quinn also coached Seahawk linebacker Bruce Irvin, a player that Beasley has been compared to.
"I think a lot of him. I think he did a good job with Bruce Irvin in Seattle and they are going to use me the same way," Beasley said of working with Quinn. "When I worked out with him he went over a couple of styles. He just compared me to Bruce Irvin. They wanted to use me in a similar position and I think I fit the role for it."
Falcons General Manager Thomas Dimitroff said his team had Beasley targeted from the beginning.
"We're obviously really excited to have Vic join the Falcons," Dimitroff said. "What he adds to the team is athleticism and ability to get up and around the corner. We were very fired up to have him on the board when we were picking. There were a number of players on the board of interest. We were focused on Vic from the very beginning. We projected that he might be there between six and eight. We were fortunate that he was there at eight for us and we didn't have to get antsy and jump up a pick or two or three. The fact that we got Vic Beasley at eight as a pass rusher that we think he can be is something that we think is very much a positive for us."
Quinn said Beasley was the perfect fit for a team trying to bolster a weak pass rush.
"For us, adding some more speed to the group. We couldn't be more fired up to have him jump right in and be part of the group," Quinn said. "What we're looking for is what the players can do and what they can do best, opposed to what they can't do. One thing we do know is the speed and the athleticism to get after the quarterback coming of the edge. That's what got us the most fired up.
"He will be one of the guys that will play into that [LEO] spot. The versatility from our LEO to our SAM linebacker and the way we'll try to attack. There will be a number of guys that can get into that and we're thrilled that he's going to be a part of it. When a guy has their world squared away off the field and you know it right away. I think those were the things that initially impressed Thomas and myself when we had a chance to visit with him in Indianapolis and when we went to Clemson for the visit."
Beasley said he will do whatever it takes to repay the Falcons' trust, and then called another shot in saying he thinks he can get to double-digit sacks next season.
"A loyal guy. Hard working. A determined guy. A double-digit sack guy," Beasley said when asked what the Falcons were getting. "A great team leader. I guess we'll see at the next level. The Falcons had enough faith in me to draft me at number eight. Obviously, they can think I play the run. Double digit sacks - I'm a double-digit sack guy. I think I'm going to be able to do that my first year."