| | |
| --- | --- |
| Vic Beasley: NFL Combine success fueled by...peanut butter? | |
---
| | |
| --- | --- |
| Sunday, February 22, 2015 4:44 PM | |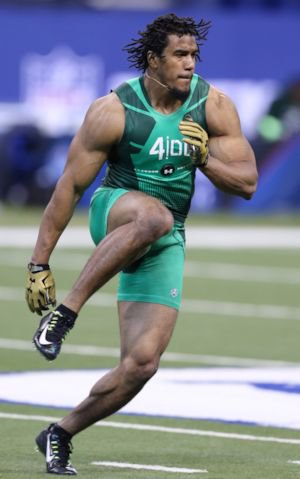 Vic Beasley

Vic Beasley
RS Sr. Defensive End
#3 6-2, 236
Adairsville, GA
View Full Profile has all of those attributes, along with a freakish athletic ability and …….peanut butter.

Beasley showed up at the NFL Scouting Combine at Indianapolis' Lucas Oil Stadium this week hoping to show NFL executives that he has the speed, power and size to be worthy of a first round draft choice. Beasley has shown all of that and more, topping off a tremendous week with a head-turning 40-yard dash Sunday morning.

Beasley started off the combine with a splash, weighing in at 246 pounds. He continued to impress by doing 35 reps (of 225 pounds) Saturday, which was tops in his position group. Beasley then went out on Sunday and produced a 4.66 on his first 40 attempt. On his second, he ran a 4.53 – in case you didn't read that right the first time he ran a FOUR FIVE THREE.

Beasley was faster than almost half of the wide receivers who ran the 40 this week, and his time matches Jadeveon Clowney's 40 time from last year's Combine. Not content to just to show off his speed, Beasley continued his morning with a 41-inch vertical jump and a 10'10 broad jump. Only one player in the last 10 combines has sub-4.55, 35+ reps and that was linebacker Terna Nande in 2006.

If you're a gamer, Beasley's NFL Madden16 early projections are as follows: 88 SPD & 89 ACC. Yikes.

So what was the secret to Beasley's success at the combine? Beasley traveled to Boca Raton, FL, following Clemson's win over Oklahoma in the Russell Athletic Bowl and began to work with Clemson graduate Tony Villani at XPE Sports.

Villani told TigerNet Sunday that Beasley had to accomplish a lot in a small amount of time.

"He came in at 233 pounds and running, quite honestly, a 4.6 or 4.7 40-yard dash. So we knew we had to put 10 or 15 pounds on him and get him a couple of tenths faster in a short time," Villani said. "When you have to do that, you almost have to rebuild him from the ground up. But he has freakish athletic ability and then you have to fine-tune everything he does so he can use it on one day at one time. The whole sequence of a week's setup that he worked on was where everything he worked one set up the next drill and the next event. He just soaked everything up and a lot of the credit goes to him for letting everything soak into him."

How did Beasley put on the extra 14 pounds without gaining any fat? Peanut butter.

"I am not sure that Vic can even gain any fat. I think Vic's secret was peanut butter," Villani said. ."He likes peanut butter and he put peanut butter of anything and everything. He put peanut butter on pancakes, he put peanut butter on bread, he put peanut butter on Rice Krispie treats - he really put it on everything. And then we had to make sure - because these guys don't like to eat breakfast - we made them eat all morning around their workouts which they aren't used to doing. It was just getting him to eat more consistently and making sure he was getting calories. There really wasn't any secret to it."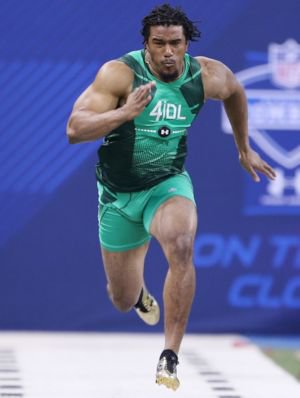 Villani said that nothing Beasley accomplished came as any sort of surprise.
"Nothing surprised me because the goals we set for him were almost exactly what he hit," he said. "When you can come to the combine and hit your goals then it's a good day. People have to understand - this is day four and he has probably averaged about four hours of sleep a night the last four nights. So you set your goals and you know that you can hit them in training. We then bring up our medical staff and rent a room and bring our equipment up here and train him while he's here so he's not failing on that fourth day when he is so tired."
After having worked with some of the most talented athletes on the planet, Villani didn't have any problem saying which ones come to mind when he sees Beasley's athletic ability.
"He is the best definition of the defensive end-outside linebacker type," Villani said. "The best ones that I've trained are Jevon Kearse, Osi Umenyiora and Takeo Spikes and then I would throw Jerod Mayo in there. He is as freakish as Jevon Kearse. So he is up there. He is as freakish as it gets, and then his personal outlook and the way he looks at life and the mental approach he takes to everything helps him with training."
*In case you missed it, Beasley's 40-time Sunday was faster than either Cam Newton or Colin Kaepernick. You can see that here:
Vic Beasley vs. @CameronNewton vs. @Kaepernick7

40-Yard Faceoff.

Yeah. He's THAT fast.

WATCH http://t.co/oVorudubWQ pic.twitter.com/e02gLjOhOI

— NFL (@nfl) February 22, 2015
40-Yard Faceoff: Defensive Blurs Edition

@clownejd vs. Vic Beasley vs. @ClayMatthews52

WATCH: http://t.co/brzKfMggHK pic.twitter.com/7AxtuEDzCd

— NFL (@nfl) February 22, 2015