| | |
| --- | --- |
| Veteran Smith likes what he sees out of young secondary | |
---
| | |
| --- | --- |
| Wednesday, March 19, 2014 7:46 PM | |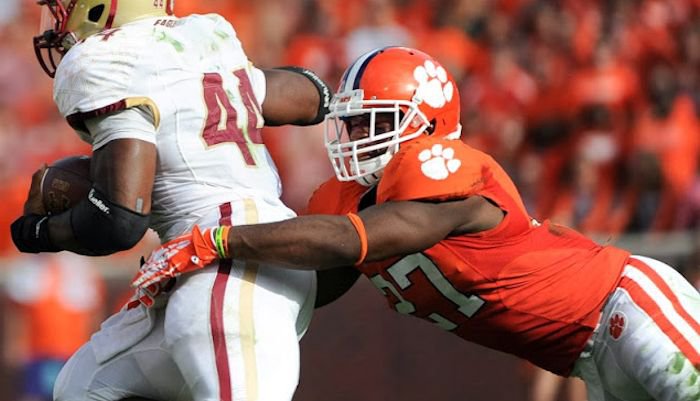 CLEMSON – The old proverb, one you've probably heard your entire life, says that 'Youth will be served.'
In the case of the 2014 Clemson secondary, that will be the case as an experienced front seven will rely on a group of younger players on the back end of the Tiger defense. Mixed in with all of that youth, however, is veteran safety Robert Smith

Robert Smith
Sr. Safety
#27 5-10, 210
St. George, SC
View Full Profile .
Smith will more than likely log his 1000th snap as a Tiger during the season opener against Georgia, and while he is looking to improve his own game this spring, he also understands that those younger players are looking for a leader and are watching every move he makes, on and off the field.
So far, Smith likes what he sees from the youngsters.
"There has been a lot of energy back there," Smith said after the start of spring practice. "We have a lot of young guys, but I feel like they are getting into it and they are competing the whole practice. I want to be more educational to the younger players, and run to the ball and make more plays."
Smith says he knows the parts of his game that need work, and he goes about his business knowing that he is setting an example.
"I have been working on that part of my game, trying to get quicker," he said. "I've been doing ladder drills, pulling the rope and the sled. Things like that. I know when the young guys are on the field, they are looking to me to set the example. I want to run to the ball every day. I am working on every aspect of my game, because I always want to get better."
Smith said the secondary has been working on the "little things" so far in camp.
"We are focused on the little things. Like running to the ball. Technique. Fundamentals," he said. "It's just the little things, and then we know the little things will lead to big things."
He also said he knows that the secondary will be expected to hold up if the defense is to be as good as expected.
"I felt like there was an expectation as soon as Coach Venables got here," he said. "We always want to be the best, and do whatever we can to be the best. We aren't going to cut corners, and we aren't going to take days off. We are going to come out here every day, focused on being the best that we can be."
Smith was asked if he would name just one player that stood out to him, and he said no.
"There are a lot of them, to be honest with you," he said. "I can't point to just one. They are all going out and working hard, and the way they are competing is great."
However, he does like what he sees out of freshman corner MacKensie Alexander

MacKensie Alexander
RS Fr. Defensive Back
#2 5-11, 185
Immokalee, FL
View Full Profile , who tried to outwork Smith every time they take the field.
"Great competitor, works hard each and every day," Smith said. "If I had to say there's one person working their butt off just as much as me, it would be Mackensie giving me a run for the money. He's out there, he's always asking questions, he wants to be the best. You can see it in him. The only thing with him is he's just got to be patient and flow into it. He wants it instantly. He wants it now. I feel like he's going to get there, as long as he keeps working."