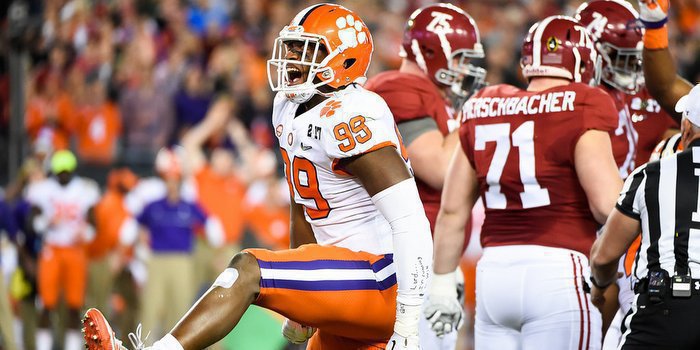 | | |
| --- | --- |
| Venables to his players: "Now, go be a war daddy" | |
---
SUNSET – Brent Venables doesn't hand out starting jobs. You want to be number one on the depth chart? You have to earn it.
Clemson's defensive coordinator sat down with the media last week at head coach Dabo Swinney's media golf outing, and he said that what happened last season doesn't matter. It's all about how you perform in August.
"You don't want to be coached hard, if you don't think you're supposed to know the playbook like everybody else, if you don't want to stay awake in the meeting, if you don't want to hustle to cover the ball, if you don't want to show up on time—you're going to be in the back of that line. Period," Venables said. "So again, it's what you do, it's what you earn, there's a lot of unknowns. We have issues like everybody, ours maybe more minimal than others—I could care less what other people's issues are. I know what ours are. I'm trying to plan accordingly and not just, 'Ah well, we got what we got.'
"That was our message to our defense. Ultimately, ya'll decide, but I'm not going to be handcuffed. I have to change the scheme, I have to change a group of players—you're not just going to be the next guy, because you're the next guy on the depth chart. You're going to earn your way, and there's nothing wrong with that. Hopefully, that's what they expect. Hopefully, they don't have their lip stuck out. Hopefully, they want to prove everybody else wrong, or for some people want to prove them right—like Austin Bryant or Clelin Ferrell or whoever is a first-round pick."
In other words, Venables is looking for the next war daddy.
"I just call it like it is. Austin Bryant has not been able to sustain staying on the field and all of the sudden he's an All-American? Is he capable? Sure, he is," Venables said. "I'm a big believer, I'm a big fan. I like him. Now, go be a war daddy, because he hasn't done that yet. To me, the war daddy—he sustains it. You got a whole season, a whole two years or whatever your career it's been. It's a fun thing to do and I get it, but I don't live in that world. I don't have my head in the sand, so I know what's out there—most of the time. My job is to make sure that both the mature and the immature players that we're in charge of keep their minds on the right thing."
Venables said the players will decide where and how much they play.
"No, you make those opportunities," Venables said. "Christian Wilkins wasn't handed anything. He came in and he earned it. Same thing with Dexter Lawrence—he just came in and he earned it. We grade everything. We grade every play in practice—all of it matters. How you answer questions in the meeting. What you do in inside drill. What you do in the team periods. What you do in the one-on-ones—it all matters. So, you're in control—nobody else.
"Are you going to live in that film room and know what you're looking at. 'Hey, I watched film today coach!' OK, who'd you watch? What schemes did you watch? Did you watch a cutup, did you watch a game—what were you looking at? Did you watch the teach tapes that we put together for you? Did you get in and walk through the bags and go through your list of movements and twists and all those types of things? Did you play fast? There's a lot that's out there."
Players with talent have to rely on more than just talent to get on the field.
"Did you get stronger in the weight room, because you're getting pushed around in the secondary? You're in a great position, but you can't make the competitive play because that mature receiver has ragged on you to make a play on the ball—but you haven't been a great finisher and that's why you haven't been a starter your whole career," he said, "You consistently lose leverage. Those are the things that we know as coaches, and now we know that if we can correct those things and improve those things then we'll have a chance to be good."

Upgrade Your Account
Unlock premium boards and exclusive features (e.g. ad-free) by upgrading your account today.
Upgrade Now