| | |
| --- | --- |
| Venables thinks Watford, Cavaliers will be a challenge through the air | |
---
| | |
| --- | --- |
| Tuesday, October 29, 2013 4:43 PM | |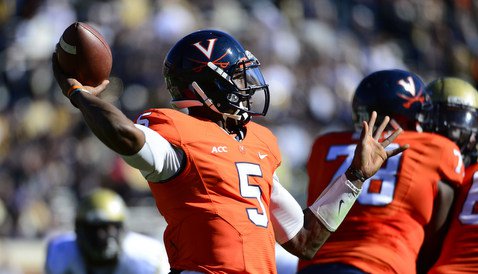 Brent Venables thinks his defense might have its hands full with a Virginia offense that has been getting better every week.
Virginia (2-6 overall, 0-4 ACC) hosts No. 8 Clemson (7-1, 5-1) at 3:30 p.m. Saturday at Scott Stadium. The Cavaliers are mired in a five-game losing streak, but the offense has been playing its best football over the last three weeks.
In a 35-25 loss to Georgia Tech last Saturday, quarterback David Watford threw for a career-high 376 yards and two touchdowns, and wide receivers Tim Smith and Darius Jennings became the first Cavaliers ever to have at least 10 receptions each in the same game.
Smith caught 10 passes for 151 yards, both career highs. Jennings had a career-best 13 receptions for 199 yards and two TDs. For the season, Smith has 23 catches for a team-best 350 yards and one TD. Jennings leads Virginia's wideouts with 28 receptions (for 247 yards) and three touchdowns.
=
Watford's production has steadily increased in his first season as a starter. In each of his past three games, he's passed for at least 263 yards. Against Georgia Tech, he set UVa records for attempts (61) and completions (43).
The Cavaliers have also had 11 different players with a rushing attempt and 18 different players have caught a pass, leading Clemson's defensive coordinator to say Tuesday that stopping the Cavaliers will be a challenge.
"They do a lot of different things and get a lot of guys involved. That's for sure," Venables said Tuesday in the WestZone. "Their quarterback does a great job in spreading the ball around, they use a variety of personnel groups and do a lot out of those groupings. Our guys have to do a good job with base concepts. They do a great job of getting rid of the ball quickly. Their quarterback had a terrific day last week. They have huge tight ends, big body types, and their wideouts stepped up and had a productive day against a good Georgia Tech defense. They moved the ball at will. They've moved it well on most everybody they've played. We've got our own issues in coverage and that's what they do really well right now; throw the ball."
The Cavaliers haven't been afraid to throw the football this season, and considering that defending the pass hasn't exactly been Clemson's defensive strength, Venables figures that Virginia won't hesitate to go to the air against his defense.
"They're going to be licking their chops. They're not watching all the good things we do," he said. "They'll be looking for the things we don't do well. This team will exploit you. We've got some things we have to improve on."
Watford knows Clemson quarterback Tajh Boyd, and Venables said he sees comparisons between the two.
"They're different systems. Both quality players. He throws with great accuracy," Venables said. "He doesn't get balls batted. He has a high release. He's well coached. He's from Virginia and Tajh is as well. He's got poise in the pocket. He executes well."
Other notes
On the defense being better this season than it was a year ago
"I hoped it would happen. I think it's just more experienced. We've got better depth, more knowledge and our corners have improved. That's allowed us to do more things. We don't have to cover up for them. We've consistently gotten pressure on the quarterback. We've been more sound in what we're doing. We're still a work in progress. This stretch run here - that's what good teams do. They continue to get better. And we need to. For me personally the way we finished last week is not a sign of maturity or arrival. We had nine or ten possessions where we held them to six points off turnovers and they didn't do a whole lot of anything. You're pleased with that, but to finish with your guard down and sloppy play was very disappointing. So it's a little bit of a concern. We'll see if we can fix some things we didn't do well early in the game and at the end of the game. We need to continue to make improvement. Lot of football still to be played."
On opponents having success late in games after Clemson has a lead
"If you're a competitor, you don't like that at all. If the same calls are working 50 minutes of the game and then all of a sudden they don't, what happens? They didn't get new players. Things break down. And it takes just one guy here or there. It's not indicative of everyone. It doesn't take much. We made some mental errors and that led to both touchdown throws. If one guy does what he should be doing, we have a chance to defend those plays better. You hate that. Your job is to keep people out of the end zone. For me personally, it takes some shine off of it. It eats at you and hopefully it eats at our guys."
On if the scheme is the problem late in games
"I think you do what you've been doing. When the clock is their enemy, you're foolish not to manage the game the right way. You want to go zero blitz and it sounds good. It sounds good. Then they run a jailbreak screen on you and they pipe you. That's not playing smart. It goes both ways. You want it somewhere in between. You have to manage the game the right way but I don't like it at the expense of people moving the ball on us either."
On what needs to be cleaned up
"I wouldn't say it's one thing. I really wouldn't. The first late TD drive, we had a call on and all of a sudden we were playing off. We hadn't done that all game. All of a sudden we give up a 12, 14, 15-yard completion. And now they're getting into a rhythm. I'm like, 'We've annihilated that guy all day and now you're going to play off?' That call, nobody said back up. You hate that. You can't play with a don't give up the big play attitude. It's not like it's the last play of the half. There's still a lot of ball to be played. I've lost a game with a 14-point lead in a minute and a half. Everybody plays not to lose and puts their guard down, then they try to do too much, then you don't do anything right and you lose the game.
"Not to talk in circles here, but you have to play with the same type of intensity and focus and toughness. I mean, we had two guys trying to strip the ball on a play. The first guy, the first point of attack, he's trying to strip the ball. And we look like a bunch of chumps out there and their guy is wiggling his way forward for another six or seven yards. Then another one of our guys comes along and he's trying to strip the ball, too. Next thing you know we have two guys laying on the ground and their guy is still inching forward. That's bad football. And those are the images that I had immediately after the game and still have now. What are we doing here? This isn't right."
Jayron Kearse
"Good and bad. He made a huge play in the game. Huge play. You can't really put a value on it. They had some momentum and they punch that in, it goes without saying that it's points and it's huge. It was a big play. He's still a young guy."
Is Kearse closing the gap on Travis Blanks?
"I think we have a couple of guys there we have to keep playing. Travis is far more consistent. Far more. We go back to a year ago and if you can just have people do what they're supposed to do consistently, just execute the call, then you have a chance to play a good defense and defend what an offense is doing. That's what we want."