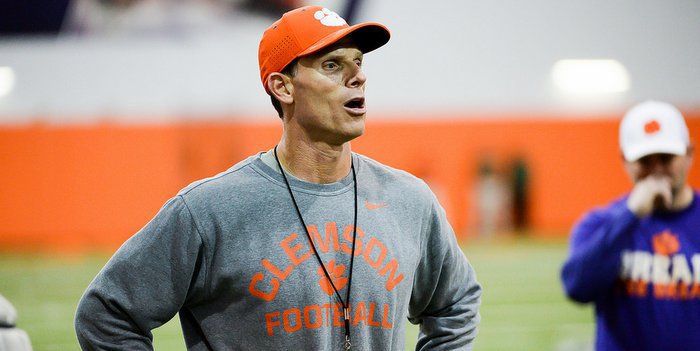 | | |
| --- | --- |
| Venables the quarterback ready for Auburn's kitchen sink | |
---
CLEMSON – Brent Venables and the Clemson defense are taking aim at Auburn in practice this week, with Venables playing the part of scout team quarterback and demanding perfection from his group.
Venables spoke with the media following Tuesday's practice, and midway through the interview a group of players rode by screaming, "Reload!! Reload!"
Venables laughed and said reload doesn't mean the defense is merely reloading after the loss of so many starters, but indicated it's an expression he uses when plays aren't run to his liking.
"Reload. It means we did it again because we started a play and did it again because it wasn't like it needed to be," Venables said as the players drowned out his answer.
He has reason to expect perfection - Clemson has played Auburn three times since 2010, winning two of the three while giving up an average of 22.67 points and 411 yards per game. The biggest question surrounding Auburn personnel is at the quarterback spot – it appears to be a three-way tie between Sean White, Jeremy Johnson and transfer John Franklin, III.
However, Venables said the quarterback doesn't matter when it comes to Clemson's preparation.
"For us, with what we've seen on tape, the schemes really stay the same for the most part. They do a good job of spreading you out and running the football and being physical and utilizing the entire field," he said. "Both quarterbacks are experienced and have been in the system for a few years now so I'm sure there's a good trust factor. Moving forward, we've got to prepare for both quarterbacks. One might be a little bit more of a runner than the other. I think third team is like Nick Schuessler for us - sneaky fast."
Franklin brings more of a running edge to offense.
"Speaking of fast, he's real fast. He can really fly and take the top off," he said. "He doesn't need much - probably a little bit like Nick Marshall, and that's really about all I know. We've taken a look at some of the things they did in 2013 with Nick Marshall and the quarterback run game. I'm sure he knows how to throw it as well."
However, White can't be overlook after taking over for a struggling Jeremy Johnson at midseason.
"We respect him. I think they were in virtually every game they played last year. They had a bunch of dropped balls - very inconsistent at wide receiver," Venables said. "They had their opportunities deep into many of the games, including Alabama. They took Georgia to the end. They took Ole Miss to the end. They took Alabama to the end. I think they came on the short end in triple overtime against Arkansas. That was the tale of the season for them last year. If you're doing this long enough, you know you can be on both sides of that when you just can't get a break and that was kind of the case for them a year ago but they were really close. They're very talented and they've recruited well."
Venables' intensity then shown through as he said it doesn't matter to him which quarterback Auburn head coach Gus Malzahn chooses to start.
"I could care less. It doesn't matter one bit to us," he said. "That's not coach speak. We're going to prepare and do what we do and adjust it as we go. That's up to them whether they have confidence in their guy."
The Tigers have been practicing for Auburn since Thursday of last week, but Venables said the added time doesn't give an advantage to either team.
"I think it goes both ways. It's an advantage for them if you look at it as an advantage for us. Sometimes as coaches we can be our own worst enemy and have too much time," he said. "I'm thankful that we do. They're a little bit unfamiliar in some ways. In some ways there's some carryover with some things our offensive staff does. That goes without saying with the background of Coach Chad Morris and Coach Gus Malzahn having shared a lot of ideas through the years. It's given us time to do more than just get ready for Auburn. It's really get ready for our season."
Venables also expects to see the proverbial kitchen sink.
"They'll have them all ready for good ol' Clemson," he said. "The opener? Are you kidding me? They've got them all. Just go down the list and they'll have a bunch of them ready."
However, Venables is doing more than just coaching. He's even playing scout team quarterback along with freshman Zerrick Cooper.
"Zerrick Cooper, I sub for him every once in a while," he said with a big smile. "I torched the no fly zone yesterday. I'm not on the depth chart. I'm Jimmy Greenbeans. But I'm also precise."

Upgrade Your Account
Unlock premium boards and exclusive features (e.g. ad-free) by upgrading your account today.
Upgrade Now