| | |
| --- | --- |
| Venables looking for sixty minutes from defense | |
---
| | |
| --- | --- |
| Sunday, November 29, 2015, 12:16 PM | |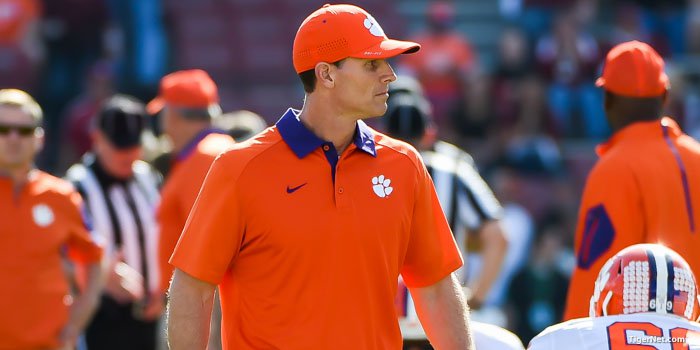 COLUMBIA -- Clemson defensive coordinator Brent Venables liked what we saw from his unit in the first half Saturday against South Carolina.
He was pleased with the Tigers' play in the fourth quarter, as well.
The third quarter? Not so much.
"It was a tale of two halves, really the third quarter," Venables said. "Real pleased with everything until that third quarter. We just did not play great, and they had some big plays they hit us on. We lost leverage on the football a few times and had some sloppy tackling in the third quarter. We played very well in the first half, excellent. As a team (Saturday), I don't think we complemented each other real well. The guys responded to a couple of turnovers there in the first half, and we forced a punt and got a pick, so we really came out and played really, really well for the first 30 minutes.
"The good stretches were really good, and the bad stretches were bad. Hopefully, we've got a lot of good stretches for next week. It's real simple. You lose leverage, and you have sloppy tackling, it will look bad. It's really pretty simple, really."
The Tigers did look good on defense in the first half. They gave up 55 yards in the first quarter and then 95 in the second quarter.
South Carolina had three points in the first half despite two Clemson turnovers that helped keep the Gamecocks close. Those turnovers didn't lead to any points, however, as Adrian Baker got an interception deep in Clemson territory to kill one drive, and the Tigers forced a punt after the other turnover.
But the defense struggled in the third quarter when the Gamecocks had 156 yards of offense and got two touchdowns to stay in the game.
The first scoring drive lasted 10 plays and covered 76 yards with Deebo Samuel catching a 7-yard score from Perry Orth. The second drive reached the end zone on a 57-yard pass from Orth to Pharoh Cooper.
After an Artavis Scott fumble at the Clemson 26, South Carolina scored in just four plays to pull within 28-25 early in the fourth quarter.
"We played real well in the first half, not as good in the third quarter and came back and played well in the fourth quarter," Venables said. "I think it helps us. We've been battled tested. We're 12-0. You have games, again, where you have some good and some bad, and you go back, and it's like every other week.
"We came out and dominated in the first half and played real well. For 10 straight games, we came out, and that 10th game, whatever it is straight, I don't know, I know it's a bunch, and we came out and played real well. I think they made some plays. We got a little bit sloppy in the third quarter. They had two drives. We turned the ball over and had a 26-yarder, and it was bang, bang, bang … just like that.
"Cooper is as good as there is anywhere in the country, and he's capable of doing that. The big quarterback, we had a few missed tackles; we stoned him and kept him bottled up really for most of the afternoon. He popped a couple, changed the field, and they lived on our side of the field."
The Gamecocks finished with 402 yards of total offense, 181 yards rushing and 221 yards passing. Still, Clemson kept control of the game and led by 12 until the Gamecocks scored with one second remaining on an 11-yard pass from Orth to Shon Carson.
"Again, our guys battled," Venables said. "We got, whatever it was, a good, solid, two-score lead there at the end of the game. We made them work the field; they had no timeouts. Outside of actually scoring on the last play -- we got a bust with nobody on the back -- the positioning was good, and the mission was accomplished with one second to go on the last score, so there was no chance to win."
B.J. Goodson led the defense with 12 tackles, including three tackles for loss and 1.5 sacks, while T.J Green had 11 tackles. Clemson finished with four sacks and eight tackles for loss.
"B.J. has had an excellent year, has been playing really well and hasn't gotten tired through 10 straight games," Venables said with a smile. "He's played real well. B.J.'s a talented guy that works hard, that cares. He's got great character, and he's got good skills. He's got instincts. He's got pop. He can run. He plays with great power and explosiveness, knows how to play behind his pads."
Venables and the Tigers now turn their attention to the ACC championship game this week in Charlotte against North Carolina. The Tar Heels have won 11 straight games and have scored at least 40 points in seven of those.
"We're going to have to play better for 60 minutes," Venables said. "Again, we played very, very well the first half, and the third quarter not so much and came back in the fourth quarter and played well.
"I'm not real concerned (about the Tigers' depth). We've just gotta play well. We'll be tested. We'll need to have our full arsenal ready to go in Charlotte next week for sure."
Daniel Shirley is the sports editor of The Telegraph in Macon, Ga., and co-host of The Morning Show on FoxSports 1670 AM. Follow him on Twitter at @DM_Shirley and read his blog at macon.com/peachsports.