| | |
| --- | --- |
| Venables says three factors will decide the winner of the Clemson-FSU game | |
---
| | |
| --- | --- |
| Thursday, October 17, 2013 10:25 AM | |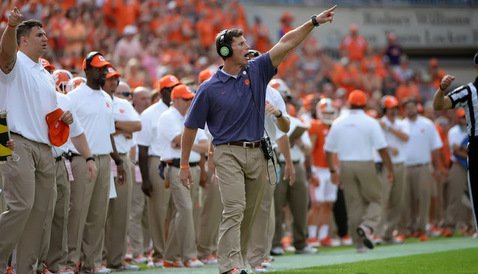 CLEMSON – The second half of Florida St.'s 49-37 victory over Clemson in Doak Campbell Stadium was ugly as the Seminoles rolled up 341 total yards and 35 points in what turned out to be a second half disaster for the Tigers.
Defensive coordinator Brent Venables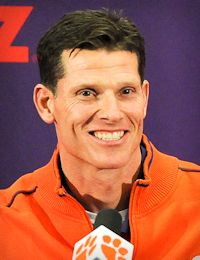 Brent Venables
Defensive Coordinator / Linebackers
View Full Profile said Wednesday that there were several factors that contributed to the collapse.
"Last year, they controlled the line of scrimmage," Venables said. "That was a big part of the game. The explosive plays and the turnovers. We lost the explosive play race; we lost the line of scrimmage and the rushing total. That's a formula for disaster."
Venables then said that there are three factors that coaches believe affect the outcome of games.
"Explosive plays, who wins that battle? Turnovers and the run game, to me those are the three things - if you have three elements - if you win two of the three, you've got a chance to win," he said. "If you win all three, you'll win 100 percent of the time. If you don't win any of them, you've got no chance whatsoever."
So what does Clemson have to do to beat Florida St. Saturday night?
"Winning the explosive play, us limiting them, our offense outgaining theirs, in that regard, and the turnovers - the run game will be a huge part of it," he said.
Redshirt freshman quarterback Jameis Winston has exploded on the scene so far this season, passing for 1,441 yards and rushing for another 135, a big reason that Florida St. is averaging 56 points per game.
Venables said that the Seminole offense runs in much the same manner as it did under E.J. Manuel last season.
"The play calling is similar," Venables said. "Their execution is better. They've got veterans everywhere, so they're playing like veterans across the board. The quarterback is playing out of his mind. They do a lot off their play-action game. The play-action game is no good if their run game's no good."
The 'Noles can definitely run the football – they are ranked 17th nationally with just over 228 rushing yards per game, led by Devonta Freeman, who has 385 yards on 54 carries. Karlos Williams is next with 244 yards, while James Wilder, Jr., has rushed for 214 yards.
Clemson head coach Dabo Swinney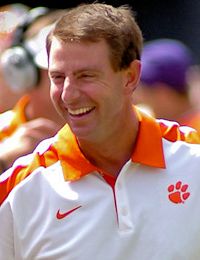 Dabo Swinney
Head Coach
View Full Profile says that all three will play in the NFL, and Venables said he has been impressed by what he sees on film, and if you add in the threat of a running quarterback, the 'Noles can beat you in many different ways.
"Explosion, the way they can pace as runners. They're good zone runners," Venables said. "They pace it well. They wait for blocks to open up. They run behind their pads. They're strong, explosive runners. They're going to run the lead option, the speed option, the quarterback zone and some quarterback draw. They've done all that with this the quarterback."
Venables said that Winston hasn't made any "glaring" mistakes through the first five games of his career.
"He does everything well. He hasn't made any mistakes that you've seen that are glaring," he said. "He makes great decisions with the football – he makes a lot of special plays and a lot of special throws. He plays beyond his years. He has poise and leadership, and that's not coach speak. He is pretty exceptional."
So how do you stop the formidable Seminole attack? With a defense that has sacked the quarterback 24 times this season and by disrupting the timing of the offense.
"You obviously want to disrupt their timing, somehow, some way," Venables said. "Run good, tight coverage and hope those guys up front can beat some people. Him being harassed and confused is what you want. If they are able to establish the run game and we can't get pressure on the quarterback, we won't win the game."