| | |
| --- | --- |
| Venables says mistakes the difference between a good and a great performance | |
---
| | |
| --- | --- |
| Sunday, October 19, 2014 9:01 AM | |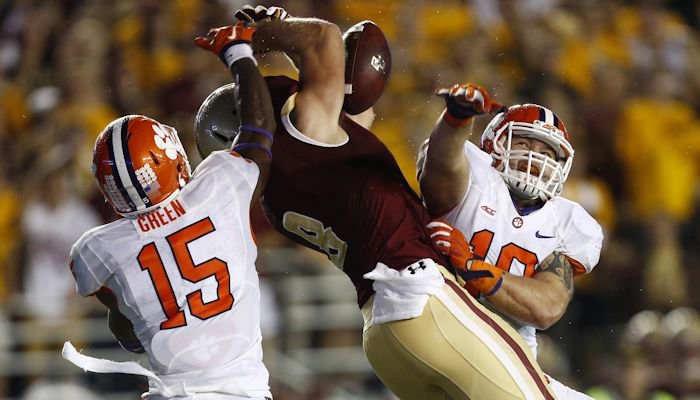 CHESTNUT HILL, MA – Brent Venables

Brent Venables
Def. Coordinator / Linebackers
View Full Profile walked into the postgame interview area underneath Boston College's Alumni Stadium and let out a huge sigh of relief.
For the second week in a row Clemson's defense had to hold off an opposing offense driving for the winning touchdown, and for the second week in a row forced a failed fourth down conversion that sealed an ACC victory for the Tigers.
Boston College had driven inside the Clemson 25-yard line late in the fourth quarter of Saturday's 17-13 Clemson win, and the Tigers held on four straight plays and the offense took over with 46 seconds remaining on the game clock and took the obligatory kneel down for the win.
Venables said that while Clemson's defense dominated most of the contest, there were still enough mistakes to keep him shaking his head on the flight home.
"I just wanted to get to 5-2, somehow, some way," a relieved Venables said after the game. "There was a lot of good football in that game, but we have a bunch of things we have to get corrected really quick."
Clemson held BC's vaunted rushing attack in check for most of the contest, giving up just 120 yards on 36 carries, almost 200 yards under their average. The Tigers also held quarterback Tyler Murphy at bay, limiting him to just 8-of-19 passing for 108 yards through the air and to just 55 yards on 13 carries on the ground.
"I thought a lot was good. It was a crazy game. Late he (Murphy) made some plays with his legs and scrambled around," Venables said. "He made some plays with his legs, especially late in the game. He scrambled around and hit that one play late on third down and forever. I thought it was pretty good, but the fourth quarter was a little sloppy. He is a great player and has strength. He has that ability to look down field and he forces you to play to the whistle and not get nosy. We have some things we can teach and correct, but luckily we still won the game."
The Eagles wound up with just 263 total yards of offense – much of it in the fourth quarter – but were able to gain yards using trick plays, pod formations and throwbacks. They also burned the Tigers on the wheel route, and the Eagles' Tyler Rouse dropped a pass on a wheel route on the last drive that would have scored a touchdown or at least given Boston College the ball inside of Clemson's 10-yard line.
"I am thinking how did we let that happen? We've practiced it a thousand times, and we've seen it five times tonight," Venables said of the wheel route. "You have to hope to God that somebody drops it. Our guys played really, really hard but we have to continue to play with discipline or we are going to continue to see those kinds of plays. They had the throwback and the reverse pass, a couple of wheel routes and they had one or two they obviously didn't catch. They had the pod passes. I thought we lost a little bit of discipline. We had a chance to put the nail in the coffin earlier in the game. There were times I thought we tried to do too much. When you play option football – when someone has one side of the field and somebody else has the other – we got out of position."
Defensive end Tavaris Barnes

Tavaris Barnes
RS Sr. Defensive End
#9 6-4, 273
Jacksonville, FL
View Full Profile , who finished with two sacks, said Clemson won the game in the trenches.
"Our defensive line is relentless," Barnes said. "We prepare well, so we can have a good Saturday. It's awesome playing with this group. I have been with these boys for four years and some of them five, and we play with a chip on our shoulder. We work hard in practice, and that's where it starts. We are too deep, and that's really real. We feel like we have something to prove every day. But right now we are focusing on Clemson and controlling what we can control, and we feel like as long as we play well we will come out with a win.