| | |
| --- | --- |
| Venables says Jackets are biggest challenge "and it's not even close" | |
---
| | |
| --- | --- |
| Tuesday, November 11, 2014 3:48 PM | |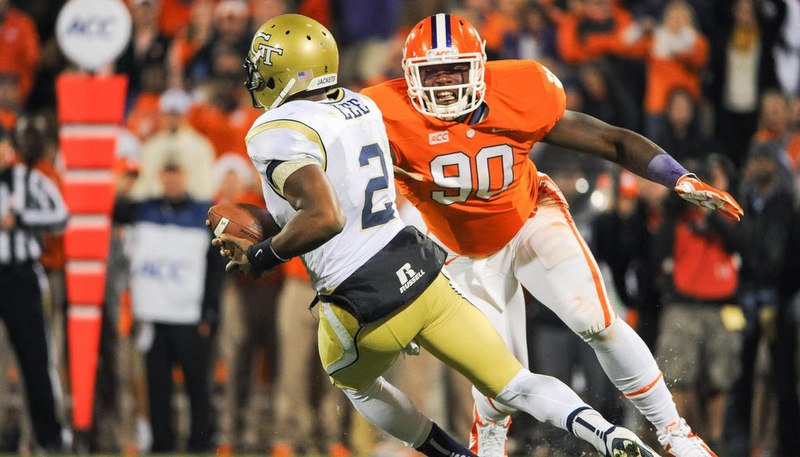 CLEMSON – Clemson has already played Florida St. and Georgia this season, both programs with great offenses, and in both instances came home with a loss.
This week, the Tigers travel to Atlanta to take on another ranked team and another program with a good offense, and defensive coordinator Brent Venables

Brent Venables
Def. Coordinator / Linebackers
View Full Profile says this is the Tigers' biggest defensive challenge to date and it's not even close.
Georgia Tech is ranked 22nd nationally in total offense – Georgia is 37th and Florida St. is 39th – but are third nationally in averaging 335.60 yards per game on the ground.
Venables said that the Jackets lull teams to sleep with the same script of plays.
"It's incredibly stressful mentally, physically and there's not a lot of margin for error. They take advantage of any mistakes you make," Venables told the media Tuesday in the WestZone. "Fundamentally, alignment with your eyes, how you're supporting the run with the secondary. If you're late reacting or you false step, they really take advantage of you. They're very methodical in their approach. A lot of teams get bored doing basic fundamental things over and over and they get a little bit anxious and the wheels start falling off. Very uncomfortable preparation. That's a great system. They've got good players executing it whether they're throwing it outside or what. Their quarterback is a big difference. Their line is better than it was a year ago. Their QB is an instinctive decision maker, explosive and quick. He's got a good arm. It'll be a great challenge for us."
He then said that while he is confident his second-ranked defense will prepare well, it will be their biggest challenge to date.
"I'm confident they're going to work and prepare to do it, but that's why you play," Venables said. "You have to do it and you have to do it snap after snap after snap. You can get your nose bloodied inside. If you're going to play well, those guys have to like it and relish that opportunity for that kind of fight inside. We'll see. I'm confident in our guys' respect for the game, respect for the opponent and respect for the job they have to do. They recognize this is the biggest challenge we have had up to this point and it's not even close. Nobody has stopped these guys. They are playing with great chemistry. You don't really see a weakness on their offense."
Clemson safety T.J. Green

T.J. Green
So. Safety
#15 6-3, 205
Sylacauga, AL
View Full Profile said Monday that his eyes will be his most important tool Saturday and Venables agreed.
"If a guy is releasing and running a wheel route, you have to cover it. If he's releasing it but he's not doing that, you have to set the edge now and not later," he said. "The softer you are at setting the edge in the run game, the bigger seams they have. You have to recognize and trust your keys. It's no different than the nose guard reading things off the center. It's no different than the MIKE linebacker reading his keys and the angle of the fullback. Those are touchdown mistakes across the board when you get lazy or when you get too casual."
Sophomore quarterback Justin Thomas is the key to the Jacket attack, and he's averaging a team-high 78 yards per game on the ground. He's also completed 50 percent of his passes for 1,294 yards and 14 touchdowns against four interceptions.
Venables said he's the best quarterback that head coach Paul Johnson has had at Tech.
"I think so. Decision making is better. Better arm. He's got great speed," he said. "He makes good decisions. He's more mature and he understands his role. He's more comfortable and confident."
Whenever talk about Georgia Tech begins, cut blocking is sure to be a topic of conversation and Venables said that practicing against the cut block is a year-round thing and isn't limited to just Tech's offensive linemen.
"You do cut blocks everyday you're in pads. It's a year-round thing," he said. "They have 6-4, 6-5, 230-pound receivers cracking safeties who are smaller or they're blocking a corner. A lot of outside-in blocking and they whack you from angles you're not seeing. It's a huge part of their run game. They tie guys up and get leverage on entry points to get the ball outside. The play action is set up off of it."