| | |
| --- | --- |
| Venables says Clemson fans should be proud of the product on the field | |
---
| | |
| --- | --- |
| Tuesday, October 28, 2014 8:24 PM | |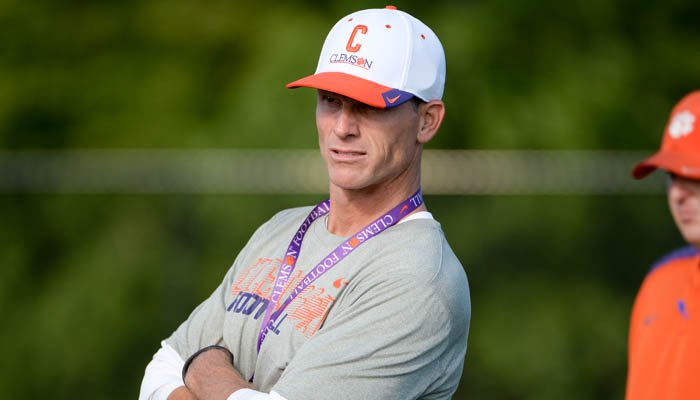 CLEMSON – An open date late in the season is good for the mental and physical side of college football, a chance to heal up the bumps and bruises and mental fatigue accumulated over the rough and tumble weeks.
It also gives teams extra time to prepare for the next opponent, and it's a chance to throw in a new wrinkle here and there to try and gain a competitive advantage. As a result, defensive coordinator Brent Venables

Brent Venables
Def. Coordinator / Linebackers
View Full Profile expects Wake Forest to try and change things up when the Tigers and Demon Deacons meet next Thursday.
"Everybody will have some new things. Sometimes what you see isn't what you get," Venables told the media in the WestZone Tuesday. "I'm sure they're working on themselves and trying to improve fundamentally and finding out what they're doing well and not so well, like all of us. We're trying to improve ourselves fundamentally, heal up and all of those kind of things."
The Demon Deacons are last nationally in total offense – ranked 128th at just over 213 yards per game – but Venables said he knows Wake Forest is playing teams tough and can't be overlooked.
"I know they played Boston College really tough last week and had a chance to win that game. They played Louisville - a team we all respect - 20-10 a month ago," he said. "They are more than capable. I know they have a real strong defense. I think Jimbo Fisher says it's the best defense in the ACC, so it will be a tough game. That'll get here next week."
Clemson's defense gave up just six points and 170 total yards to Syracuse last week, one of three games in which the defense hasn't allowed an opponent to score a touchdown. However, Venables said there are still plenty of things to work on as the Tigers prepare for the final third of the regular season.
"There is plenty to work on. It's like anything, you have to go to work every day," he said. "We've played consistently the last month or so because we have been going to work every day. When it's time to practice, you go, you focus on doing the little things correctly, improve, get better, compete, and continue to polish certain aspects from a scheme standpoint. It's like anything, you take time off when you're not supposed to, you're not going to make the kind of improvement that you do and you'll regress. There are plenty of things to continue to stay sharp in and improve. Sometimes you don't get exposed for whatever reason but there are issues that are on the tape that your opponent is going to see. We'll try to focus on those on those types of things as well as matchup with what we do with what our opponents do."
Venables said he has heard the whispers that the defense isn't truly dominant because of the competition, and he laughed at that notion.
"It's funny because people say well the people you've played aren't very good," he said. "You look around college football and everybody has two, maybe three good teams and then everybody else is playing the same kind of people. You still look at yourself and how well you're playing. Are you executing? Good discipline? "Are you playing with good fundamentals. Are your players playing with great effort? Are they tackling well in space?
"Are they attacking the football when it's in the air? Are putting their eyes where they belong? When you're doing those things usually you have a good end result and a good product. That's what us coaches see when we watch our guys play. We've got good chemistry. We're in a good rhythm right now. We've got great leadership. It looks as though our guys are enjoying themselves and having fun at the same time as playing with great intensity and great focus and displaying great toughness along the way. "
He then said that Clemson fans should be proud of the product on the field.
"Our fans should be proud of our players - all of our players. As a football team, we've had to really scrap," Venables said. "The last month our offense is continuing to try to overcome enormous obstacles and things that certainly you don't plan for. Whether that's even early season in the fall camp, losing some offensive linemen that was unexpected as well, besides the injuries that have taken place. That's a depleted unit over there and yet they've still had a huge part late in these last few games helping us seal the wins. I love the collective effort. Ammon Lakip

Ammon Lakip
RS Jr. Kicker
#36 5-10, 200
Alpharetta, GA
View Full Profile and Bradley Pinion

Bradley Pinion
Jr. Punter
#92 6-6, 230
Concord, NC
View Full Profile have been outstanding here during this last month - the five games we've won in a row. Everybody is doing their part under the circumstance."
With four games left in the regular season, Venables said now is the time to play even better and not relax.
"I think the success lends credibility to stay hungry, to keep fighting for more, to not be satisfied. It lends credibility when you're in the film room or you're at practice," he said. "Now we're at a point in the season that we've had enough success that it's easy to get guys to buy in and not put their guard down. Now is when you have to put the pedal down. We have a chance to have a great finish and guys have to be more focused and hungrier than ever now. Hopefully we'll have that coming out of the bye week with some rest and an opportunity to get refocused and recharged for the stretch run. We've got the pedal down and I think that confidence has continued to build and they really believe in each other and what we're doing."