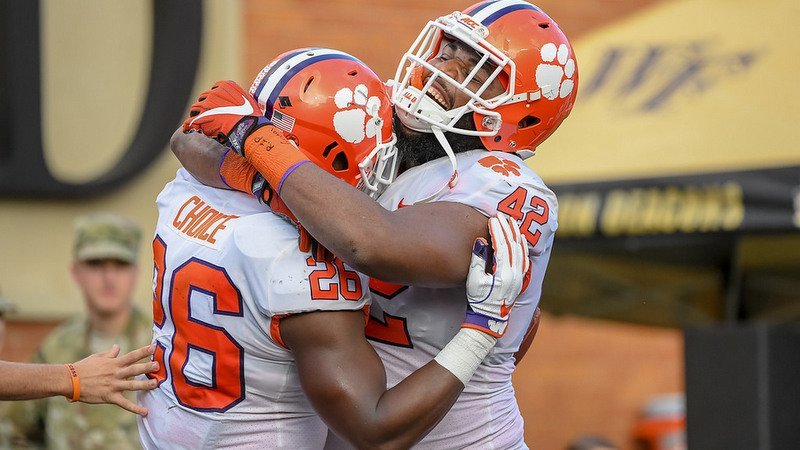 | | |
| --- | --- |
| Venables says Christian Wilkins has been more "than we had hoped" | |
---
CLEMSON – Brent Venables doesn't open up very often, his true thoughts and feelings inscrutable, hidden behind the emotionless mask that many college football coaches have to wear. That changes when he talks about senior defensive tackle Christian Wilkins.
Wilkins arrived on the Clemson campus four years ago as a heralded 5-star prospect, the kind of player that could change a program. What happened was that Venables got more out of Wilkins than he could have ever imagined.
"We have obviously gotten a lot more out of him than we had hoped, but we knew that if he came that he would make everyone around him better and enhance the locker room," Venables said Monday. "He has done that and then some. Christian has always been one to mentor and to give more of himself than you can possibly ask of him. He is a very servant-minded leader.
"Having a strong legacy has been really important to him. He has done a lot to pour into a lot of people. He has done a lot for the people and this community, but I would like to look at all our guys that way. I think it has been a very selfless group of guys and because of that we have had incredible success as a team. Obviously, he has been a terrific player as have the rest of the guys. I don't want to diminish any of the other guys and what they have done for this program. They are arguably the best group of leaders we have ever had in this program."
Venables then said that some of his fondest memories of Wilkins have happened when no one is watching.
"It's the way he serves his teammates and pours into all the younger guys," Venables said. "It's hard to get a guy to grab a guy by his jersey and make them come in here on a Saturday in April. On Saturday morning they go to work and it's like a whole club of them. He has done that since he's been here. You have a real appreciation for that and his leadership. You appreciate his love for the game, he loves to play and compete. What a great an example he is of effort, that you play with from the snap to the whistle like every play since he's been here."
Away from the field, Wilkins has been an extended member of the Venables' household, including acting as a mentor to Venables' so Tyler, who plays football at Daniel.
"Personally, it is what he has meant to your family. It's like he has been a part of your family. Families and those children of those families would probably say the same," Venables said. "He is a mentor for my son Tyler - they get together multiple times a week. That doesn't happen all the time. He goes out of his way to do so, its selflessness. He asks him to go get a bite to eat or just to go to church, make sure they are living right. It is very abnormal for a guy to take time out of his own time and give to others. Really not surprised, just thankful. That's what we thought we were going to get when he came to Clemson. We got more than our money's worth for sure."

Upgrade Your Account
Unlock premium boards and exclusive features (e.g. ad-free) by upgrading your account today.
Upgrade Now