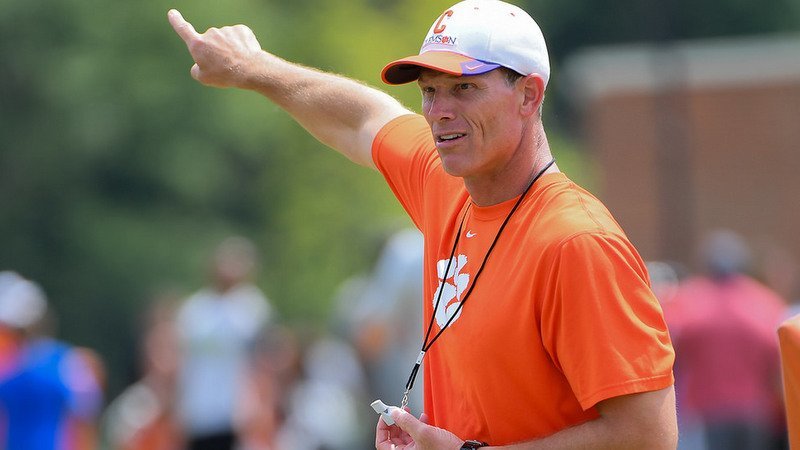 | | |
| --- | --- |
| Venables ready for week one, excited about Shaq Smith | |
---
CLEMSON – Brent Venables doesn't usually heap a lot of praise on his defense, so if he feels good about where his squad is, you can probably take his words to the bank.
Clemson returns all four defensive line starters, two linebackers, and four members out of the defensive backfield from a year ago to go along with a plethora of experienced players and young, up-and-coming talent.
As the Tigers prepare for the 2018 season opener against Furman, Clemson's defensive coordinator likes where his defensive unit is from top to bottom.
"We've got a lot of guys who have played and are two deep. We've still had competition across the board," Venables said during Monday's interview session. "I do think that we'll continue to nurture the idea of competition throughout the course of the season. I think that we have the quality of depth at a few positions that allow us to do so. I think it will bring out the best in everyone. We feel good about where we're at both with our returning experience and the experience that we were able to develop last year."
Furman presents a unique challenge being the first of three triple-option teams Clemson will face during the first four weeks of the season.
"Just to play disciplined and consistent. Along with that, you're playing a triple option team so you have to have great eyes and the discipline that it takes to play at a high level even moving forward," Venables said. "It's not like you don't have to have the same type of discipline when you're playing Texas A&M, Georgia Southern, Georgia Tech, Syracuse, etc. You've gotta have it every week. But just to see us playing against someone else to test those things. You want to see a level of physicality and discipline. And then, again, they won't play a perfect game so what can you learn from it."
Depth at defensive end
"Probably six to seven guys. We're going to play them, absolutely. Logan Rudolph and Justin Foster had excellent camps. Xavier Thomas and KJ Henry both have made marked improvement. Xavier brought a level of physicality and explosiveness that you really like. (Richard) Yeargin has decided not to play. So, along with Austin Bryant and Clelin Ferrell, that's a group of guys who you're going to see play."
James Skalski's return from the foot injury
"Good. He's practiced for about the past week. I haven't given him as many reps but he's fully cleared. Foot injuries are a hard thing, you have to be careful, you see a lot of guys re-break them. I like where we're at, at linebacker. James is one of the best guys we've got at linebacker, but we've got a really good group that's got great experience and intelligence to understand our defense and how we do things. To me, that's what allows you to win and play really good defense. Then if you get a guy who has exceptional skill, it can make a difference. I really like the group with Skalski, but we're still really solid without him."
"He's done really well. I said it in fall camp and he's had a really good fall. I'm excited for Shaq. He's put a lot of work in. I don't like using the term breakout because I don't like to predict but I do know he will contribute a lot more than he has. That's because he's earned it. He's playing faster and more physical, he's playing more sure of himself and he still has more growth to come and I think that will happen as well through experience."
On moving Xavier Kelly to defensive tackle
"Looking at big picture for Xavier, he's got really good quickness and a great first step. He's got a tremendous frame. I bet you he's heavier than the 270 he's listed at. We're just trying to put him in a position where he can be disruptive where we're a little bit short in the numbers. This year we've got some really good depth at defensive end and to try to find a way to get him on the field – whether that is immediate or in the very near future.
On coaching his son, Jake
"It's been great for me. It's been fun to have him watch us and send him out there once in a while and let him run around and have some confidence. He's really been one of the better one's we've had just as far as coming into the summer and being able to pick up what we do. I've been really impressed with him and I made that remark. And I told him, 'you know me as dad but I don't give a lot of guys praise so if I tell you a good job you must have done something.' So, I've praised him a couple of times based on his knowledge base and his ability to go out and execute. He's done well and it's been a lot of fun."

Upgrade Your Account
Unlock premium boards and exclusive features (e.g. ad-free) by upgrading your account today.
Upgrade Now