| | |
| --- | --- |
| Venables prepares his defense for "pain in the butt" flexbone | |
---
| | |
| --- | --- |
| Tuesday, November 12, 2013 4:50 PM | |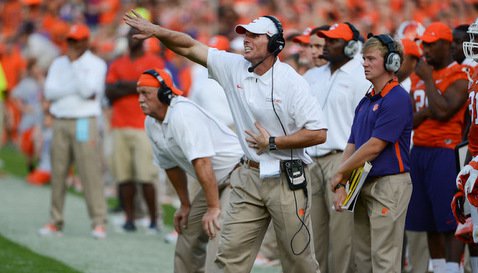 CLEMSON – Brent Venables

Brent Venables
Defensive Coordinator / Linebackers
View Full Profile walked into the hallway outside of Clemson's locker room following the Tigers' 47-31 win over Georgia Tech last season, audibly exhaled, and said, "I'm so glad that game is over. What a pain in the butt. I felt like I played every play today. It's a tough offense to defend. It creates a lot of stress."
The pain in the butt and stress-creating offense is back in Death Valley Thursday night as Clemson takes on the Yellow Jackets in a primetime matchup on ESPN, and Venables said that he hopes the extra time the Tigers had during the off week last week has helped in Clemson's preparation for Paul Johnson's flexbone.
"I think they try to get you more vertical, starting with their fullback. But they get you running horizontally, whether it's the QB taking it up the middle or the fullback," Venables said Tuesday in the WestZone. "They stress you because they can do both really well. It forces you to play with 11 guys who have incredible discipline every single snap. Even then, it just neutralizes your ability physically, speed, all of it. The scouting report obviously stays the same with them from year to year. Hopefully the extra time and preparation gets us better fundamentally. It still comes down to being physical, staying on your feet, playing responsible and keeping your eyes on where they belong."
Venables admitted that preparing for Tech is more stressful than any other offense his defense will face this season, simply because the flexbone isn't an offense the defense sees on a regular basis.
"Yeah. No doubt. I think anyone who plays them will say that," he said. "It's one thing if you had one week or three weeks to prepare. It's not what you see, it's not what you teach from week to week. Some things are the same fundamentally but they do what they do very well and in a very precise way. You have to match that precision. The extra time helps in getting more familiarity. It gives us more cut-block work, more crack work and more play action work. Someone asked me if I would rather have a bye week and I said absolutely."
Clemson's defense has thrived on being able to pressure the quarterback this season, something that won't come into play as much against the ground-oriented Jackets.
"That's another thing just in regards to the discipline that it takes to squeeze, close and use your hands and do your job. And that's whether it's Vic [Beasley] or Corey [Crawford] or Stephone [Anthony]. It doesn't matter," he said. "Even with their throwing game, it's high stress. That's why they have success when they throw it even in obvious situations. Think back to a year ago watching the game on television against Virginia Tech. When they had to late in the game, they went right down the field throwing the ball. There are a lot of one-on-one opportunities for them. Their quarterback is more accurate and throws the ball in better spots. They're more mature at receiver this year, having gained another year of experience. To answer your question, yes, it forces them to play in a completely different mode. Every down is a run down for four quarters. That's the mindset you have to have."
Venables then said that the flexbone creates mismatches for the offense.
"It's always about angles. They have leverage on you, they have angles on you," he said. "They're really good at getting in your feet. Even if they don't get you on the ground, they tie you up long enough and get outside of you. Again, it's very hard to force 11 guys on defense to play with great discipline every snap. They just wear you out doing the same thing over and over and over and guys get bored with it. That's when you have a lot of issues."
Other notes
Did he see the option at Oklahoma or Kansas St.?
"I played it. We saw it against Air Force and Rice when Ken Hatfield was there, Indiana State. I grew up in the old Big 8 as a player and as a young coach. It's just option football 101. It's the G-option, the midline, the veer, the base, the counter option, the trap option - everyone has been running it for a long, long time. Coach Johnson is just one who's been patient and has stuck with it."
The situation at defensive tackle
"I do feel better and I think we're better than we were going into this game a year ago. We need to play better than we played in this game a year ago. We didn't leverage the ball very well. We lost consistency with our assignments. They came out with a new formation and it took us a few series to get it adjusted. I'm sure that's what will happen this week. There will be something new. The faster we adjust to it, the better off we will be. I do feel better going in. I just think that whole front seven is more mature.
"Last year one of the guys I felt really good about, the first few drives he did not play very well. Consequently they got outside of us a number of times. We lost our footing and the ball got outside of us. That was shocking based on who the guy was. So sometimes it doesn't matter what you scheme and what you feel good about. You still have to go play and execute."