| | |
| --- | --- |
| Venables pleased with effort as defense pitches a "shutout" | |
---
| | |
| --- | --- |
| Sunday, September 7, 2014 3:51 PM | |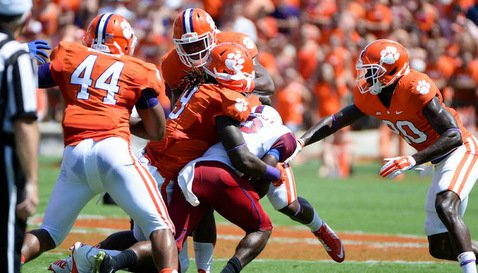 CLEMSON - The Clemson football team lost its chance at a shutout late in the fourth quarter of Saturday's win over South Carolina St., an offensive fumble turning into a defensive touchdown for the Bulldogs that accounted for their only points of the day.
Head coach Dabo Swinney

Dabo Swinney
Head Coach
View Full Profile told defensive coordinator Brent Venables

Brent Venables
Def. Coordinator / Linebackers
View Full Profile and the defense in the locker room after the game, however, that it was a shutout in his eyes.
"Coach Swinney said he would count it," a smiling Venables said after the game. "Their offense didn't get into the endzone, and that's hard to do with any offense on any level, and especially in this day and age. You know how hard it is to get a shutout? It's really hard, so I'm proud of our guys. That's a good accomplishment. (We) scored on defense and kept them out of the end zone."
The Bulldogs didn't gain a first down until 2:48 left in the second quarter. The fourth quarter – a killer last week against Georgia – was better this week: In two fourth-quarter possessions, South Carolina St. averaged 0.3 yards a play with one first down.
Venables said he was pleased with what he saw Saturday.
"Yeah, you like that," Venables said. "That's human nature. Guys that haven't played quite as much or haven't practiced against the schemes as much – a byproduct is sloppy play. Fortunately today, for the most part, it didn't look like that. I'm really pleased with the effort, particularly in that second half."
The final numbers were impressive, even if it came against FCS opposition. South Carolina St. had 82 yards lost rushing and had just seven net yards; 37 yards passing at 1.5 yards per attempt; nine defensive points (pick-six plus a safety); four sacks; 14 tackles for loss.
"We had great focus today. Really put in a workmanlike effort for 60 minutes, so I'm pleased with all of our guys," Venables said. "We played a whole bunch of guys, and started strong and finished strong and just had a very mature, focused purpose out there."
Venables was asked if the impressive showing helps the unit's confidence, and he said he didn't think the loss to Georgia affected anyone's confidence.
"I don't think we had confidence issues," he said. "I think that just in regards to the process of the season and how you get better and you make improvement and how you compete, there's just a lot of different variables that go in today. It's one more game.
"A week ago, had we won, we'd still be starting over. Winning doesn't all of a sudden make this week any easier. There's a process in how you play - you don't play well if you try to cheat the game, and just respect the game, and just respect an opponent by not being on edge and playing with great focus and poise and doing a good job communicating and playing with effort, and just don't look back."
He then said that just like the team was able to forget about the debacle at Georgia and move on to South Carolina St., his players will have to forget Saturday's success and move on to Florida St.
"Obviously you're glad that you went out and played well, but if you're about the right things, you put that game behind you. Again, if you hadn't won, you don't feel all big in your chest going around and saying how great we are," Venables said. "You played one game, so this game was every bit as important had we won or lost last week, and just like the next game. I'm pleased and proud of our guys. Happy that they came out and had a really strong performance as a unit, but again, we're 1-1 now."
The Tigers now have two weeks to prepare for the Seminoles and Heisman Trophy winner Jamies Winston, and Venables said the team will take the time to work on fundamentals.
"We handle it like we do all bye weeks. The schedule changes some. We don't practice all the way through," he said. "We're going to get a little bit of time to ourselves, but we also work on fundamentals and all those kind of things. Putting this game to bed, and just start looking ahead and really kind of focusing on us.
"This season's going to be full of different types of challenges, and great players and great defenses respond to those challenges. A week ago we fell, and this week we had a different kind of challenge - not to lose focus, play more guys, and fortunately they responded to that challenge. Hopefully we can do that here in a couple weeks. We'll face many more challenges going down the road to Tallahassee, but I think our guys will be excited and look forward to that opportunity."