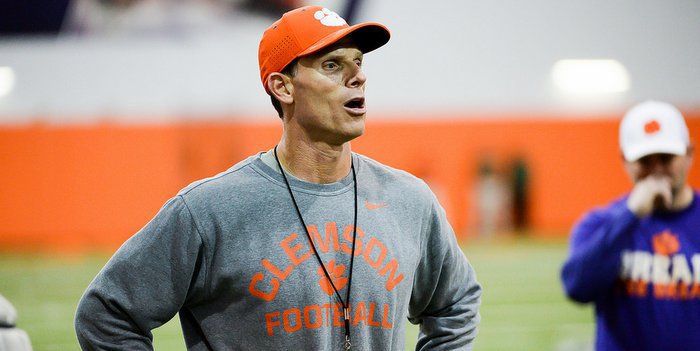 | | |
| --- | --- |
| Venables pleased with Wednesday's scrimmage. Or was he? | |
---
| | | |
| --- | --- | --- |
| Thursday, March 24, 2016, 8:40 AM | | |
CLEMSON – Brent Venables is hard to read at times, and it was hard to tell if he was pleased or miffed following Wednesday's scrimmage inside of Memorial Stadium. According to many observers the defense held the upper hand as the offense made a slew of mistakes, but Venables wouldn't commit to saying one way or the other.
Which means the defense is right on schedule because Venables is like this every spring and the defense usually turns out to be pretty good.
Venables spoke with the media for a few minutes following the scrimmage and said he saw both good and bad.
"Really good. When they are moving the ball normal down and distance a lot was really good," Venables said. "We had a bunch of turnovers and negative plays. Saw some really good football. We lacked discipline and jumped offsides a couple of critical times and gave them a big explosive pass in third-and-long and we were not very good in the goal line session. There was good and bad in the short-yardage session."
On the secondary
"Good. Pretty good. We gave up the one long explosive play and we have to tackle stronger but at times it's been solid. Right now we are just trying to form a three-deep."
If the defense is progressing as expected
"I don't know any of that, where we are and stuff. A lot of it is who you're lining up against. It's just normal practice and you're trying to get better."
When one inexperienced reporter asked about "speculation that Wilkins could move to defensive end
"I think we said that we were doing that. No speculation. We said that we were doing that. He's done well. He is strong."
Dexter Lawrence
"He had a nice pick today. He looked great on that and he looked really agile. Sweet hands. He just took it right out of the air. Nice play. He reminds me of the guy we created. Big strong guy with good mobility. Eager to learn and eager to work. I think he is going to be a really good player in time."
"He needs to be consistent. `He has a good skillset. He has to have that mental toughness. He was lax on a deep ball and it took them a long time to throw it and he relaxes and they throw a Hail Mary and somebody catches it. He was on top of the route forever and then slowed up and looked back and it dropped right in the breadbasket. So it's little plays like that but this is what this time is for. These guys have to get out there and fail some and they have to learn from that. He has a chance to be a really good player but he isn't there yet."