| | |
| --- | --- |
| Venables on stopping Shaw: "We tried everything" | |
---
| | |
| --- | --- |
| Monday, December 2, 2013 10:36 AM | |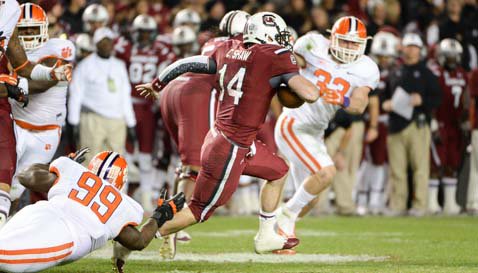 COLUMBIA - There was no shortage of emotion and frustration from defensive coordinator Brent Venables

Brent Venables
Defensive Coordinator / Linebackers
View Full Profile after Saturday night's loss to South Carolina.
The Clemson defense was simply out of options when it came to stopping South Carolina quarterback Connor Shaw.
Shaw ended the night as the Gamecocks leading rusher, accounting for 94 of South Carolina's 140 total rushing yards, and Venables said that he schemed every possible way to stop him.
"Going into a game like this against a good team like them, you have to take away what they do best and obviously we did a poor job of that," Venables said after the game. "Same thing from a year ago. We didn't play good on third down. The quarterback continuously made plays with his legs. When you don't take away what they do best against a good team, you have no chance. We tried everything. None of it worked like we wanted it to. Rush four, rush five, rush six, spy him. He continued to make plays - designed plays, scramble plays."
South Carolina starting running back Mike Davis is fourth in the SEC with 1,134 total yards and is averaging 5.8 yards per attempt, but the Clemson defense took Davis out of the game – holding him to just 22 yards and 1.5 yards per carry.
However, Venables said that the job his defense did stopping Davis didn't negate the poor job they did of stopping Shaw.
"It all goes hand in hand. It's part of the run game," Venables said. "[Connor Shaw] he's part of the run game every bit as much as Davis is. When you want to be effective, you can't do one without the other. Guys throw the ball a lot, too. When you're in coverage, you have guys who are responsible for it. We have to do a better job execution-wise. We can't sit out there the whole game in zero coverage and play it like it's the option."
Shaw averaged 4.3 yards per carry and five of 22 carries came on third down and went for more than nine yards.
Venables said the Gamecocks simply executed 'blocking 101.'
"Blocking us. They put a hat on a hat, Venables said. "We went left, they pushed us left. We went right, they pushed us right. It's pretty simple. It's execution. It's blocking 101."
Venables said that the struggles of the team as whole weren't for lack of trying, but that the Gamecocks didn't make the critical mistakes.
"Our guys fought hard tonight. I'm proud of our guys," Venables said. "We didn't coach them good enough. We didn't play good enough at times. In a game like this you can't make the kind of critical mistakes we did. They out-executed us at critical times. Those things are part of the game. Our job is to stop them, react and respond the right way and we didn't do a good enough job."