| | |
| --- | --- |
| Venables on his defense: "They played their guts out" | |
---
| | |
| --- | --- |
| Sunday, September 21, 2014 1:32 PM | |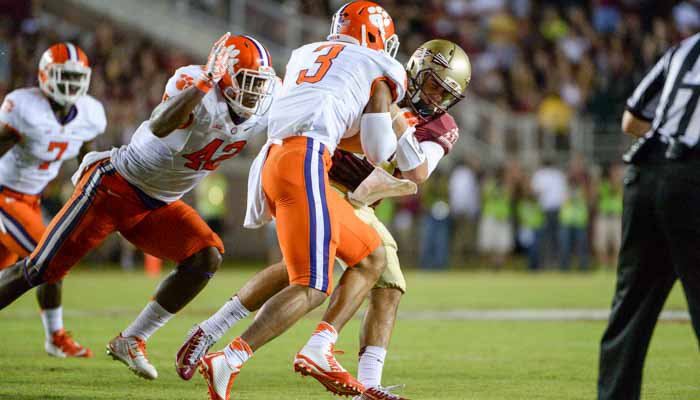 TALLAHASSEE, FL - All Brent Venables

Brent Venables
Def. Coordinator / Linebackers
View Full Profile could ask of his defensive unit was to leave everything they had on Bobby Bowden Field when the clock struck zero late Saturday night in Doak Campbell Stadium.
He got just that, but unfortunately offensive and special teams miscues left the Tigers just short in a 23-17 loss to No. 1 Florida State.
Clemson's defensive coordinator said that his unit had nothing left to give when they walked to locker room after the overtime period.
"They played their guts out," Venables told the media after the game. "We talked about leaving it all out on the field and emptying the tank. Our guys gave everything they had. It's the game of football. We played an awfully good team, a talented team and went blow for blow. We unfortunately came up on the losing end of it but that's the game of football."
The Tiger defense held Florida St. to 318 total yards - 13 yards rushing - on 66 plays and forced two turnovers. Venables said that he found out what his defense was made of during the 60-plus minute game.
"I think we found out a lot about our guys," Venables said. "I love the passion and the intensity that our guys played with. I loved that look in their eye on the sideline when we were facing those storms that we were facing during the night. Our guys were relishing that opportunity. You're proud of them. Big time."
The defense registered 10 tackles for loss and five sack and constantly pressured Florida St. quarterback Sean Maguire, and Venables said that the front seven set the tone for the entire defense.
"I thought our guys were relentless up front," Venable said. "I thought they did a fabulous job. They played with great toughness. They played fast and really had a lot of fight to them."
Unfortunately, there was good and bad in Saturday's game and Clemson didn't come out on top. However, Venables said it is still just one game and that there is a lot of football to played.
"If you would've won, you're two and one and you still have a long season to play," Venables said. "We wouldn't have won any trophies by winning that game. It's a tough way to lose but you learn from it, you grow from it and you move on. That's what you do as a coach, as a team, as a player. Whether you win or lose, that's what you do. You compartmentalize it - find the good and the bad and the ugly - and then you shelve it and move on. I think our guys displayed great courage and leadership and their intangibles are off the charts. We'll be ready to come back and compete next week."