| | |
| --- | --- |
| Venables on Addazio's comments: "He's trying to set us up" | |
---
| | |
| --- | --- |
| Tuesday, October 14, 2014 6:59 PM | |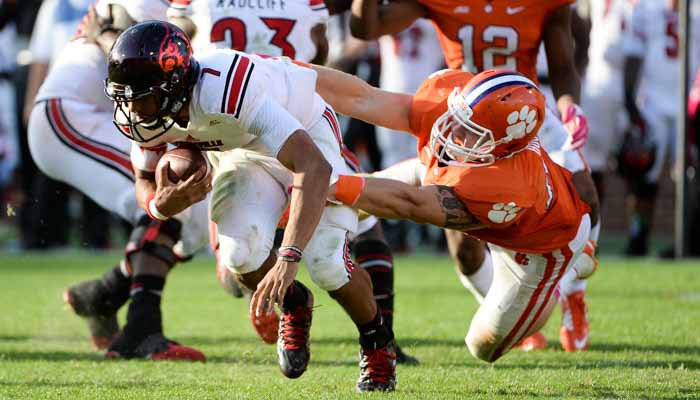 CLEMSON – Brent Venables

Brent Venables
Def. Coordinator / Linebackers
View Full Profile isn't buying what Steve Addazio is selling.
Addazio, the head coach at Boston College, told the media Monday that Clemson's defense was the best he's seen since the 2009 Alabama squad and that he didn't know how the Eagles would be able to move the ball against the Tigers.
I asked Brent Venables about the comment during his press conference Tuesday, and he said that Addazio's words are simply coach-speak.
"Oh, I think he's trying to set us up. It's nice of him to say nice things," Venables said with a smile. "But … keep your enemies closer. We're kind of developing an identity. We've made some improvement from the beginning of the year. I like the chemistry we are developing. We're playing with more consistency. There are things we can still improve on. We happen to play well at the right times that allow us to overcome some mistakes that have been made, whether it's fits in the run game or the throwback wheel route for 40 yards or a 73-yarder there at the end.
"We're playing with great effort and we're creating some negative plays, so we have to continue to correct mistakes and continue to improve and learn from our mistakes. Obviously we have to stay healthy and have some things happen from a luck standpoint. I love the attitude of our guys. Defense is about attitude and being physical and tough-minded. You want guys who love to play. We're playing well as a group, both our first and second units. Hopefully we'll continue to play well."
He then said that the Tigers have to be careful and not believe all of the hype.
"You have to go back to work and not read your press clippings, so to speak. Last time everyone bragged on us, we came out and couldn't get out of our own way the next game," he said. "We need to have a road-dog kind of mentality, great purpose and great toughness. We'll have to be very determined."
The Eagles are led offensively by quarterback Tyler Murphy, who already gas 86 carries for 711 yards, good for 16th nationally at 118.50 yards per game. Venables said Murphy presents a challenge.
"It's going to be a tough, physical game where we have to play with great discipline. We've got a great challenge with their quarterback. He's one of the top rushers in the country," he said. "They're one of the top rushing teams in the country. They're getting that in a bunch of formations. There are some similarities to them and N.C. State with some of the things they do with motions and all the eye candy and shifts and things they do to try to get leverage on you. They have a great play action game set up, as well. We'll have our hands full."
The Eagles are fifth nationally in averaging 315 rushing yards per game, led by a group of five offensive linemen who are all graduate students.
"Yeah. It's like playing BYU. They're all mature young men," Venables said. "They're ready for the moment. They will look for the challenge. They won't be overwhelmed for the moment."
Other notes
What worked against Louisville
"Really all three levels complementing each other. No true weak link. We had guys up front who are physical and tough and very well-coached from a fundamental, technique standpoint. Rarely are they trying to do too much. They're in good position, playing disciplined. At linebacker we have guys who can run sideline to sideline and make plays in coverage. We have a run defense that can attack the line of scrimmage. In the secondary we've got guys with good length and good cover skills. Our guys have been investing consistently in practice and they're confident in what they're doing. All three levels are doing it and with some depth, whether you have guys like T.J. Green

T.J. Green
So. Safety
#15 6-3, 205
Sylacauga, AL
View Full Profile or Jadar Johnson

Jadar Johnson
So. Defensive Back
#18 6-1, 207
Orangeburg, SC
View Full Profile , you have guys coming off the bench who are playing well."
On Ben Boulware

Ben Boulware
So. Outside Linebacker
#10 5-11, 235
Anderson, SC
View Full Profile
"You love that Ben Boulware played at such a level that he did. He was successful. It's also a great teaching moment in that he's seizing an opportunity when the window opens. You don't have time to get ready. You have to be ready. He's a guy who's been tugging on my shirt … 'Hey, I'm ready to go in.'
"I love that and I want guys who show me that they care. All coaches do. If your body language shows it doesn't mean a whole lot, you say to yourself as a coach, 'Maybe we'll get to that guy in spring ball.' When you have a guy who's always knocking on your shoulder, it's like, 'OK, hold on. I know you want to go in.' It's definitely what you want. You'll find an opportunity for him to get in. He did his job and did it with great energy and emotion and intensity. He was physically tough and played super fast and was a big difference in that game. Some guys don't want to fight for something. They have their lips stuck out, so that was a great teachable moment.
"He's always kind of been that way. That's the guy we saw on tape. I remember watching him against Easley the very first time on video. It wasn't a highlight tape. He made like 20 tackles. He made almost every play. He got off blocks and got to the football and he got there with bad intentions. You could see that he played with a little bit of an edge and was mad at the world. Whatever deficiencies he may have, whether it's in stature or what have you, he makes up for it in attitude and love for the game with passion, intensity and toughness. Obviously he likes contact. He needs to work on some of his motions he's displaying out there … dance moves or whatever they are. That's when he's in his element, so as a coach you don't want to take that away from him."