| | |
| --- | --- |
| Venables likes toughness of his defense | |
---
| | |
| --- | --- |
| Saturday, January 2, 2016 3:01 PM | |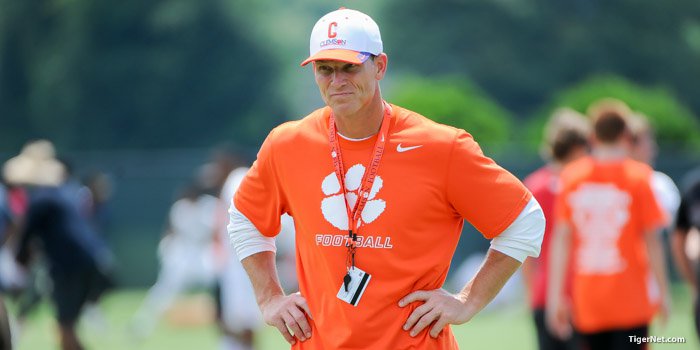 Clemson defensive coordinator Brent Venables wants to see toughness and focus from his unit each week. His players gave him just that in the second half of the Tigers' 37-17 win over Oklahoma on Thursday.
All 17 of those points and most of the Sooners' yards came in the first half as the Tigers recovered from a 17-16 deficit at halftime to pull away for the win. Clemson advances to the College Football Playoff championship game Jan. 11 and will play Alabama.
"We have a physical toughness to us. You like to feel like you preach and breed and nourish that toughness with the concept and in the weight room or whether we're doing the Paw drill or Oklahoma drill or last week or whatever, it's a mentality," Venables said. "The game never changes at any level. The teams that win the line of scrimmage and that play with more physical toughness usually win. And a lot of that, and we're making plays and things are going our way, and we're complementing each other, but I do think that was a big part of the game, the pressure that was created, the lack of consistency in their running game. … We were far from perfect. We missed plenty of tackles, trust me, but I do think when we had to the most, we played our best."
Oklahoma quarterback Baker Mayfield passed for 311 yards, completing 26-of-41 passes, and he had a touchdown pass. But he had two interceptions on key plays by Clemson linebackers B.J. Goodson and Ben Boulware.
The Sooners rushed for only 67 yards on 33 carries, including just 15 carries and 58 yards for Samaje Perine. Clemson, by comparison, rushed for 312 yards on 58 attempts.
"Not allowing them to run the ball, that was the secret sauce (Thursday)," Venables said. "We sold out to stop the run. We didn't have great coverage calls on, but (Thursday) we showed what we hadn't showed in the second half this year -- that bite down mentality, closing an opponent out, showing some toughness and some focus when we needed to. They tasted the blood in the water, and we were fortunate some of their key guys were banged up; that probably kept some of their big-play potential out of the game. But I think this was more about how our guys just got better and better as that game went on."
In addition to the two interceptions, Clemson came up with a pivotal fourth-and-1 stop in its own territory as the Sooners snapped the ball to Perine. The Tigers' front snuffed out the play and stuffed Perine for no gain.
"We worked that play," Venables said with a big smile. "I don't know if we were ready or not, but we worked that play. On another fourth-and-1, they had done it earlier in the year, and we had the whole team down in the box.
"It was a huge play in the game, that and the two picks. … This game is always about momentum and making critical stops, and it was (Thursday)."
The win was Clemson's fourth straight in a bowl, and the Tigers have beaten four top-10 teams this season.
"It validates everything that we're doing with the decision making of (head coach Dabo) Swinney, but those guys in the weight room have done an incredible job," Venables said. "(Thursday) was just one more game, that we went out and proved it. I remember our first bowl game against LSU and then Ohio State, and then it was Oklahoma, and we played a whole bunch of big games in between there where people questioned whether or not we could hold up physically. It's not about a conference. This game is pretty simple. It's about having tough guys who play physical, a physical strength but a physical toughness and mental toughness. I think we're as good as anyone in that way."
Daniel Shirley is the sports editor of The Telegraph in Macon, Ga., and co-host of The Morning Show on FoxSports 1670 AM. Follow him on Twitter at @DM_Shirley and read his blog at macon.com/peachsports.