| | |
| --- | --- |
| Venables expects to empty the tank at Auburn | |
---
| | |
| --- | --- |
| 2012-08-28 16:09:01.0 | |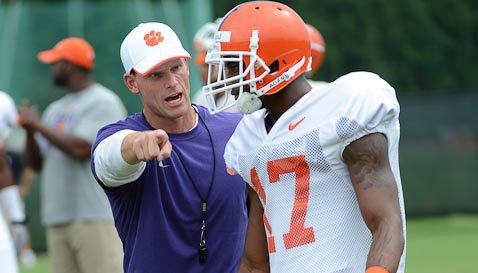 CLEMSON – Clemson head coach Dabo Swinney
Dabo Swinney
Head Coach
View Full Profile told a story about new defensive coordinator Brent Venables
Brent Venables
Defensive Coordinator / Linebackers
View Full Profile during his Tuesday morning press conference, saying the only thing that had surprised him about Venables since the hire was the fact that Venables once ran his boat out of gas on the lake and called Swinney to come and tow him back to his house.

Venables was asked about that story during his own media session Tuesday, and he gave a half-smile before giving some of the assembled media a little insight into the type of coach he is.

"I am a guy that I'm going to empty my tank," Venables said in response to the question about running out of gas. "You are going to get everything I've got."

The Tigers may need everything Venables has this season if they want to make a return trip to the ACC Championship Game, and he said Tuesday that he and the players have achieved a certain comfort level.

"I think we've got a great comfort level with each other," Venables said. "It was a seamless transition at least on my part. I felt like there was a strong willingness from both players and coaches to buy into what we wanted to do and to accept the things that we were demanding of them. I've been very pleased with their attitude."

He said it won't take long Saturday night to find out what he has.

"That's the unknown- how are guys going to respond, their temperament on game day, the toughness it takes to face it adversity that is inevitably going to happen and what type of leaders we have," he said. "Who the leaders are and who is going to emerge. The physical toughness that game day demands- we are going to find out who has it and who doesn't really quick.

"Since I've been here, there seems like there is something new every day. That's different and that's exciting. That's a little bit unnerving- I'd be lying if I said it wasn't. That's the challenge from a professional standpoint, but it has been a lot of fun. The challenge of facing a new platform is exciting and to be at a place like Clemson. The first game I'm coaching and we're going to play against Auburn is pretty exciting."

Venables is facing off against another new coordinator in Auburn's Scot Loeffler, who was at Temple last season, and he said he knows that Auburn will try and run the football.

"He has a very extensive background and he has been at a lot of places," he said. "Obviously, he will emphasize the desire to run the football. He has been at places where they run the quarterback. He has been in systems where they run the "I" and the power game. He has also been in systems where they run the counter game and a really strong play action game. They will try to find their true bread and butter and go from there."

Auburn is also starting a new quarterback in Kiehl Frazier, who threw just 12 passes last season, and Venables said from his perspective it is more important to prepare for the system rather than the player.

"You prepare for a system. He is a big, strong, highly recruited guy with a strong arm," he said. "I think it goes without saying that they featured him in quarterback run situations last year. I am very aware of Frazier just coming out of high school in Arkansas. Being just a state away, I know they recruited him at Oklahoma. He's got a very live arm. He is a young guy that obviously they feel very strong about in naming him the starter over Moseley and the other guys there in camp. Expect a steady dose of him and their backs. They've got some terrific skill guys to surround him with at both receiver and tight end. He's got some great skill guys to surround him and a highly talented offensive line as well."

Venables on so many players being listed as co-starters

"Those people haven't necessarily separated themselves from one another - it can be a good thing. Guys are either both really pretty good or maybe there hasn't been as much separation as we want. Maybe somebody is a little bit better, but the other guy can play winning football. Some of it, maybe one guy was really good this week and not so good, then it flipped the other [way] the next week in scrimmages. At the end of the day, the 'starter' may not even play a majority of the snaps. It'll all shake out in the end," Venables said. "If there's an 'or' by it that means you'll probably see him at some point, sooner rather than later."

On Auburn being without starting center Reese Dismukes

"I've got my own problems. We have a bunch of new guys too who haven't played. You have to worry about yourself and make sure your guys have an understanding of what they need to do. You don't want them to do too much. We're not built for attacking with one particular guy. We're trying to build a system here where 11 guys complement each other."