| | |
| --- | --- |
| Venables: "There were times it was a clinic" | |
---
| | |
| --- | --- |
| Friday, November 15, 2013 1:34 AM | |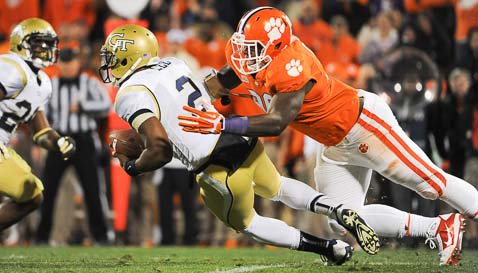 CLEMSON – The final numbers aren't particularly pretty, but much of Clemson's defensive effort Thursday night against Georgia Tech's flexbone offense was a thing of beauty, especially a dominant first quarter that set the tone.
The Yellow Jackets entered Thursday night's ESPN contest against Clemson averaging 311 yards rushing per game, and finished with 248 yards on 45 attempts. Overall, Tech wound up with 440 total yards, and someone who didn't watch the game would think this one was closer than it appeared. Tech was outgained by 111 yards and had only four fewer first downs than Clemson, but the Jackets fell behind 20-0 and 27-7 and had to chase the game thereafter.
Much of that was due to a dominant first quarter that saw Clemson's defense hold the Jackets to just three total yards on nine plays, something that Georgia Tech head coach Paul Johnson mentioned after the game.
"Well, the bottom line is we got our tails beat today," Johnson said. "They beat us in all the phases of the game and we got off to a terrible start offensively in the first quarter. We started the game off kicking the ball out of bounds, and they go down and get three points just like that. The first quarter went downhill from there."
Tech's fourth drive of the night saw the Jackets gain their initial first down of the night, but the Jackets had to punt three plays later, and the opening statistics were ugly – 13 plays for 24 total yards.
Clemson defensive coordinator Brent Venables

Brent Venables
Defensive Coordinator / Linebackers
View Full Profile said he thought that much of the first half showed the Tigers playing "suffocating" defense.
"It was a good win for us, but how they threw for 192 yards is beyond me. It's all part of the scheme I guess," Venables said. "But I am just pleased with getting the W. I really felt like one drive was it in the whole first half. It was suffocating, and again we leveraged things the right way and played disciplined football. We lost football a couple of different drives. And their success in the passing game softens you up in the running game, and you are slow to set the edge and not quite as sure and physical and they will get you on their heels a little bit."
Clemson rarely allowed the Jackets any running room inside, and the quick sweeps to the outside were shut down with frequency, leading Johnson to say that "it was never really clean on the edge."
Venables credited his front seven for making life difficult for quarterback Vad Lee.
"Really proud of our guys. I don't feel like they were able to consistently run the football," he said. "They got a few big runs on us, but we leveraged it, we tackled it and we swarmed it. I am disappointed in some of the big plays that we gave up. They are good enough that if you aren't precise and exactly where you are supposed to be they will hit their head on a goalpost in a hurry."
The Tigers also managed 10 tackles for loss.
"I bet you that they don't have that many normally. I am not tooting my own horn, but I bet if you have ten tackles for loss per game you will probably lead the country in tackles for loss," Venables said. "I know their fullback hadn't been tackled for a loss all season, and I don't know if we did or not but I bet it was close."
Venables was once again unhappy with a late touchdown – an all-too-often occurrence – but said that overall he was pleased with an effort that he thought looked like a clinic on how to stop the option for much of Thursday night.
"We were very disruptive up front. I thought those guys played well," he said. "I am pleased with our defensive line and our linebackers until that last drive and I thought those guys stayed on their feet and ran well. There were times when it was a clinic for a good part of the game."
Defensive tackle Grady Jarrett

Grady Jarrett
Jr. Defensive Tackle
#50 6-1, 290
Conyers, GA
View Full Profile said he felt like Clemson's defensive line hit the Jackets in the mouth early.
"I felt like we played good for about 90 percent of the game," Jarrett said. "They hit a few big plays on us. It was very important to set the tempo for the whole game really. Coming out and getting those three-and-outs was big for us, hitting them in the mouth right there at the beginning was big for us."