| | |
| --- | --- |
| Venables: The team with best defense will win Saturday | |
---
| | |
| --- | --- |
| Tuesday, October 13, 2015 5:31 PM | |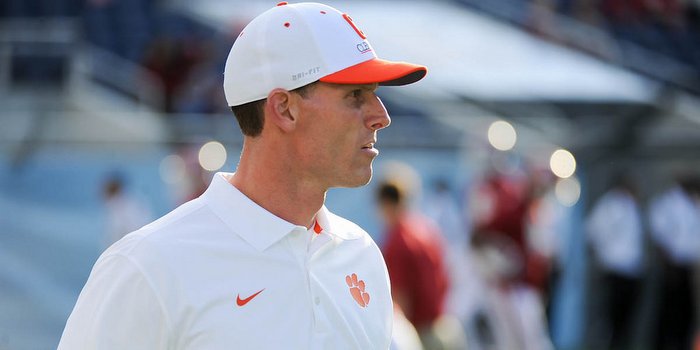 CLEMSON – Defensive coordinator Brent Venables

Brent Venables
Def. Coordinator / Linebackers
View Full Profile knows that visiting Boston College will bring the nation's top-ranked defense to town for Saturday's game, and while he doesn't get into comparing his defense to anyone else, he did make a bold statement Tuesday.
Clemson hosts Boston College Saturday in a 7 p.m. matchup in Death Valley. The Tigers are ranked 13th nationally in total defense, and the Eagles are at the top, giving up just over 140 yards per game. However, Venables can already tell you who will win.
"I think the best defense on Saturday - their team will win the game," Venables said during his Tuesday press conference in the WestZone. "I believe that whole-heartedly and I believe that is the challenge. I'm not real big on comparing us to someone else."
Boston College is struggling offensively – they've scored a grand total of just seven points in three ACC games – but Venables said they still present a challenge.
"They do everything. They probably have nine or ten different personnel groupings," he said. "We've got it whittled down. They use multiple people a variety of ways, which you'll see everything from empty to seven offensive linemen with three tight ends. A lot of shifting and motioning, pre-snap eye candy, as we call it. The emphasis is on the running - play action - and attacking you downfield when they do throw it. A good little screen game and attacking the edges of your defense with sweep game as well as the power game and counter game as well. Physical and mental challenge both and our guys really have to be focused and on point in regards to the adjustments."
The Eagles have gone with a two-quarterback system with Troy Flutie and Jeff Smith. Flutie, a redshirt freshman, has started the last three games. However, both Flutie and Smith have played extensively since the Eagles lost starter Darius Wade for the year to a broken left ankle in a 14-0 loss to Florida St. in the season's third week.
Venables doesn't see a lot of difference between Flutie and Smith.
"I don't really see a bunch of difference," he said. "Got different jersey's, different last names, different mama's, but really, they are mobile and run well. Young guys thrown into action because of their injuries. Guys have got good arms and can move."
The Eagles will also use a lot of two and three tight end sets, but Venables said the Tigers have seen that once before – in week three against Louisville.
"We work a lot of end over and tackle over - we work that a lot. Louisville had a couple of different packages where they used that, and our offense will occasionally do some stuff," he said. "That is always a part of our install, and we always try to give our guys familiarity. Even with field goal, they do some unbalanced four by two and tackle over and some tackle eligible stuff. So you're constantly - because it's different - trying to keep that in front of our guys, keep it fresh in their minds, what it is that we like to do and how that affects us."
As for the challenge of playing on the same field with another good defense, Venables said he hopes his players understand you can't rest on what you accomplished in prior weeks.
"I just hope what we're doing is the right thing and that we perform and come ready to play and do a good job preparing our guys. So, everything is week to week," he said. "What you did a week ago or two weeks ago has nothing to do with what you do this week. I'm a believer in that and you got to start over and put a good plan together and make sure your players understand what to do and that they go out there and play with an edge, energy and attitude and being physical and playing with discipline and technique and fundamentals and play hard. It's an emotional game, and they've got to bring that as well. I think it's going to be a great challenge where again you are going to see it going back and forth. I believe with my heart of hearts that the best defense that performs the best on Saturday will win the game."
Clemson defeated Boston College 17-13 a year ago in Chestnut Hill, and Venables said the Tigers were fortunate to come away with the win.
"I think they are a ball control offense that knows they have a great defense that is going to try and play well in possessing the football and taking advantage of things you might be doing," he said. "We were fortunate to win a year ago, with the same kind of an offense. They dropped some balls and had some guys wide open and gave up some big plays. We'll see some similarities to their plan and their approach.
"A heavy dose of run and a heavy dose of play-action to compliment it and a variety of trick plays to test your discipline. It really stresses you out. It's like Georgia Tech, you know you're going to get the run, but how in the heck are those guys running wide open? It really challenges you for sixty minutes. It's an in-depth preparation. It's not real simple. Every week is exciting and a challenge to get together a plan that gives your team and your players a chance to win. I don't think there will be a real margin for error this week."
Other notes
His philosophy
"I just think it is an aggressive philosophy. Hopefully, it's sound, and it's disciplined and there's technique involved and it's calculated. We're aggressive at attacking the edges without being unsound and all out. We teach our technique with an aggression and just an aggressive philosophy, and I think our players like that. It charges them up. Try to eliminate the gray area. Don't give guys too much to think about or be responsible for. I'm not a real big believer in a two gap type of philosophy. I don't think any offense is going to be successful if they are behind the chains, so we try to put them in that position. Our coaches do a terrific job at getting our players to understand what they want and how they want it. Our players understand all of what is involved because we have good teachers on our coaching staff that have developed them the right way."
On last week's win
"I'm real happy for our guys. It was a very strong performance. Regardless of who you are playing, to hand it off that many times and in the variety of ways that they do and the blocking schemes - it was a strong performance. Our players so often, I'm the worst, at finding all of the flaws and certainly there were plenty and then moving on to the next game and not giving them an opportunity to enjoy the success that they have along the way proverbial journey. It was an opportunity to take a quick pause for a few minutes and congratulate them and tell them what a great job they did, but remind them it validates the preparation that is involved - It is demanding. That is how you have that kind of success. It doesn't happen by chance, showing up and being all jacked up on game day - it happens well before we get to game day, so it's a little bit of both. We're proud of them. Nobody is beating our chest, but in the confines of our meeting rooms and as we talk through the game (what was good and what wasn't so good) you have to take a minute and say, "Look you guys, that was a special performance." You had a couple of blown coverages there that made it interesting. Overall, you felt in complete and total control of that offense, and that's not very often if ever can you feel that way against a Paul Johnson offense. Again, I very humbly say all of that, but our players do deserve some recognition, but that's in the past."