| | |
| --- | --- |
| Venables: "That is the best defense in the country right there" | |
---
| | |
| --- | --- |
| Saturday, November 29, 2014 9:25 PM | |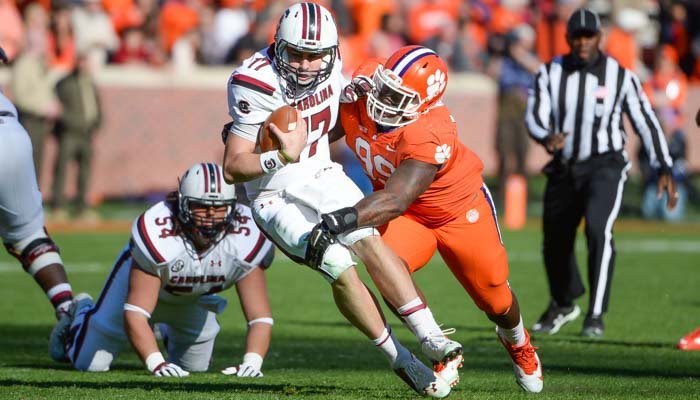 CLEMSON – The best defense in the country? Brent Venables

Brent Venables
Def. Coordinator / Linebackers
View Full Profile says yes.
Clemson's defensive coordinator was jubilant in the hallway outside of Clemson's locker room Saturday afternoon following the Tigers' 35-17 pummeling of arch-rival South Carolina, and was shaking the hands of every player and coach that crossed into his sight.
Once Venables settled down enough to start his interview, he made it known that he thinks the nation's best defense resides in Clemson's Death Valley.
"That was a lot of fun. I can't say enough about that senior class and all of those players, but particularly that class that was leading the way," Venables said. "That's the best group of guys I've been around. Day in and day out, the work that they've put in. They don't question anything. We gave up some leaky yardage out there today. We might not be statistically speaking the best defense in the country, but that is the best defense in the country right there. From beginning to end. What a neat accomplishment for those guys. I could talk about those guys forever. It was a lot of fun to watch those guys go out and perform."
South Carolina entered Saturday's contest with the nation's 27th best offense, averaging 461 yards per game. The Gamecocks also boasted the nation's 23rd best passing offense at 281.9 yards per game.
Saturday, South Carolina managed just 63 yards on 33 rushes and quarterback Dylan Thompson suffered four sacks on a 21-for-39 day. The Tigers also held South Carolina to no points after a first-and-goal at the Clemson two in the third quarter, and later held on another fourth down play.
Venables was asked if any plays stood out to him from the effort, and he said the fourth down stops.
"I usually just remember the bad ones to be honest. There were a bunch of great football plays in there. I just loved watching those guys battle," he said. "And then we had those fourth down stops. That was probably my favorite play of the day, that goal line stand down there. I think that was right after Steph got taken out of the game, and that was criminal. But that was a lot of fun."
He then went on to say that the Tigers were dominant at the line of scrimmage.
"They dominated the line of scrimmage and the run game and put them in some predictable situations. We were pretty active up front," he said. "Those guys can rush the passer, and if we can get them behind the chains like we did sometimes good things are going to happen. Winning the line of scrimmage was a big part of it today. And then the pressure - there were a lot of throwaways today. We were close all day today."
Venables said that while he has respect for what South Carolina can do offensively, he had confidence the nation's best defense would get the job done.
"We have great respect for them and what they do, but we were very confident. We knew that if we played with the discipline that it takes, and the physical toughness and the mental toughness and do it with great passion then we had a chance to play at a high level," Venables said. "But I am proud of the fact they sustained it for most of that game."