| | |
| --- | --- |
| Venables: "Saturday can't get here fast enough" | |
---
| | |
| --- | --- |
| Sunday, November 24, 2013 1:06 PM | |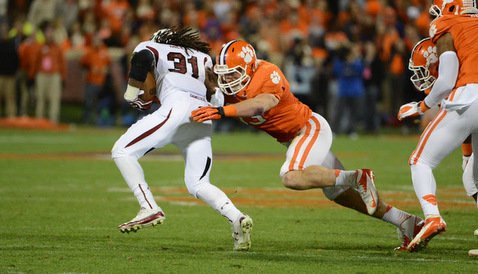 CLEMSON – Clemson players and coaches stood in the hallway outside of the locker following the Tigers' 52-6 win over The Citadel late Saturday afternoon, still flush with happiness after an almost-perfect Military Appreciation Day and Senior Day, when the expected questions began to flow.
When do you start preparing for South Carolina? How long do you enjoy this win before thinking ahead to South Carolina? Can the streak end this season?
To their credit, the coaches and players said all of the right things, even when defensive coordinator Brent Venables

Brent Venables
Defensive Coordinator / Linebackers
View Full Profile was asked if his defense had spent time preparing for the Gamecocks last week.
"I don't operate like that. I don't put the cart before the horse," Venables said. "Last week we invested time in The Citadel. That one is done so you go on to the next one. They're all important. No one game is more important than the other. We're not wired that way."
I asked Venables if he would start preparing for the Gamecocks late Saturday, and he said no, saying, "Maybe tomorrow, because we still have recruits here."
Then, he made it known how important next Saturday's contest between No. 6 Clemson and No. 10 South Carolina will be.
"They are a good football team and they have been a good football team," he said. "They've got good players. They're tough and disciplined. They're well-coached. It'll be a good challenge, one we're looking forward to. Saturday cannot get here soon enough."
Last season against South Carolina, the numbers were ugly for Clemson's defense.
South Carolina possessed the ball for almost 40 minutes of the game, converted 11of-21 third down opportunities and its only fourth down opportunity as backup quarterback Dylan Thompson – starting in place of injured starter Connor Shaw – looked like a Heisman candidate against Clemson's defense.
Thompson completed 23-of-41 passes for 310 yards and three touchdowns and rushed 14 times for 38 yards. In all, South Carolina rolled up 444 total yards of offense, including 134 on the ground, and had 26 first downs, with Thompson keeping many of the drives alive with either his feet or finding checkdown receivers wide open in the flat.
On third down, the Tigers were not only unable to stop the Gamecocks, the numbers were ugly in terms of the amount of yards the Gamecocks were able to gain when faced with a third down of longer than five yards – 19 yards, 19 yards, 19 yards, 34 yards, 24 yards and 20 yards.
Venables told me that his defense will have to play more aggressive this year, a defense that he feels is much better than it was this time a year ago.
"I think we're a better unit. Does that mean we'll play better? No it doesn't," he said. "We'll need a good week of work. We'll need to execute. You have to go have a go-for-broke attitude. You can't play timid on defense. Certainly not in this game. It'll be a good, physical challenge for us. Our guys are excited for that challenge. I think we're playing with a different level of confidence this year. We're playing at a more consistent level."
Senior linebacker Spencer Shuey

Spencer Shuey
Gr. Linebacker
#33 6-3, 230
Charlotte, NC
View Full Profile said a win over South Carolina would mean a lot for a group of seniors that have never tasted victory over the in-state rival.
"It would definitely be great for our seniors and really, for our entire program," Shuey said. "We haven't beaten those guys in a couple of years. They've definitely outplayed us the last couple of years. I feel like our defense has improved every single week, and we are way above where we were this time last year. They are a physical team, but they can also pass the ball effectively. It will be a tough challenge for us."