| | |
| --- | --- |
| Venables: Ohio St. offensive line will "bloody your nose" | |
---
| | |
| --- | --- |
| Tuesday, December 17, 2013 6:43 PM | |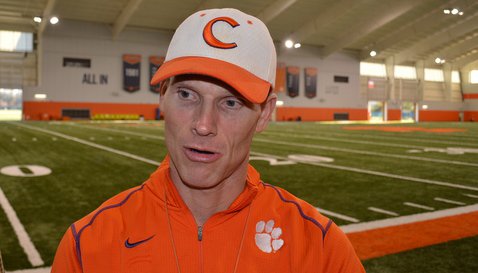 CLEMSON – Defensive coordinator Brent Venables

Brent Venables
Defensive Coordinator / Linebackers
View Full Profile knows his defense will have its hands full against Ohio St. in the Orange Bowl, and that stopping the two-headed monster of quarterback Braxton Miller and running back Carlos Hyde will be his first priority.
Venables heaped on the praise of the dynamic duo following Tuesday's practice, saying that Miller "has been an animal" and comparing the tandem to former Texas Longhorns Vince Young and Cedric Benson.
In other words, a tough task for any defense - the Buckeyes are third in the nation in rushing, averaging 317 yards per game, a big reason they are scoring over 46 points per contest. Hyde averages 140 yards a game rushing, sixth in the nation, and Miller is 33rd with 93.9 yards per game, fourth among quarterbacks nationally. Hyde averages 7.7 yards per carry and Miller is at 6.75.
"They are a pretty lethal combination. Miller and Hyde are as good a combination of quarterback and running back as there is," Venable said after practice. "They have power and speed. They cause a lot of people fits. They remind me of Vince Young and Cedric Benson. Ohio State attacks the edge and has power in the middle. They are good at everything. Hyde is a back who can break tackles, he just runs through people and over people quite often. Miller is like a running back, but he is an outstanding passer also. This will be our greatest challenge physically this year. It will take great technique and toughness on our part to defend them. We will have to get a lot of hats to the ball."
I asked Venables if Miller was more of a run-first quarterback than pass-first, and he said that the Buckeyes let Miller do both.
"They are the typical spread," he said. "They try to take the tops off on all those different runs. They have the jet sweeps and the powers and the zones. They have the reverses and the play-actions off of all of that stuff."
Venables said that it will take, "technique, toughness and attitude" to stop Ohio St.'s attack, and that Ohio St. will also run tempo.
They are also physical up front.
"They are really good up front, sound up front and really physical," he said. "They have athletic ability and they can handle movements and pressures. You don't see a ton of guys coming free. We will have to play physical first and foremost – this is probably our biggest challenge physically this year – because they play physical out on the edge. Hyde is a big physical runner, and we haven't faced anybody with Miller's speed at quarterback. They are both guys with top end speed and the power to run between the tackles."
Venables said that Ohio St. is the prototypical Big 10 team in that they are big and powerful, but that Meyer has added athleticism and speed to the offense.
"They've done a good job of recruiting athletic ability there, too," he said. "Ohio St. has always been a school that attracts high-level, elite offensive linemen, and you are seeing that with a group of guys that can both move and knock you off the ball and bloody your nose. They play with toughness and you admire them for that. They run downhill in crucial, crunch time situations. They aren't trying to trick you. They will run right at you and try to out-physical you, and they have been very successful at that."
Venables said he is using the extra time between now and the bowl game to good use.
"We don't play until early January, so we've been getting back to basics and fundamentals and being physical," he said. "We are getting familiar with what they (OSU) do and like to do. We are looking at what our plan is. But it will be simple – we have to tackle well, play physical and get off the field on third down. We have to leverage the football. Again, they are going to try and attack the perimeter and they do a good job of knocking you off the ball inside."