| | |
| --- | --- |
| Venables: No way to sugarcoat FSU loss | |
---
| | |
| --- | --- |
| Tuesday, October 22, 2013 4:58 PM | |
CLEMSON – Like all of Clemson's coaches this week, defensive coordinator Brent Venables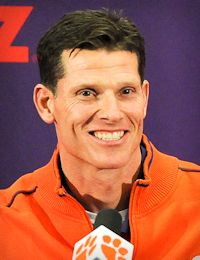 Brent Venables
Defensive Coordinator / Linebackers
View Full Profile wasn't in the mood Tuesday to sugarcoat what happened last Saturday in Death Valley.
Clemson's defense gave up 444 yards passing to the Seminoles and 565 yards overall, while allowing Florida St. to convert on eight of 12 third down opportunities, and Venables said Tuesday in the WestZone there was no way to gloss over what happened.
"Obviously there are mistakes to be corrected. You don't sweep it under the rug and act like it never happened. It happened," he said. "There were missed tackles and a freshman staring late in the backfield. I thought they worked us pretty good underneath. We have to play this game in an aggressive way. You can't play not to make mistakes and at times we did. At times we didn't.
"Kids know when you're real and when you're not. There is no way to sugarcoat it. You got beat by a good team. A lot of the success they had was due to them executing. And we helped them. It was the first game all year where we as a defense didn't match the precision. The effort was there but the execution and precision weren't what it needed to be. And if that happens, you can get exposed and exploited pretty quick by a good team."
He then said that there was only one way to deal with it in front of the player.
"You bring juice and energy and put facts in front of them," he said. "You understand it's not doom and gloom. Yes, losing stinks. It can never be acceptable. You point out what the mistakes were. You make sure everyone owns responsibility, coaches and players alike and you move on together. It's really pretty simple."
He also said that what he saw on tape reinforced what he saw in person from the sidelines.
"They blocked us and at times when we pressured, we weren't precise or violent enough. That's really it. There is no magic formula for how it works. You either beat a guy or you don't. They block you or they don't. You execute or you don't," he said.
Following the tough home loss, Clemson's second-year coordinator said he has good leadership from his veterans.
"Leadership has been what it's been, which is very solid. Nothing has surprised me with how they've handled it and reacted," he said. "And it's our jobs as coaches to guide them and lead them. It's easy if you allow it to happen to get led down the wrong road. We preach it at the beginning of the year: don't listen to outsiders, don't get distracted, don't ride the waves, invest in the process and good things will usually happen. We've been consistent with our message prior to our game on Saturday. It's easy to keep our guys bought in."
Other notes
On Maryland's quarterbacks
"Both have played a big part in helping Maryland get to 5-2. No. 7 (Caleb Rowe) has a good grasp of the offense. He's very accurate. Which one plays won't really have a bearing on us."
Cordrea Tankersley

Cordrea Tankersley
Fr. Defensive Back
#25 6-1, 190
Beech Island, SC
View Full Profile at corner
"He's a big guy and he's got speed. You have to work all the details out."
Martin Jenkins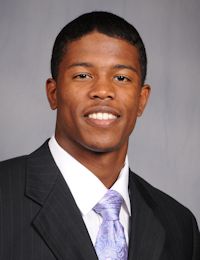 Martin Jenkins
RS Jr. Cornerback
#14 5-10, 180
Roswell, GA
View Full Profile at corner
"He works with the DBs every day, one-on-ones and corner technique everyday. He's arguably one of the top two guys there. He's every bit as good as the other guy. We're happy to have him out there."
The play of the safeties
"I just felt like overall - whether it's linebacker, corner or safety - we didn't play nearly as aggressive as we wanted to. They did a good job of converting some routes. We got some different looks. It kind of threw our guys off a little bit."
Maryland
"I think they have a strong offensive line. Their best players are at running back, tight end and quarterback so I'm sure they'll try to feature those guys. They are a spread offense as well. I'm sure they recruited well at receiver. They've got some big kids who look good who have played. I'm sure it'll be more of the same. They got to 5-2. I'm sure they're not going to completely reverse course with what they're doing offensively. We have to prepare for what we're seeing offensively. I'm sure they'll utilize their strengths."