| | |
| --- | --- |
| Venables: Move to Clemson was better than I had hoped | |
---
| | |
| --- | --- |
| Thursday, December 17, 2015 7:16 PM | |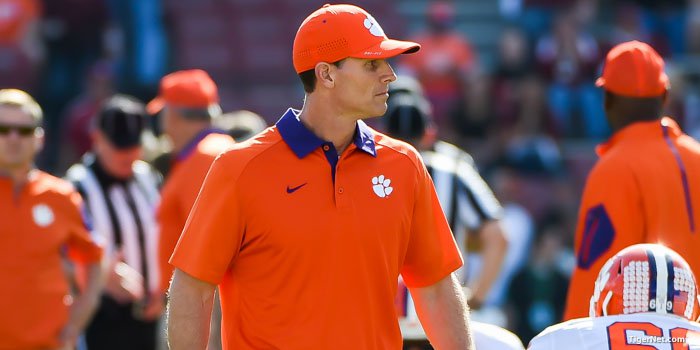 CLEMSON – In January of 2012, Brent Venables boarded a plane bound for South Carolina, and he experienced something that his testosterone-fueled intensity wasn't used to experiencing.
Fear.
Venables was Oklahoma's defensive coordinator and had coached with the Sooners since 1999, but when head coach Bob Stoops announced that Mike Stoops would be returning to Oklahoma to resume the defensive coordinator position he had held until 2004, Venables accepted the position of defensive coordinator at Clemson.
The move was terrifying.
"Sometimes there's too much testosterone to admit it, but I was scared for my family and scared for myself professionally. I was in a comfort zone in security of relationships and loyalty and the success we had," Venables said after Thursday's practice. "It's Oklahoma. That's not a stepping stone job. To walk away from that - it was the only home my children had known, and it was really hard. I took a leap of faith and believed in Coach (Dabo) Swinney and his family and the direction and the leadership, and I went on instincts as well. It's not like that was the first time I'd ever looked and saw what Clemson was doing. I saw it from afar. What I'd hoped it would be, it's been even better."
The move worked out better than Venables expected, and he said he's grown professionally. It's also helped his family.
"I think through the years as you gain experience - the Xs and Os or how you think - you're always trying to get better and improving everything. I think if you're not evolving then you're dying. I really believe that. It's helped me in a lot of ways, as much personally as it has professionally," he said. "This has been an incredible environment for my family and myself. To be under a new leader, it's been incredibly beneficial. I've learned a ton from Coach Swinney. I love the environment that our team is in and that I'm able to come to work in every day, where it's about the players and their well-being and keeping the main thing the main thing and continuing to pursue what's right by these kids.
"The winning and the success is a byproduct of having a healthy environment and a healthy locker room. When you believe in it and that's your passion, starting with Coach Swinney and the people he's surrounded himself with, that's been a lot of fun and really helped me grow and learn a lot professionally. Coach Swinney is a great example for all of us, players and coaches alike. I've benefitted in a lot of ways. I've been lucky to be at three places that's helped mold me into a coach, a man, a husband and a father. I've been around a lot of great mentors and leaders."
For the second time in a year, Venables must face his old boss and his old program. He said he had just a minor reaction when he found out the Sooners would be the Tigers' opponent in the Orange Bowl.
"Are you serious?' That was it and then let's go to work," he said.
He then recounted when he looked across the field last December and realized that former friends and colleagues were just over the white lines.
"Near the end. At the beginning or maybe beforehand seeing everybody, but near the end when you go over and shake hands," he said. "It's just part of the profession. You have to do that. Those guys have meant a lot to me and my family through the years, but we know what's at stake. We have a great stage to play on against a great program like Oklahoma."
Clemson beat the Sooners 40-6 that night, and he was asked if Oklahoma would have the emotional advantage when the teams renew acquaintances in two weeks after several players have taken exception to Clemson's "tombstone win."
"I don't see what the rallying cry is. That's not a rallying cry. Our guys came prepared to play. They didn't play particularly well," Venables said. "We had something to do with it. They had a lot to do with it, as well. We weren't 40-6 better than them, but we were on that night. We took all of our starters out of the game well before the game was over because Coach Swinney has respect for the players and respect for the game. That's how he is. We put a tombstone out there for any top 25 team that we beat on the road and have for years.
"We're not changing the tradition of what we do because we're worried about hurting somebody's feelings. That game was last year. There's a lot of those players that aren't here or there anymore. It has nothing to do with this year. I've never believed in revenge, and that's going to motivate you. The motivation is because you're a competitor. You recognize the challenge, and you want to win. They want to get that next one and have an opportunity to play for a national championship. You start using ulterior motives to get you fired up, I don't believe in that and I don't think they will either."
He also said he won't focus on coaching against people he considers friends.
"I don't put any focus on it. The only thing I would say is how will they think I think," he said. "That's about it. What will they say just in regards to your coaching philosophies? Everything has changed in some regards as well. I know they mantra and how they'll approach the game. I can hear it now. He'll be playing up the graveyard and last year's game and all of those things. Who wouldn't? It doesn't matter what I think and those relationships, at all. If you win the line of scrimmage, you don't let them run the ball, and you win the turnover battle, you win the game. It's pretty simple."
Venables won a national title with the Sooners in 2000, and he was asked about the opportunity he has to gain another ring this season.
"We had a bunch of other opportunities that we failed at miserably, but I always believe very confidently that we're going to be in the hunt at the very end, and every year there's this issue or that issue that prevented you from doing it," he said. "I value and respect how hard it is to get there and don't go overboard when you don't because I know how hard it is. You have to have some luck, and you have to have everything just right. It's usually quarterback driven. That's always a big part of it. You've got to stop people, but teams with bad quarterback play usually aren't in the picture at the end. You better be elite at some other spots. Every year is different, but I've always believed going into every year that if we don't screw it up that we'll be in the hunt. At the same time, I also understand how hard it is to get the stars to align and so forth."
Clemson will have the chance to play for a title provided they beat Oklahoma, and Venables said he likes the fact that this team doesn't realize just how good they can be.
"I think there are a lot of guys on this team that are a little bit naive to how good we can be, coaches and players alike. We have guys who like to go out and play. We have some talent with some guys with a chip on their shoulder," he said. "I think we were almost 14-point underdogs going into the national championship against Florida State. Being an underdog, I like that position. Apparently all of those seeds don't mean anything, so we're the underdog. Not many people think that we're going to make it past the 31st, but that's fine. That's why you go play. I like the position we're in."