| | |
| --- | --- |
| Venables: I don't need to be a head coach to be happy | |
---
| | |
| --- | --- |
| Monday, December 28, 2015 10:55 AM | |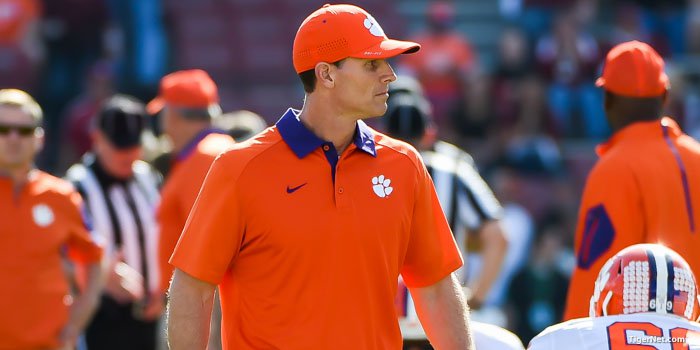 FORT LAUDERDALE, FL – Brent Venables' name comes up whenever a new head coaching job opens up across the country, and Clemson's fourth-year defensive coordinator has fielded calls from plenty of Power 5 athletic directors gauging his interest in their openings.
They can quit calling because he has everything he needs at Clemson.
Venables spoke to the media Monday morning at an Orange Bowl media opportunity, and he has was asked if he had the desire to be a head coach.
Venables' passion was evident as he took almost four minutes to answer the questions saying that he loves everything about his job at Clemson.
"I love my job. I love where I work, who I work with, the players that I coach. I love the simplicity of what I do," Venables told the media Monday morning. "I really value being somewhere where you can win and be successful. That to me, ultimately along with the people you work with defines fulfillment and happiness."
Clemson's defensive coordinator has coached at three different universities – Kansas State, Oklahoma and Clemson – and leaving two institutions he loved dearly were some of the hardest decisions he said he's ever had to make.
"I have seen so many coaches out there that prostitute themselves up the corporate, proverbial ladder and try to go to this job and this job," Venables said. "I have moved twice. The first time was not so bad. Emotionally, it was tough leaving Kansas State to go to Oklahoma, but I didn't have my family. I had my wife and that was it, so I didn't think it would really be a big deal.
"Leaving Oklahoma going to Clemson and everything that it entailed once we made the move - wow how incredibly hard that was. I have been very lucky to only have to move twice, but it was so incredible emotionally, physically and spiritually hard. It's very good at the end, but really, really hard. I would never want to turn my children's and wife's life upside down if I can help it. I was lucky. I left a great place in Oklahoma and found another great place in Clemson. I have been so blessed. I value that."
So, bouncing from job to job just to make a name for himself isn't something Venables particularly interested in.
"I really believe my job is better than a majority of the head coaching jobs that are out there," he said. "I have been consumed zero with the idea or trying to position myself to be a head coach. It is like one of those be careful what you wish for. I have seen it. I have been on staffs where you had a bunch of guys that were going to take that job. You can be a super coach all day, a five-star coach, but there are a lot of other outside factors that determine your success. There are not many places where you can have it all. I believe that I have been at a few places I have had it all and I don't want to let it go."
The 45-year old said he doesn't intend to coach for the rest of his life, but right now he enjoys the simplicity of just being a defensive coordinator.
"I'm not a spring chicken either. I'm not old. I'm not going to do this for 20 more years. Not in my world," he said. "I've got everything I need. I don't need more money. I don't need any titles. Let me coach my backers and my defense. I have had people that have reached out - Power 5 jobs. I don't need more money to be a head coach. I know those places. I love waking up everyday and being passionate about the product I represent, the people I represent, where I pull up to my parking space everyday."
In other words, he has everything he could as for at Clemson – a great coaching staff around him, great players, the ability to attract top talent and the opportunity to play for championships.
"There are a lot of people, not just in the coaching profession, that don't feel that way about their jobs and I do, so why would I jeopardize that? Maybe that is being on the safe side of it, but I don't need to be overly ambitious," he said. "I'm trying to make Clemson as good as we can be - to field a great defense and coach great players and to have a quality of life for my family. And we have it all. I'm just not really that interested in trying to screw that up."