| | |
| --- | --- |
| Venables: Clemson's fourth quarter was "disgusting" | |
---
| | |
| --- | --- |
| Sunday, August 31, 2014 9:34 AM | |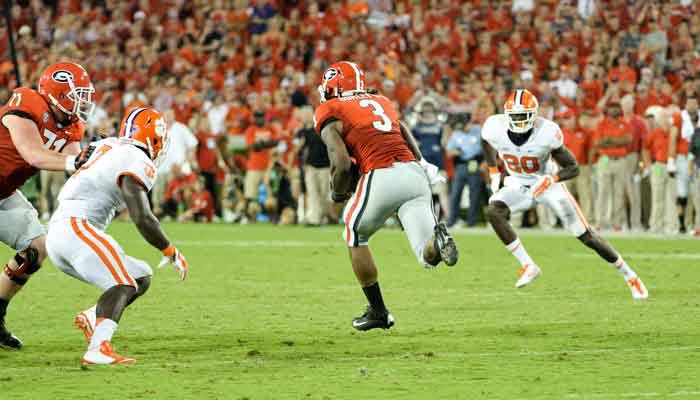 ATHENS, GA – There is nothing a defensive coordinator hates worse than having the opposing team run the ball at will.
Unfortunately for Brent Venables

Brent Venables
Def. Coordinator / Linebackers
View Full Profile , Todd Gurley and Georgia's stable of running backs did just that Saturday night. Gurley and company carried the ball 15 times for 211 yards – a 14.1 yard per carry clip – in the fourth quarter, most of which came in the final 10 minutes of the game.
The defense's inability to stop the Bulldog's rushing attack in their 45-21 win over Clemson Saturday night at Sanford Stadium was "disgusting" to Venables.
"There's nothing worse than letting someone run the ball on you," Venables told the media after the game. "That's me and that's my opinion as a defensive coordinator. Toss sweep left and toss sweep right. That's the foundation of who you are. They're going to make plays, but that last eight minutes was pretty disgusting. I'm proud of our guys' effort. They were just a little bit tougher and stronger and better coached in those last eight minutes."
Venables said that the toughness, effort and consistency that his group played with up until the last eight minutes of the game was outstanding, but momentum flipped and the defense just couldn't get a stop late in the game.
"We showed tremendous resiliency and toughness and purpose until about nine minutes to go in the game," Venables said. "We just couldn't change the momentum of the game and they were getting stronger and stronger. We started playing on our heels a little bit and they did a good job attacking the edge of our defense – not at the d-line as much as the edge in their spread and two-back game."
The breakdowns on defense weren't a lack of effort or motivation. It was purely fundamental and the scheme that Georgia ran with the toss sweeps.
"Disappointed, obviously, in our inability to leverage the football," Venables said. "We let them in their heavy personnel stretch us out and cut us back and stretch us out and cut us back. I thought we played too flat and we weren't as aggressive as we needed to be on those plays to give ourselves a chance. Those plays can't have time to develop. They stress you and the strength that those backs run with you have to get leverage now.
Venables takes full responsiblilty for the lack of fundamentals, but said that he wouldn't trade his group for anyone else in the country and won't give up on them after just one game.
"I did a poor job of coaching our guys and getting them ready for the game. Give Georgia credit," Venables said. "They pushed us around when it counted and wanted it a little bit more, but I'll take our guys any day. I love those guys. That wasn't reflective of them, but we've got to own it, get better from it. For a good portion of that game, our guys really fought their butts off and gave us a good chance to win. I thought we really played well as a team on the road and in a hostile environment. It was on the line and we weren't good enough. We didn't coach them good enough and turn the tide."