| | |
| --- | --- |
| Venables, Clemson defense thriving in close games | |
---
| | |
| --- | --- |
| Tuesday, October 21, 2014 5:01 PM | |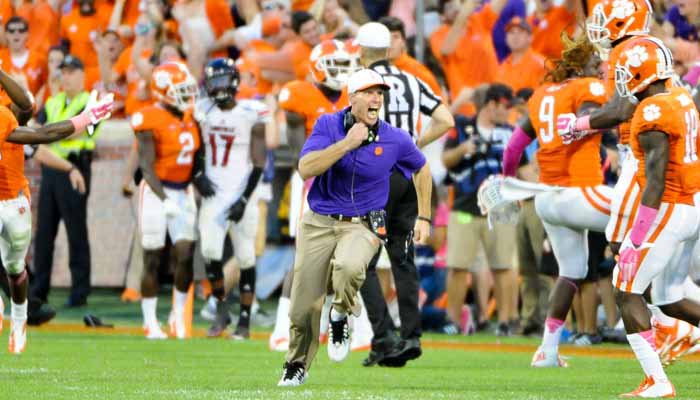 CLEMSON – Clemson's football team has played two thrilling games over the last couple of weeks, relying on the defense for a last-minute stop on both occasions in order to seal the victory. And while many fans may have been close to a panic attack or heart failure, defensive coordinator Brent Venables

Brent Venables
Def. Coordinator / Linebackers
View Full Profile was having fun.
Clemson held on to beat Louisville 23-17 weekend before last, and held off Boston College 17-13 last Saturday. Both games featured the Tigers holding the opposition on fourth down late in the game.
Venables told the media Tuesday in the WestZone that he lives for those kinds of moments but he also said that playing in and winning those close games can only help out this team down the road and that people should expect to see more tight games as parity takes over the sport.
"I think it builds both confidence and toughness. It helps our team become closer, where they have to really rely on each other and help each other out," Venables said. "Complement one another, and have that control what you can control kind of mentality. I love it. Trust me, I love beating somebody by seven or eight touchdowns, too, but that has its own set of issues believe it or not. I think there is a lot more parity in college football and you will see those kinds of games now more than ever. It is from the ability to get recruited easier, you have access to more information, kids are willing to travel for the right opportunities. Everybody has good facilities and everybody is on TV. I think there are more good players on teams now more than ever."
He was asked what make those types of games so thrilling for him, and he said it's the competition.
"Just the competition and the strategy, and where every play is the biggest play of the game," he said. "As a coach, you like to believe you have that mindset all of the time around your kids whether it is at meeting or practice. You want to hold them accountable, and those kinds of game are awesome for teaching and saying I told you so."
He then gave safety Jayron Kearse

Jayron Kearse
So. Safety
#20 6-4, 215
Fort Myers, FL
View Full Profile as an example of players buying in to what he is teaching.
"Jayron gives up a play in that game, and you would have thought the world had come to an end," Venables said. "And he hasn't really been that way in the past. That is maturation. But he was like, 'Oh my gosh, I may have cost us the game on that one play.' And fortunately, there was still a lot of ball to be played and we were able to overcome that. That is one small example of when you have that 'Aha' `moment on the sideline and you say, 'You're going to be alright. Let's go to work. Go get a stop.' And then he comes out there and might have had his best Monday practice I've seen, with his focus and that sense of desperation you want your guys to play with all the time."
Venables said that while preparation and talent can help in those down-to-the-wire situations, you also need another element to be successful.
"You aren't going to win every one of those - there is a stat out there where we have been pretty successful in one score game - but you need some luck in the game of football," he said. "We certainly had our share the other night, but you make your own luck, too, with effort. Teams don't always make the plays they are supposed to make all the time. I think you can get a lot from it, no doubt, and it feels better winning those close games for sure."
Defensive tackle Grady Jarrett

Grady Jarrett
Sr. Defensive Tackle
#50 6-1, 290
Conyers, GA
View Full Profile said he remembers losing a lot of heartbreakers during his career, and to be able to win some of the close ones has been thrilling.
"Just as a competitor, these close games have been really thrilling," Jarrett said Tuesday. "You have to go out there and get that stop to win the game. It's been fun because we've come out on top but it can be easily flipped the other way. These thrilling games are what you play for. Since I've been at Clemson I've experienced the best fo the best and the worst of the worst, and being on this side of it is exciting."