| | |
| --- | --- |
| Venables: "We smacked that quarterback around pretty good" | |
---
| | |
| --- | --- |
| Saturday, October 4, 2014 9:03 PM | |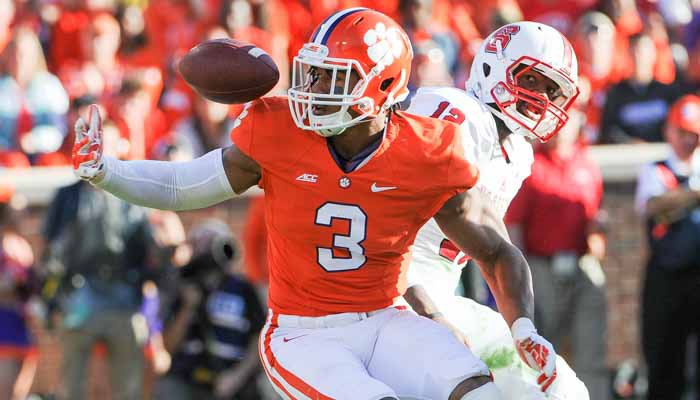 CLEMSON – Brent Venables

Brent Venables
Def. Coordinator / Linebackers
View Full Profile had a blunt assessment of what enabled his defense to not only pitch a shutout against N.C. State and quarterback Jacoby Brissett, but play with intensity for four quarters.
The State offense is centered on its talented signal caller, and Venables said Clemson was able to pressure Brissett for most of the afternoon, and smiled when he said, "We smacked that quarterback around pretty good."
Indeed, Clemson smacked around Brissett enough for three sacks and several hurries as the Pack gained just 156 total yards of offense. N.C. State gained 121 yards on the ground – much of it late in the game as Clemson played a bevy of reserves – but Brissett was just 4-for-18 through the air for a paltry 35 yards.
It was the largest margin of victory for the Tigers in the series – the previous high was 39-10 in 1985. Clemson last shut out NC State in 1962, a 7-0 Clemson win in Raleigh, and it was Clemson's first shutout since 2008 (54-0 SC State), first ACC shutout since 1998 (23-0 Terps), and first FBS shutout since 2006 (51-0 LaTech).
All in all, a good day.
"I am really proud of our guys and to have them rewarded with a shutout," Venables said after the game. "They are hard to get, and that was a very good football team. For 60 minutes they played with passion and inspiration and discipline, and the preparation and discipline showed. A week ago, we were a little humbled with the second half performance. If you have the right kind of focus and intensity, you can have these kinds of days."
Venables was asked if it was a case of State struggling offensively or Clemson's defense being just that good.
"Somewhere in between is probably the truth - they aren't that bad and hopefully we're that good," he said with a smile. "But those kinds of performances don't just fall out of the sky and it validates what we as coaches have been asking from them. It was really a terrific performance from everybody."
He then said that he was prouder of the fact that his defense played with intensity for four quarters than he was with the shutout.
"Just playing four quarters and playing well. The shutout is a byproduct of doing everything else right, and that is what is so pleasing and satisfying," Venables said. "You guys know me and our coaches - we aren't here patting ourselves on the back. Our job is to coach them to a high level and be consistent and that is what is most pleasing. They played hungry and they played tough and with great passion, and we smacked that quarterback around pretty good. He is a terrific player, but again that offense is centered on that quarterback and it's a great offense and our guys really rose to the occasion."
Venables called it his group's most complete performance and said he was proud of the way the unit responded after a tough second half against North Carolina last week.
"I thought today was the most complete performance against a quality opponent at the right time, again after the second half last week," Venables said. "We had to respond. If you want to become one of the better units in college football, that's what you do. You go and you perform and you're consistent and physical. Hopefully we will continue to show maturity and continue to work."
Stopping Brissett was the game plan, and Venables said accomplishing that goal started with the defensive line.
"Those guys up front. They aren't alone, but knowing where he is in the different calls and sets and guys just doing their jobs," he said. "Maintaining the appropriate rush lanes and staying on the edge of the offense and not allowing them rush lanes. That offense is successful based on play-action with a lot of motions and shifts, and our guys really dialed in early and did a great job. They really had the pedal down today."
Even offensive coordinator Chad Morris

Chad Morris
Offensive Coordinator / QBs
View Full Profile was proud of the defense.
"It's exciting. What a great effort by those guys. We were high fiving those guys on the sidelines," Morris said. "I was trying to jump on Coach Venables back at the end of the game. That was the first guy I found. A lot of effort right there. That's big time and I'm really proud of those guys. What a great team effort. That's what was impressive about tonight's win."