| | |
| --- | --- |
| Urban Meyer, Dabo Swinney talk Orange Bowl matchup | |
---
| | |
| --- | --- |
| Sunday, December 8, 2013 10:31 PM | |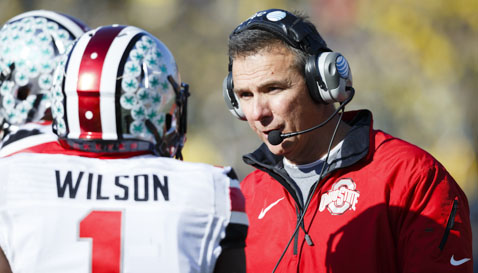 Click here to listen to the Orange Bowl teleconference
Clemson head coach Dabo Swinney

Dabo Swinney
Head Coach
View Full Profile and Ohio St. head coach Urban Meyer got to know each other while Meyer was a college football analyst two years ago, and the two coaches spent the better part of a half hour tossing compliments to each other during a Sunday evening teleconference with Orange Bowl CEO Eric Poms and the two coaches.
Clemson (10-2) will face Ohio State (12-1) in the Discover Orange Bowl on Friday evening January 3, 2014 at 8:30 PM at Sun Life Stadium in Miami Gardens, FL. This will be the second time in the last three years Clemson has played in the Discover Orange Bowl. Both teams are ranked in the top 12 of both polls entering the game. Clemson is 11th by USA Today and 12th by Associated Press, while Ohio State is sixth by USA Today and seventh by Associated Press.
Ohio St. – by virtue of being the higher-ranked team – will be the home team.
Poms said he expects a high-scoring matchup.
"We are very excited to host these historic programs, Clemson from our host conference the Atlantic Coast Conference, and Ohio St. from the B1G, which will be one of our new partners along with the SEC and Notre Dame as we move forward in the college football playoff next year," Poms said. "We anticipate a game featuring offensive fireworks. Both teams are averaging more than 40 points per game, and Clemson ranks 12th nationally in both points scored and passing yards. Ohio St. ranks fourth nationally in both points scored and rushing yards. Congratulations to both schools – we look forward to hosting you both."
Meyer's team saw its national title aspirations and 24-game winning streak end Saturday night against Michigan St., but he said he thinks his team will be ready to play against the Tigers.
"We had a good conversation after the game last night. They're heartbroken but they are competitors," Meyer said. "Playing in a BCS bowl against Clemson will wake you up real fast. It's one of the greatest groups of guys I've been around. There's no doubt we'll be excited to play in this bowl game."
Meyer said he was impressed with Clemson when he visited for a game two years ago.
"The first time that I witnessed a game in Death Valley was a couple of years ago," he said. "I didn't know Dabo (Swinney) that well before that. I was very impressed with that offense the first time I saw that. Very impressed with that atmosphere and the fans there. Lot of respect for Clemson."
Meyer's defense gave up 438 total yards to Michigan St. in the B1G title game, continuing a rough stretch for the Buckeye defense, and he was asked how he will begin to fix the defense in preparing for Clemson's fast-paced offense.
"We've already started that. The way the recruiting calendar has been organized, we have just one week left," he said. "Our staff left from Indianapolis to start recruiting. But we've already begun looking at it, though. There are certainly things we need to get fixed.
"I've seen them up close and in person. I recruited some of those guys. The athleticism of their receivers is ridiculous. They have a great quarterback who's tough to defend. No question. Their offense is great. What makes it go is the athleticism of their receivers."
On the flip side, Clemson's defense will have to contend with Ohio St. quarterback Braxton Miller.
"First of all Braxton Miller is a great winner," Swinney said. "He has lost one game in two years. He wins. He's a very capable thrower but he's like having a running back. He's fast, he's powerful and I've seen him play on several occasions. He's just outstanding and can beat you in a lot of different ways. It's why they ran the ball so well this year."
Swinney then said his team will get back to work later this week in preparing for an Ohio St. team that was ranked as high as second nationally entering the weekend.
"It's just us going back to work. Our guys are excited about postseason," Swinney said. "We had a couple of tough losses. We're trying to get an 11th win. We've never had that. This is just our second BCS bowl and we want to play well and represent the ACC well. Lot of great preparation will have to go into it. Our guys have already had some time off, but we'll get started back on practice this week. I don't have any doubt that they'll be excited. They're playing quite possibly the best team in the country. This is a huge challenge for us. I don't have any doubt they'll be focused."
The Tigers lost to South Carolina to end the season, but Swinney said he was still proud of what his team has accomplished.
"The postseason is a one-game season. You play your tail off all throughout the year," he said. "You get what you earn. There are seven teams in the country and only one ACC team with three straight 10-win seasons. We wanted that last one, for sure, but our guys have worked their tails off and are one of the most consistent teams out there. I'm proud of the season we've had. We're trying to have back-to-back 11-win seasons. What happened in the previous 12 games is behind us."
Clemson's previous trip to the Orange Bowl is well-documented, and he said the only thing he would change is the turnovers that cost his team.
"That was a great trip. The Orange Bowl folks did a great job and it was a fantastic experience for our team. We had great preparation and a great practice," he said. "We turned the ball over, though. If I could do something different, we'd hold on to the ball. We are a little bit different team. We had 42 freshmen on that roster and it was their first BCS experience. We have a lot of guys now who have been there. We'll have a great practice plan and great preparation. But we'll have to play a great game to have a chance to compete with a team like Ohio State. They'll be excited about it and we're looking forward to the challenge."
Meyer ended the teleconference by saying the Buckeyes – who were held out of a bowl a year ago – will take full advantage of having extra practices this season.
"We were almost in a panic situation a year ago. You take 15 practices out of a young player and you never get them back," he said. "Players had to make up those 15 practices on their own and they did that. That's why I have so much respect for them. Any coach will tell you that's critical to the development of a team. 15 practices, that's a game-changer. We'll take full advantage of that."

Click here to listen to the Orange Bowl teleconference