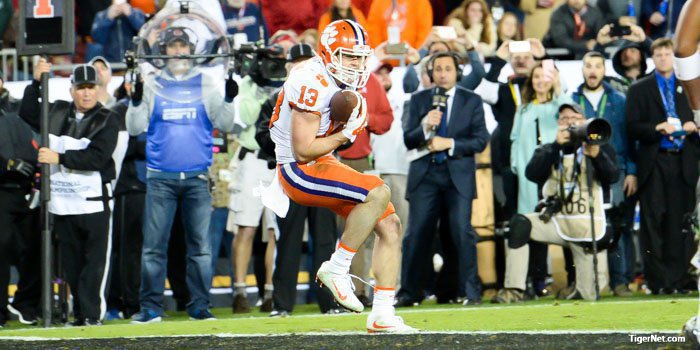 | | |
| --- | --- |
| Unknown No More: Renfrow embracing newfound stardom | |
---
CLEMSON – Just last year, Hunter Renfrow was nearly invisible as he traversed Clemson's campus, and he often was mistaken for a member of Tiger Band.
Now, the junior wide receiver can't even go to class without having a Sports Illustrated and pen shoved in his direction.
How does a former walk-on go from unknown to the most recognizable guy on campus?
You catch the game-winning pass in the National Championship.
Renfrow met with the media prior to the start of spring practice Wednesday afternoon, and he said that just in the last month he's signed thousands of copies of the National Championship edition of Sports Illustrated.
"I've signed close to 2,000 of them in the last month," Renfrow said. "I've definitely perfected my signature. It's been a good time and I've gotten to meet a lot of new people that I might not have met if I didn't score the touchdown and we didn't win. I'm a lot more appreciative that I caught the ball than if I would've dropped it."
The strangest requests Renfrow said he's gotten came from someone with stolen property from Raymond James Stadium.
"I signed a bunch of stuff for the Economics Department because I'm an Economics major," Renfrow said. "Some guy stole a drink holder from Raymond James Stadium and so he brought it all the way back to Clemson for me to sign. It's a cool piece of memorabilia."
However, just because he's the big man on campus doesn't mean his friends and family are treating him any different.
"I've got a great family. My girlfriend doesn't treat me any differently," he said. "She's a great girlfriend and she's taking it all in stride. They pick on me a little more. They have a lot more Sports Illustrated's they want me to sign."
The fame? Renfrow said there's nothing in the world he would trade it for.
"I think I was still on a high after the game and it (the magazine) came out when we were on the way back to Clemson," he said. "It was just cool for me that it wasn't Deshaun (Watson), Mike (Williams) or Jordan (Leggett). It was cool. It definitely cost me a lot of signatures and a lot of texts with people asking me to come over and sign some things, but I wouldn't trade it for anything."
Over the past 52 days since Clemson beat Alabama, Renfrow has watched the final drive and play countless times, but he said he still can't describe the feeling.
"I get that question a lot about can I put it into words, and I really can't," he said. "It's just an experience that you've dreamt about your entire life. It's why you go to work and you practice every day. It's something you get to share with your teammates. Unless you've played on a sports team, you don't really realize what it means to so many people and your brothers in the locker room."
And, he still doesn't remember much about the play, only the thoughts of finishing the job at hand.
"I didn't feel a thing (from the hit from the Alabama defender). I remember catching it and I knew I was going to get hit and I remember getting up and flipping the ball to the ref," he said. "I was just looking around to make sure there were no flags, so I was looking for yellow on the ground. My thought after that was, we've got one second left so let's go get this on-side kick and let's make sure we don't celebrate too early. I feel like some of the guys may have celebrated a little too early when we scored with five minutes left, so I didn't want to celebrate prematurely."
Every time he watches the aftermath of Clemson's second National Championship, he marvels at all of the emotion from the Tigers' sideline and the fans celebrating in the stands.
"My favorite thing when watching it is watching everyone's reaction. I like to see Coach Scott tackle Coach Swinney," he said. "I like to see Mitch Hyatt jump up in the air. Jay Guillermo - I scored and he's still trying to block someone. I like seeing everyone's reaction and see Deshaun sprint to the 50-yard line like he just hit a game-winning three or something. It's cool seeing their reaction and seeing everyone in the stands. One of my favorite things is watching the fans' perspective - seeing a guy in the 30th row take a video on the phone."
The 2016 season is over, however, and Renfrow knows the successes of last year won't win games in 2017, but he said he'll take confidence from the National Championship.
"I think the real confidence comes from practice, what you do in practice and what you do in the weight room and in the off-season," he said. "The separation is in the preparation. I have a little more confidence than I did two years at this time when I was walk on. It comes with preparation, so it's not necessarily doing it in games. It's knowing I can do it in practice against studs on our defense."
"I have a little more confidence, but what's gotten me to where I am now is what I need to carry on. I can't stop. If anything, I need to practice harder and prepare harder for what's coming next. I'm still Hunter and they still have to count on me to win games and I've got to count them."

Upgrade Your Account
Unlock premium boards and exclusive features (e.g. ad-free) by upgrading your account today.
Upgrade Now