| | |
| --- | --- |
| Unicorns, Utopia and Discipline: Swinney says being at Clemson not a birthright | |
---
| | |
| --- | --- |
| Thursday, July 16, 2015 3:10 PM | |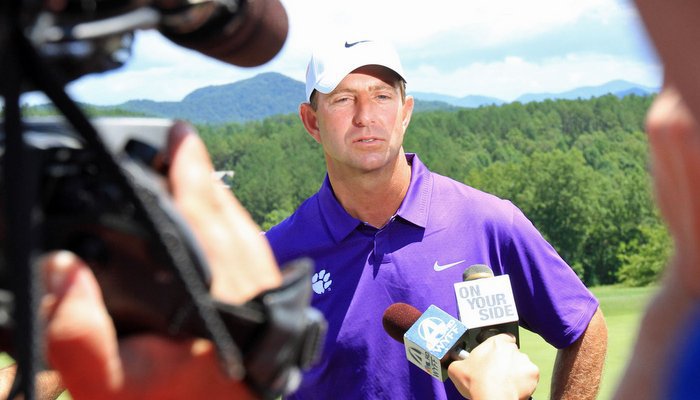 SUNSET – The offseason in Clemson was far from quiet, but Clemson head coach Dabo Swinney

Dabo Swinney
Head Coach
View Full Profile told the media Wednesday that the culture of discipline that has been a hallmark of his program is alive and well.
Swinney had to deal with the dismissal of defensive end Ebenezer Ogundeko

Ebenezer Ogundeko
RS So. Defensive End
#1 6-3, 250
Brooklyn, NY
View Full Profile , the suspension of kicker Ammon Lakip

Ammon Lakip
RS Sr. Punter / Kicker
#36 5-11, 200
Alpharetta, GA
View Full Profile and the news that enigmatic left tackle Isaiah Battle

Isaiah Battle
Offensive Tackle (2012 - 2015)
#79 6-7, 290
Brooklyn, NY
View Full Profile 's Clemson career was over and that he would declare for the NFL's Supplemental Draft.
For many other of the nation's top programs that is a relatively quiet offseason, but was chaotic for Clemson fans and coaches used to quiet offseasons spent reading the police blotters associated with other programs both near and far.
With that in mind, Swinney was asked if he worries that the culture of the Clemson program is changing, and he said no and reminded the assembled media on hand that there is no such thing as a perfect program.
"There is no utopia. If there are people out there anywhere that think there is a program in the country with 80-plus to 100 young people that won't have to deal with bad behavior or bad decision making from time to time, that place doesn't exist," Swinney said. "That's a unicorn. That just isn't reality. But it's the discipline and the consequences that determine the culture of your program. I don't worry about it. I know that from time to time someone is going to challenge the culture of your program and you have to reinforce those things. Every situation is dealt with on an individual basis. I don't have any concern about the culture of our program at all. Because if guys get in trouble, they're going to be dealt with."
Lakip was arrested in early June for DUI Refusal and possession of cocaine, and Swinney said he called a team meeting the next day to reinforce the culture he wants to permeate his program.
"I told the team the day after Ammon got in trouble, 'Hey we're sending Ammon home. He's not going to be here. You're not going to see him. It's an opportunity for you guys to step up. You older guys, take some of these younger guys under your wing and let's challenge them and push them.' Alex Spence

Alex Spence
RS Fr. Kicker
#47 6-2, 190
Florence, SC
View Full Profile has worked his butt off this summer," Swinney said. "Ammon's never given us a minute's problem. The guy does what he's supposed to do, but boy, what a bad mistake. Embarrassed himself. Embarrassed us. Not going to throw him away because he made this one mistake. He's going to be dealt with and there's going to be some pretty severe consequences for him. If he handles his business he'll have a chance to learn and grow from it."
Swinney said that within the confines of a typically boring summer, headlines can get blown out of proportion. He then said that he tries to give players multiple chances before excusing them from the program.
"That's unfortunate because 98 percent of the time, 112 out of 115 guys really had a good summer," Swinney said. "That's kind of boring. That doesn't get the headlines. I don't think you just kick people off teams; you have to discipline people. I know I made mistakes along the way in my life and I was held accountable. You either choose to respond and grow as a person, or you continue down the wrong path and it becomes habitual."
Given the issues that have surrounded Clemson's Atlantic Division rival in Tallahassee this offseason, Swinney said he hoped he didn't have players in his program that would strike a woman and that he would deal with similar transgressions in a severe manner.
"I think we've got a great group of guys. I hope I never have a guy go out and hit a girl — if he did, he wouldn't be here," Swinney said. "There's different levels of bad decision-making, and different levels of consequences, but we're not immune to anything. It doesn't matter to me if you're a starter or a fifth-team walk-on. I don't care. I really don't, and our guys know there is nobody that's entitled. Player, coach or administrator, there's nobody bigger than Clemson."
The players report back on August 3rd and the season opener against Wofford is just a little over seven weeks away, and Swinney said he wanted to move forward and talk only about the players who want to be at Clemson, saying playing for the Tigers was a privilege that shouldn't be taken lightly.
"That's not what we're here about today. We're about the guys who will show up August 3 and represent the Tigers when we get into camp," Swinney said. "Our guys know nobody's going to look the other way. We sit guys for things that most programs would never sit people for. But we do. Coaching and playing at Clemson is not a birthright. That's a privilege."