---
| | |
| --- | --- |
| Monday, August 3, 2015 8:01 AM | |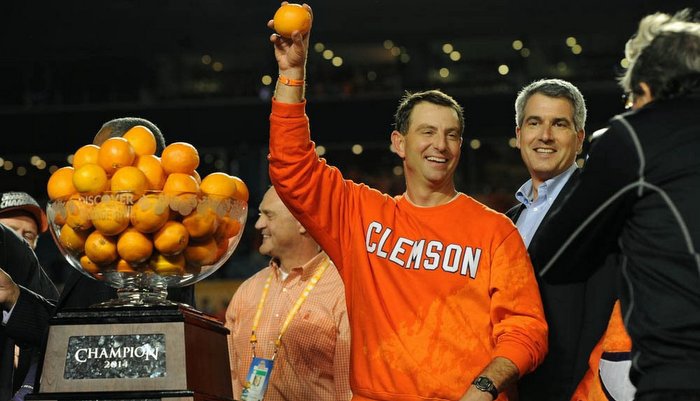 The Clemson Tigers have unfinished business.
The Clemson football team has been whisker close to elite status over the last four seasons, but another ACC Championship and a chance to play for the big prize have eluded head coach Dabo Swinney

Dabo Swinney
Head Coach
View Full Profile and his program. Can this be the season?
Swinney told ESPN's Ivan Maisel earlier this week that the difference between the seasons they've had and the truly great season is small.
"Just a few plays. Literally. We've learned to be consistent, and we've taken care of business," Swinney said. "We've won 27 games in a row versus unranked opponents. We've shown up to play. We've won a lot of games against top five, top ten, top 15, and top 25 ranked teams. We've been a very tough out. But that's what it takes."
Swinney took over the program in mid-2008 after Tommy Bowden

Tommy Bowden
Head Coach
View Full Profile 's ouster, and he said the program has been steadily getting better during that time frame.
"People want you to snap your fingers and boom you do something, but we had a lot of work to do," he said. "Over these past six years, we've been steadily going about our business. We won the league in 2011 for the first time in 20 years. We won 10 games for the first time since 1991, and I remember at the time people were excited about that. But my mentality was, 'Okay, this is good, and we've done some things we haven't done. But let's go put three, four or five 10-plus win seasons together and then people will take us serious. And we have to go play people, and we have to go win those games."
Swinney said the program has "matured."
"Now it's fun to look back and I know the work we've put in and the perceptions that were out there and I look up and we beat a 24-1 Ohio St. team," Swinney said. "We beat an Oklahoma team that was picked to win the National Championship in the preseason. We beat an LSU team that was picked to win the National Championship. We've beaten Georgia and Auburn and on and on and on. We've had some big, big wins. Every kid on our team, the only losses they have in their careers are to teams that finished in the top ten. So we have really matured as a program. So we've been really close but no one wants to hear that."
He then said that consistency is the key to having that special season the fans want and are looking for.
"So what do we have to do? We just have to stay consistent," he said. "We just have to keep working and stay committed to the formula of excellence that we believe in and have in place and continue to recruit the right people. We have to continue to have discipline in our program and graduate our players. I've had 120 seniors in six years and 115 of them have their degree. That is the greatest stat that we have. It's a play here, a play there. But if we can stay consistent then we are going to have that special season where we put it all together. But we have to win this league - that is where it starts. You win this league and then you have a chance to have good things happen for you."