| | |
| --- | --- |
| Tyrone Crowder's emergence a weighty matter | |
---
| | |
| --- | --- |
| Wednesday, September 10, 2014 6:57 PM | |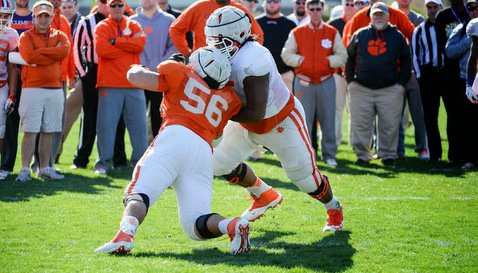 CLEMSON – It's all about the weight for Tyrone Crowder

Tyrone Crowder
RS Fr. Offensive Guard
#55 6-2, 322
Marston, NC
View Full Profile , whether it's the kind of weight you see when you step on the bathroom scale or the weights he throws around in power hour.
Crowder is a redshirt freshman right guard out of Marston (NC) Richmond High School, and when he arrived on Clemson's campus in the summer of 2013 many expected the 4-star prospect to possess the kind of talent that could lead to immediate playing time.
However, work on a senior project led to ride-a-longs with local law enforcement, and his weight ballooned to 380 pounds. During a Wednesday interview session in the WestZone, Crowder laughed at the notion that the extra weight came from spending too much time in the donut shop, but did admit that the increased weight led to the redshirt.
It also meant he was destined to spend a lot of time in Clemson's weight room and participating in the strength and conditioning program's Power Hour.
"Last year, I got mentally better and I got in the power program and got stronger," Crowder said. "That helped me a lot. Power hour is pretty awesome because we work on so many things, like technique. There are a lot of things that benefit you as an offensive lineman, so it really helps, especially with strength in my lower body. It helped trim down my weight and add muscle mass - I think I have the highest muscle mass on the team right now."
He said that Clemson's coaches were more disappointed than mad about his weight.
"They weren't really mad, they just told me what I had to do to fix it," he said. "I came in and had a great mindset about it and worked hard over the summer. In the summer program you run so much and lift and you burn all that fat down into muscle."
Crowder's weight has dropped to 325, he is benching a solid 425 pounds and squatting over 600 pounds.
"I see weightlifting as a way to gain an advantage against my opponents," Crowder said. "I am going to work hard in the weight room to get stronger, and that is one tool I can use to get better and gain an advantage over my opponent."
A lot of that hard work paid off for Crowder last Saturday when he finally got those first snaps with the offensive line in front of a Death Valley crowd.
"It was pretty awesome. Last year I had to redshirt, so I had to sit out the year and wait and watch everybody else play," he said. "So it was good to get out there and play in front of everybody and all of the fans. I also got to play against a few teammates that I played with in high school."
Crowder said line coach Robbie Caldwell

Robbie Caldwell
Assistant Coach / Offensive Line
View Full Profile gave him a passing grade.
"I just have to get my technique down. I have to work on it. Overall, he said I did good," he said. "I just went out there and had fun. Coach Caldwell, he is like a comedian, but when you get ready for game prep then the fun is all over then and then everything is serious. He is a great coach and I really have fun with him."
Another factor that can't be overlooked in Crowder's development is his competitive nature, something that he and roommate Scott Pagano

Scott Pagano
RS Fr. Defensive Tackle
#56 6-4, 292
Honolulu, HI
View Full Profile use to make each other better. I asked Crowder if there was one defensive lineman that has made him into a better player, he didn't blink when naming the defensive tackle out of Hawaii.
"Scott Pagano. We came in together and we have this rivalry against each other," he said. "Last year, when we had 1-on-1 drills we always got called out to go against each other. He made me better, and we are always working to get better. "
So who is stronger, Crowder or Pagano?
"Scott probably has me in the upper body, but I think I am overall stronger."