---
| | |
| --- | --- |
| Wednesday, August 19, 2015 8:06 AM | |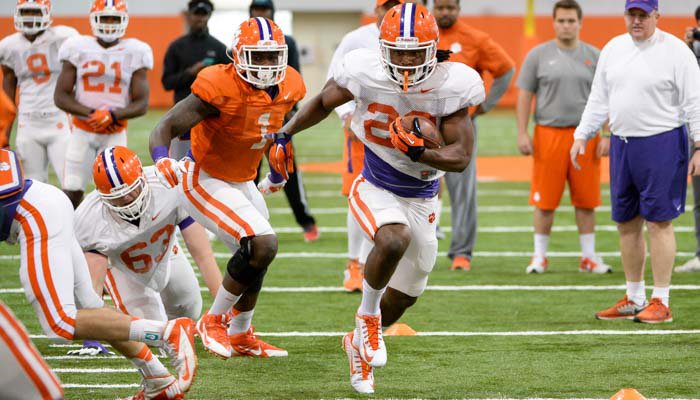 CLEMSON – Ty-Dye is back in style.
Tyshon Dye

Tyshon Dye
RS So. Running Back
#22 5-11, 215
Elberton, GA
View Full Profile , the rising sophomore running back from Elberton, Ga., missed the entire 2013 season while recovering from a back injury. During the following February, Dye tore an Achilles tendon. He could not participate in any of the spring or summer training sessions and wasn't cleared for practice until the first week in October.
Dye played in his first game on Nov. 6, and during the victory at Wake Forest rushed for 14 yards on five carries. He appeared in three of Clemson's final four games, including a 20 carry, 124-yard effort against Georgia St.
Dye was still heavier than he – or the coaches – would have liked, and he spent the off-season getting his body ready for the rigors of the season. He weighed in at 213 pounds a few weeks and told TigerNet Tuesday night that this is the best he's felt in his time at Clemson.
"You know what? I think I'm closer than I've ever been to being 100 percent and feeling like me," Dye said after Tuesday's practice. "I've been getting a lot better over camp. I've been seeing improvement. The coaches have been seeing improvement, and they're just telling me to keep working hard and I'll be back to where I need to be before I know it."
Dye broke several tackles during last Saturday's scrimmage, something he said was a step in the right direction.
"It's always good to do something good to boost your confidence, so I feel like that helped me out a lot," he said. "Right now, I'm just taking it day by day. It's a big, competitive atmosphere, and I think whatever role coach feels like I need to be in, I'll be glad to do it."
He said he still has days when the old injuries cause pain, but he's learning to push through the pain.
"It's more of my back than my Achilles," he said. "I still have problems with my back, but I just tell myself that I have to go hard, work hard and try to get better. It's not going to get better until I push myself, so I try to push myself every day."
Dye then took the time to give a scouting report on each of the running backs competing for the top spot.
Wayne Gallman

Wayne Gallman
RS So. Running Back
#9 6-1, 205
Loganville, GA
View Full Profile
"Wayne Gallman is a great back. He's got a little bit of everything. He reminds me a little bit of Adrian Peterson - that's his favorite running back. He does a little bit of everything. He does a lot of great things for us as far as power, quickness, in and out cuts."
C.J. Davidson

C.J. Davidson
RS Sr. Running Back
#21 5-10, 200
Clemson, SC
View Full Profile
"Davidson, he's more of the quick side. He's got better feet than all of us. He knows how to get around people. He knows how to make people miss."
C.J. Fuller

C.J. Fuller
RS Fr. Running Back
#27 5-9, 215
Easley, SC
View Full Profile
"C.J. has had a great camp. He's been doing really well. I think he's more of a power back - sort of where I'm at. He's lost a lot of weight and gotten in shape."
Tyshon Dye
"I've been having a better camp. I've been getting a whole lot better and finding my groove and getting to where I feel comfortable. I'm doing my thing."
Adam Choice

Adam Choice
So. Running Back
#26 5-9, 215
Thomasville, GA
View Full Profile
"Adam and I were kind of the same running backs and then we had some serious injuries to work through, so I feel like he's just going through what I've been through right now. He's getting that groove back."