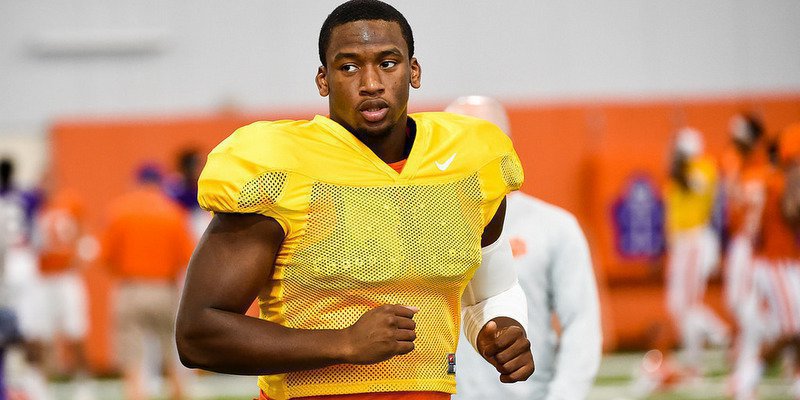 | | |
| --- | --- |
| Tuesday night nuggets: Col. Mustard marching band, Bryant still the starter | |
---
CLEMSON – Club Med is over at Clemson University as the pads came on and the Tigers went live for the first time in fall camp.
Clemson's fifth practice of fall camp was filled with the banging of helmets, the thud of shoulder pads and littered with a 'Colonel Mustard yellow marching band' as several players missed practice with various injuries.
The media met with head coach Dabo Swinney, defensive coordinator Brent Venables, running backs C.J. Fuller, Adam Choice, Tavien Feaster and wide receiver Ray-Ray McCloud.
We'll start with Swinney, who said that after five practices quarterback Kelly Bryant is still the starter after having five really good days and being the most consistent of all of the quarterbacks.
However, Swinney reiterated that there's a long way to go before Clemson takes the field against Kent State. He said that it's Kelly job to keep the starting job and Zerrick Cooper, Hunter Johnson and Chase Brice will have to unseat him.
Swinney said he expected Brice – who didn't arrive until July – to be a little behind, but he's shown no signs of being behind and is getting plenty of reps to make it a 4-man battle.
"Kelly Bryant is the starter just as he was at the end of spring practice. He has had five really good days of practice and has been the most consistent," Swinney said. "Hunter and Zerrick have been excellent, but right now Kelly is the most consistent. Chase Brice has played well also and has surprised me how well he has picked things up. I thought he would be farther behind at this point. We are currently 'repping' four quarterbacks. Kelly is still the starter. It is his job to stay there."
*Ray-Ray McCloud told us that he and the coaches talked about the move to cornerback during the offseason and he told them he would do whatever was needed to help the team. He worked one period of individual drills and one skele period with the defense and spent the rest of practice at wide receiver.
Swinney said they needed McCloud at wideout because both Cornell Powell and Amari Rodgers were out with injuries. He expects both to be back on Wednesday.
*On special teams, Swinney said there is a three-way battle between Will Spiers, Michael Batson and Carson King for the punting job, with Spiers having a little bit of edge.
They had a snapping competition to end practice and Austin Spence eeked out a win over Patrick Phibbs and Jack Maddox. Alex Spence and Will Swinney are working at holder.
*Swinney said he's been really pleased with all of the running backs, including freshman Travis Etienne, who continues to impress, Ty Thomason and Darien Rencher.
On third-and-one, C.J. Fuller broke off a 75-yard touchdown run.
*Feaster said he is as healthy as he's been since his freshman year of high school and feels good with the added weight.
He said that when the coaches make the decision on who will be the starting running back, that person "will be the best back in the ACC" because of the depth and talent in the running backs room.
Feaster told us that he was "too timid" last season coming off the shoulder surgery. He said he realizes now that he was afraid to get hit – at least at the start of the season – but settled in as the season progressed.
*The team will hold an evening practice Wednesday, a morning practice on Thursday, an evening practice on Friday and will scrimmage in the stadium Saturday.
*Spent 15 minutes or so chatting with defensive coordinator Brent Venables, and while we are going to save most of what he said for a story, there are still some nuggets to pass along.
Venables said he's been pleased with McCloud's work at corner and said McCloud not only knows how to play the position but is very instinctive. He said he's still not sure where McCloud fits – whether it's situational or a package designed for him – and then said that the other guys at corner have to prove they are better than McCloud.
I asked him about the depth at defensive end, and he raved about the work put in by Xavier Kelly. Said he was worried about Kelly after spring practice, but he can tell that Kelly has put in the work and now is doing the little things (stance, how he lines up, when to pinch, when to go wide) that are the hallmarks of good players.
Venables said that freshman Justin Foster and Logan Rudolph can also provide depth at end, and threw out that Christian Wilkins will continue to get snaps at the end spot.
*When I mentioned Tanner Muse, Venables broke out in a huge smile and said, "He's going to play. Sometimes freshmen play a hundred snaps and they think that isn't enough. I think 100 snaps for a freshman at a program like ours is a lot. He showed he can play, and he gets that chance again this season. He's 225 pounds and runs a 4.4 (40-yard dash) and he can hit you."
*Venables said that Dexter Lawrence is "moving great" and showing no ill effects of the screw inserted into his foot over the summer.
*Both Venables and Swinney raved about middle linebacker Tre Lamar. The more we hear about Lamar the more we think he will start in the middle with Kendall Joseph at the WILL spot. He also said that Chad Smith has been impressive, and then spent a few minutes talking about Shaq Smith.
He complimented Smith (Shaq) on how he handled being redshirted last season and said that he has worked hard on his technique and is cross-training at all three linebacker spots.
*Isaiah Simmons is getting a look at both safety spots and the Nickel spot. Venables said that Simmons might come across as cocky, but is in fact "very humble" and takes coaching very well. He said that Simmons asks good questions, and wants to learn. He will play, but it has yet to be determined where.
*Cornerback A.J. Terrell's cover skills have drawn some good reviews, and Venables said Terrell is working only at corner. He said that LeAnthony Williams "has been coached well" and is pushing for playing time.

Upgrade Your Account
Unlock premium boards and exclusive features (e.g. ad-free) by upgrading your account today.
Upgrade Now

Tags: Clemson Football
,
C.J. Fuller
,
Adam Choice
,
Tavien Feaster
,
Ray-Ray McCloud
,
Kelly Bryant
,
Zerrick Cooper
,
Hunter Johnson
,
Chase Brice
,
Cornell Powell
,
Amari Rodgers
,
Will Spiers
,
Michael Batson
,
Carson King
,
Austin Spence
,
Patrick Phibbs
,
Jack Maddox
,
Alex Spence
,
Will Swinney
,
Travis Etienne
,
Ty Thomason
,
Darien Rencher
,
Xavier Kelly
,
Justin Foster
,
Logan Rudolph
,
Christian Wilkins
,
Tanner Muse
,
Dexter Lawrence
,
Tre Lamar
,
Kendall Joseph
,
Chad Smith
,
Shaq Smith
,
Isaiah Simmons
,
AJ Terrell
,
LeAnthony Williams
,
Brent Venables