| | |
| --- | --- |
| Tuesday Nuggets: Clemson becomes media central as championship nears | |
---
| | |
| --- | --- |
| Tuesday, January 5, 2016 6:43 PM | |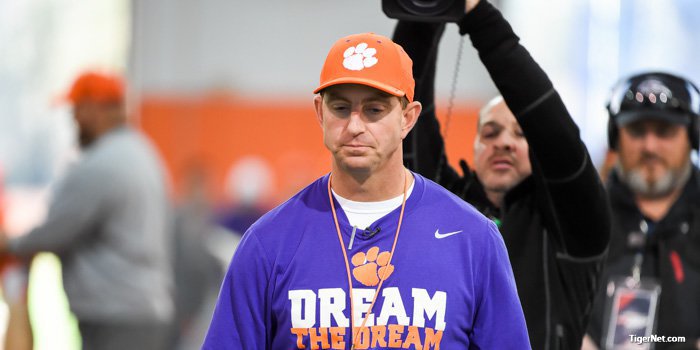 CLEMSON – There was a different feeling around Clemson Tuesday.
ESPN trucks were parked outside the WestZone, and the national media was on hand for Clemson's Media Day as the Tigers prepare for next Monday's College Football Playoff National Championship in Arizona. It was crowded, it was loud, and excitement was in the air.
Welcome to Championship Week.
All of Clemson's starters were brought to the fourth floor of the WestZone for interviews, along with head coach Dabo Swinney, co-offensive coordinators Jeff Scott and Tony Elliott and defensive coordinator Brent Venables. Former Clemson player Jeff Davis and former coach Woody McCorvey were also on hand to answer questions.
As one player put it - this is nuts.
One national writer – who shall remain nameless – looked around at the stadium and the improvements that have been made and then took a look at the drawings for the new football operations center. He was blown away.
"This is an embarrassment of riches around here," he said. "I expected it to be nice, but I never expected it to be like this."
The general feeling is that Clemson isn't a one-and-done type of team. The Tigers have the coaches in place, the recruiting is strong, they have the support of a rabid fan base, the facilities are already top-notch and getting better, and there is young talent across the board.
Things have come a long way in just a few years.
I wondered how Swinney would handle the zoo-like atmosphere on the fourth floor today, and watched the reaction of everyone on hand. They were – as expected – laughing along with his stories and eating out of his hand. I almost hated to break up the feel-good session by asking about Deon Cain, but somebody had to do it.
Now the rest of them know what we already knew – Swinney is like that all the time. He isn't fake and doesn't get by with one-liners or clichés. He's genuine, and it shows.
Defensive coordinator Brent Venables was in a good mood, but he took a shot at all of the doubters when he asked Sports Information Director Tim Bourret about the heat on the fourth floor. It was more than a little chilly during all of the interview sessions, and Venables finally shivered and asked Bourret why it was so cold.
Bourret said no one thought there would be interviews on the fourth floor in January and Venables laughed.
"So they doubted us, too? I thought they just forgot to pay the power bill," he said.
Once the interview sessions were over, the Tigers retreated to the practice field, and we have some quick observations.
*Defensive end Shaq Lawson was in a yellow jersey and looked really gimpy. He was working on the side with strength coach Larry Greenlee. If I had to guess, just based off of how he looked Tuesday. Lawson won't play a ton of snaps against Alabama.
Clemson coach Dabo Swinney said he liked what he saw from Lawson Monday.
"He looked good (Monday) running around," Swinney said. "He was a little sore. Was able to do whatever (trainer) Danny (Poole) wanted him to do. I'm very optimistic."
*Also in green (non-contact) jerseys were safety T.J. Green and offensive lineman Maverick Morris. Green got dinged up against the Sooners, but he told me earlier in the day he should be 100 percent for the Crimson Tide.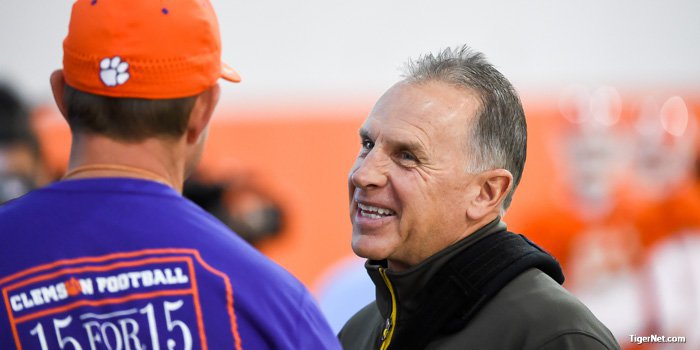 *Former baseball coach Jack Leggett was at practice, and he was wearing a sling on his right shoulder.
"I cracked my collarbone riding a mountain bike a week ago," Leggett told me. "Trying to act like I'm 25 when I'm really not. Of course, as you know, I've always had a problem with that."
*Swinney was mic'd up for the ESPN cameras during the session.
*Speaking of Swinney, the past few times I've watched practice I've noticed he's taken more of an interest and a hands-on approach to special teams. Punter Andy Teasdall told us Tuesday that Swinney called the fake punt against Oklahoma.
As for Teasdall, I told him that one national outlet wondered if Swinney called the fake punt against UNC to set up the call against Oklahoma. Teasdall laughed and rolled his eyes.
"I wish," he said.
*Finally, we heard that walk-on wide receiver Adrien Dunn was awarded a scholarship after practice. As we all know, a scholarship opened up after tight end Jay Jay McCullough was suspended last week. His Clemson career is over, so it makes sense that Dunn would be put on scholarship.
Dunn has played in six games this season and has two receptions for nine yards.