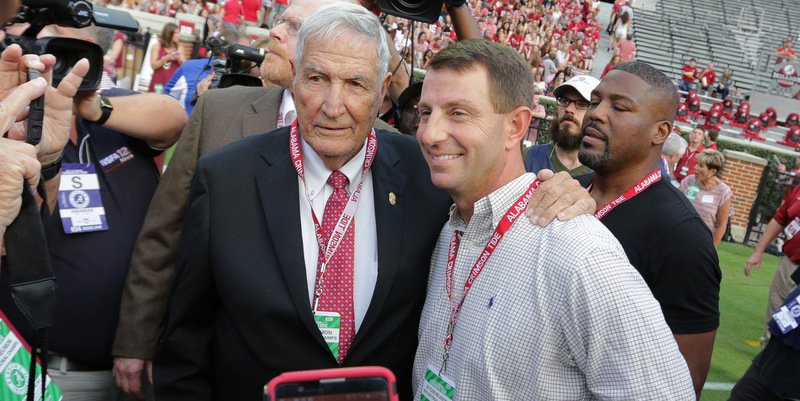 | | |
| --- | --- |
| Trip to Alabama "just what the doctor ordered" for Dabo Swinney | |
---
CLEMSON – One of Alabama's favored sons returned home last weekend.
Clemson head coach Dabo Swinney was in Tuscaloosa, Alabama, Saturday for the Crimson Tide's reunion of the 1992 national-championship team. Swinney was a wide receiver at Alabama in 1992, his third season on the team. After his playing career ended, Swinney spent eight seasons as an assistant coach for the Tide. He started coaching as an assistant at Clemson in 2003, before becoming the Tigers' coach in 2009.
Clemson lost to Syracuse in a stunning upset Friday, and the team plane made it back into Clemson in the early hours Saturday morning. A few hours later Swinney was back on a plane for Tuscaloosa.
"The last thing I wanted to do is get on a plane Saturday morning and go anywhere, but I'm glad I did. It was a very special day," Swinney told TigerNet Monday. "My senior year in 1992, I loved my teammates and I have such great relationships with so many of my teammates to this day, 25 years later. It's hard for me to believe that it's been 25 years."
Swinney said that while many in the Clemson community may have disagreed with his decision to attend the ceremony – especially on the heels of a loss – it was just what he needed. It also gave him a chance to spend time with Coach Gene Stallings.
"First of all, it was just great perspective for me. It was just what the doctor ordered," Swinney said. "Just seeing my teammates and spending time with them. They did a great job of how they organized it. There are six of us here that were a part of that (Swinney, Thad Turnipseed, Mickey Conn, Woody McCorvey, Lemanski Hall and Danny Pearman). With the way God worked it out, we had a game on Friday night. For me to have a Saturday is a rare thing. It's probably the last time we'll be together with Coach (Stallings). Coach just had a heart attack last week. When he said he was going, I really didn't have any excuse. We loaded up and we went up there.
"They were so helpful. They took us straight to the airport over to the stadium. We had about an hour and a half with just the team in the big letterman room with nobody in there. It was just the team - us and Coach. It was really a special time. I saw guys I hadn't seen since 1992. We've had a couple of reunions but not even close to the turnout. It was pretty much just about everybody. It was a special time. Everybody was just so complimentary of Clemson and what we've been able to do here."
Swinney especially enjoyed the time with Stallings, a friend and mentor.
"It was great just being able to be with Coach and have that special time. He was fussing at me. He was still being Coach and he said he didn't sleep all night," Swinney said. "He said he got up at 3 a.m. eating grapes and still mad about the game. He was walking with a cane. It was tough to see him like that, but it meant that much to him to get there. I was really thankful that I was able to go and be a part of that. They did all of the stuff in the pregame and then once they cleared the field they announced the team. It was great to be a part of that moment."
Once all of the pregame festivities ended, Swinney was on his way back to Clemson.
"I didn't see a play of the game. As soon as that was over, we were right back here," he said. "We were in Clemson by the second quarter. I'm thankful that I was able to go. Great perspective just for me. At the end of the day, you'll win some games and you'll lose some games, but the relationships that you make and the lives you get a chance to influence as a coach and the people who influenced my life and the teammates I had, that's really what it's all about. When it's all said and done, that's what you're going to remember more than anything, so I'm very thankful I was able to go."
Swinney received a standing ovation from the crowd despite being the head coach of the team that defeated Alabama for the title last January.
"Yeah. I had a lot of them wanting to take pictures with me. I told them, 'None of them wanted to take a picture back in January.' That just goes to show you that it's a little water under the bridge," Swinney said. "A little forgiveness in people's hearts. The Alabama folks were very welcoming. I was appreciative of that. Now, I'm excited to get back going and get this team back on the right track."

Upgrade Your Account
Unlock premium boards and exclusive features (e.g. ad-free) by upgrading your account today.
Upgrade Now