| | |
| --- | --- |
| Tricks and Treats: Clemson Halloween Thoughts | |
---
| | |
| --- | --- |
| Saturday, October 31, 2015 7:01 AM | |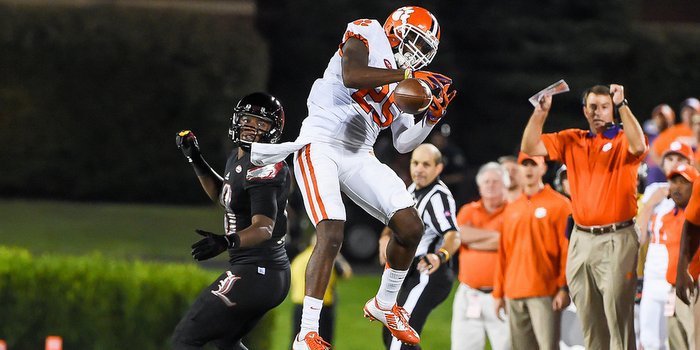 Happy Halloween, Clemson fans. Happy Halloween.
As you prepare for your Halloween parties or put the finishing touches on your children's costumes, the Clemson Tigers are preparing to put the finishing touches on the month of October and are hoping for far more treats than tricks Saturday night in Carter-Finley Stadium.
Despite winning 10 out of the last 11 in the Textile Bowl, traveling to Raleigh has been somewhat of a horror story for Clemson the last two trips, including 2011 – the last time Clemson lost to an unranked opponent – and in 2013 when Clemson beat the Wolfpack 26-14 in a game that never saw the Tigers comfortably pull away.
This year's Clemson team seems laser focused and not willing to overlook anyone, but crazy things can happen on Halloween night during a blackout in Carter-Finley Stadium, right? Common sense and knowing college football says, yes, but statistical analysis says not so fast, my friend.
As soon as the Miami game was over, I started looking toward N.C. State to see just what kind of team Clemson would be facing. On it's face, the Wolfpack are 5-2 and appear to have a pretty good season going, but you have to realize that their five wins came against Troy, Eastern Kentucky, Old Dominion, South Alabama, and Wake Forest.
Let's look at some of the numbers….
N.C. State's defense is ranked 11th is scoring defense, 15th in rushing defense, third in passing defense and third in total defense. However, the best offense the Wolfpack has faced has been Virginia Tech – a Hokie team that is 56th in the country, averaging 31 points per game and 67th in the country in rushing with 171 yards per game. The best passing attack N.C. State has seen is that of South Alabama, averaging 236 yards through the air.
On the flip side, Clemson is averaging 38 points per game, 215 yards rushing and 250 yards passing. On defense, the Tigers are giving up just 14 points, 105 yards on the ground and 159 yards through the air. Needless, to say this will be the best defense the Wolfpack has faced this season.
I'm not ready to say that this will get Miami ugly with a 58-0 beat down, but if Clemson plays the way they are capable of playing Saturday's game may not be close.
Speaking of Clemson's defense….
I listen to a lot of sports talk radio – both local and national – on my way to and from work, and whenever Clemson's defense is talked about fans and commentators are always quick to bring up the job that defensive coordinator Brent Venables has done in making the Tigers' defense one of the nation's best. Not to take away from what Venables has accomplished, as I think he is without a doubt the top coordinator in the country and Clemson wouldn't be in the position it's in today without him, but I think what Mike Reed has accomplished with the secondary is somewhat overlooked.
Venables came to Clemson in 2012 when former defensive backs coach Charlie Harbison was still on staff, but it wasn't until head coach Dabo Swinney brought Reed aboard that we really started seeing an improvement in Clemson's defense.
The defensive backs are head and shoulders above where they were in 2012 as far as fundamentals, technique and toughness. Reed has developed Jayron Kearse, Mackensie Alexander, T.J. Green and Cordrea Tankersley into NFL talent, with the first two being potential first round draft picks.
I also think the synergy between Venables and Reed is something that can't be overlooked. Venables likes to be aggressive in his play calling and isn't afraid to blitz, as he's shown time and time again this season, but with that style of play calling, you have to have the pieces on the back end that can play man-to-man and won't get burned when they're put on island. Clemson has all of that, making it a dangerous defense for any team to play against.
And, one final thought….
Swinney and the entire football program have bought into the one game at a time approach and the next game is the biggest game of the season mentality, but as media members and fans we are afforded the opportunity to look ahead.
Provided that Clemson takes care of business this weekend against N.C. State, the Tigers will return to Death Valley next weekend for one of the biggest games in program history. A win over Florida State puts Clemson in the driver's seat in the ACC and in the College Football Playoff. It would also mean that the Tigers would wrap up the ACC Atlantic title the following week with a win at Syracuse, ensuring a spot in December's ACC Championship Game.