| | |
| --- | --- |
| Top recruits in town as weekend camp session begins | |
---
| | |
| --- | --- |
| Friday, June 12, 2015 5:14 PM | |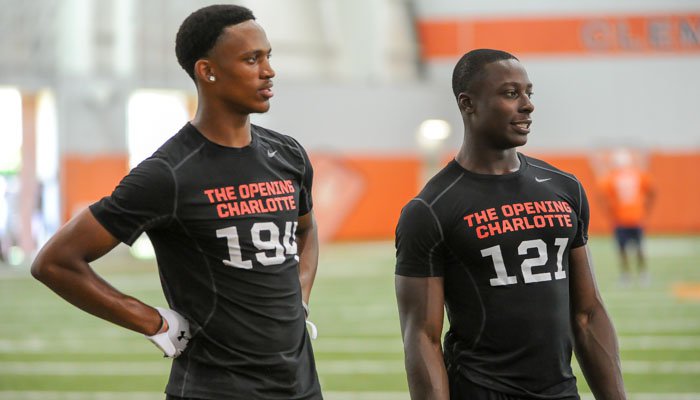 CLEMSON – The second session of Dabo Swinney

Dabo Swinney
Head Coach
View Full Profile 's high school is underway, and parking spaces and space on the football practice fields was at a premium with over 800 prospects, parents and coaches in attendance.
With so many high profile prospects in attendance, we are going to hit the highlights in this edition, along with sights and sounds. Let's get started.
Wide receivers
*A talented group of wide receivers was on hand for the Friday session, and two of those will be on hand all three days. Greensboro (NC) Page 2016 standout Diondre Overton

Diondre Overton
Wide Receiver
6-5, 195
Greensboro, NC
View Full Profile worked out with Jeff Scott

Jeff Scott
Co-Offensive Coordinator / WR
View Full Profile 's group, along with Greenville (NC) Rose and 2016 Clemson commit Cornell Powell

Cornell Powell
Wide Receiver
6-1, 200
Greenville, NC
ESPN:


View Full Profile . Powell and Overton are friends, and went through most of the drills side by side.
Joining the group was 2016 Lakeland (FL) receiver James Robinson

James Robinson
Wide Receiver
6-3, 190
Lakeland, FL
View Full Profile . Powell stood out in that group – he is smooth, he is built like a rock and he can fly. It also helps that he caught every single pass thrown his way during the 15 minutes I watched.
Powell was watched closely at one point by Swinney, who watched Powell perform a 20-yard out cut and then turn around to snatch a ball one-handed. It drew praise from both Swinney and Scott. Powell and Overton will each camp thru Sunday.
Defensive end
Spent a few minutes watching 2016 defensive end Michael Boykin out of Carrollton (GA). Boykin is listed at 6-6, 255 and he looked every bit of that during the afternoon session. He is long and strong, and had no problems in any of the drills we watched. In fact, I liked him better than anyone else I saw.
Boykin has offers from just about everybody on what I would consider to be second tier, but is being recruited hard by Clemson (even though he doesn't have an offer). Will be interesting to see if he leaves camp with a Clemson offer.
Quarterbacks
*Kellen Mond, San Antonio (TX) Reagan, a 2017 prospect with offers from TCU and several schools out West worked out with quarterbacks coach Brandon Streeter

Brandon Streeter
Quarterback Coach
View Full Profile . The dual-threat prospect received an offer from Auburn yesterday, and it was easy to see why during the session. His throwing motion has a small hitch – he needs to come over the top more – but he gets it where it needs to be and doesn't have any problem with arm strength.
Build-wise, he reminds of a young Deshaun Watson.
Odds and ends
*Remember former Clemson left tackle Philip Price? He was in attendance with two of his brothers. One of the younger brothers is camping this weekend.
*Cole Stoudt was back out to work with the quarterbacks, and he asked me if I liked my job. I responded in the affirmative and told him a few of the highlights, one of which was gathering up oranges that were thrown onto the field after Clemson's win over Virginia Tech in the ACC Championship Game (I still have several in my freezer). Stoudt said he saved one orange, just so he could eat it the following Monday when he got out of class.
He said he got back to his apartment, walked through the door and defensive end Corey Crawford was sitting on the couch watching television and…popping orange slices into this mouth. Stoudt let loose a few choice words while Crawford claimed he thought it was "just a regular old orange."
Sounds of the game
*Running backs coach and offensive coordinator Tony Elliott

Tony Elliott
Co-OC / Running Backs
View Full Profile was going through drills with the backs, all while wearing a boxing glove he used to try and punch the ball loose. One running back ran to Elliott, stopped, and then jogged the rest of the way, drawing Elliott's ire.
"Oh no. You don't quit on my drill," Elliott said. "You quit on me. Do not quit on me. You get back there and you do it again. I don't care how hot it is. We are going to get our money's worth out here, I will guarantee you that."
*Defensive ends coach Marion Hobby

Marion Hobby
Co-DC / Defensive Ends
View Full Profile is usually good for a quote or two and today was no exception. He was explaining a drill to a group of confused-looking youngsters and said, "Remember guys. Defensive ends are the best athletes on the field and we are also the smartest. The smartest." He then gave a wry smile and walked away.