| | |
| --- | --- |
| Top five moments of 2014? Too many to choose from | |
---
| | |
| --- | --- |
| Friday, January 2, 2015 9:57 AM | |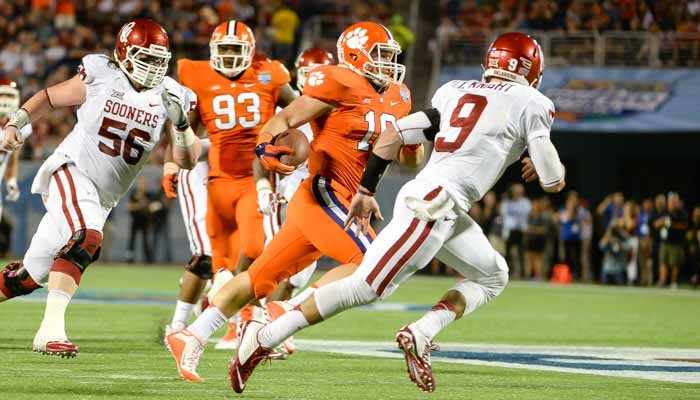 Clemson's 2014 was filled with many memorable moments, and early on Thursday we took a look at some of the top stories of the year but I wanted to take a look at my top five moments.
The story about the stories was merely a reflection of fan views and didn't necessarily reflect the biggest moments that occurred in 2014. That's the reason for this list. And, like any list, this is merely my top moments and won't be the same as a list you might make.
Please comment and leave your top moments.
5. Stephone Anthony

Stephone Anthony
Sr. Linebacker
#42 6-2, 244
Polkton, NC
View Full Profile 's interception to clinch the Orange Bowl
Sammy Watkins

Sammy Watkins
Wide Receiver (2011 - 2013)
#2 6-1, 205
Fort Myers, FL
View Full Profile had a night to remember and Clemson's offense was superlative, but the Tiger defense battered Buckeye quarterback Braxton Miller most of the night, but the Buckeyes had one last chance to grab the win.
Clemson quarterback Tajh Boyd

Tajh Boyd
Quarterback (2009 - 2013)
#10 6-1, 225
Hampton, VA
View Full Profile had just thrown his second interception of the Orange Bowl to give Ohio State good field position with less than two minutes to play. The Buckeyes trailed the Tigers by five and stood ready to drive starting from the Tigers' 48-yard line. On the first play from scrimmage, however, Miller was intercepted by Anthony, ending OSU's hope of finishing the season off with a win. The Tigers would run out the rest of the clock for a 40-35 victory.
The interception gave the Tigers the win, and ended the BCS era with a win for the program and set the tone for what would be a stellar 2014 defensive campaign.
4. Stopping Louisville on 4th down at the goal line
An early October ACC matchup between the Tigers and Louisville hinged on a 4th down, goal line stop by the Tigers late in the game.
The play was set up when safety Jayron Kearse

Jayron Kearse
So. Safety
#20 6-4, 215
Fort Myers, FL
View Full Profile ran down Louisville receiver James Quick from behind on the first play from scrimmage after Clemson had taken the 23-17 lead. Will Gardner hit Quick on quick strike to the sideline, and it appeared Quick would run free for a touchdown but Kearse quickly closed the distance and stopped Quick at the Clemson eight yard line.
Four plays later – on a play that Clemson knew was coming – defensive tackle DeShawn Williams

DeShawn Williams
Sr. Defensive Tackle
#99 6-1, 292
Central, SC
View Full Profile batted down Gardner's last-gasp pass.
3. Superman takes flight
We all knew Deshaun Watson

Deshaun Watson
Fr. Quarterback
#4 6-3, 204
Gainesville, GA
View Full Profile was special. In fact, we watched Watson walk into practice last week without much of a limp, while Stanton Seckinger

Stanton Seckinger
RS Jr. Tight End
#81 6-4, 241
Isle of Palms, SC
View Full Profile (who had surgery one day apart from Watson) come in on crutches. That made one reporter remark that he didn't think Watson was an actual human.
However, during the Tigers' dominating win over NC State earlier this Watson showed just how special he can be as he leapt over a Wolfpack defender and into the endzone for a touchdown that put the Tigers up by three scores in what would turn out to be a 41-0 win.
Watson jumped up and paid homage to Cam Newton by mimicking Newton's "Superman" move.
There were other Watson moments – the throw against Georgia and the throw to Mike Williams

Mike Williams
So. Wide Receiver
#7 6-5, 208
Vance, SC
View Full Profile in that same game, but I will always remember the leap into the endzone.
2. Cole Stoudt

Cole Stoudt
Sr. Quarterback
#18 6-4, 231
Dublin, OH
View Full Profile 's performance in the Russell Athletic Bowl
The senior quarterback has drawn way more than his share of criticism this season, and I've seen Clemson fans call him names and bash him and wish all manner of bad things to happen to 18. There have been nasty pictures and memes on social media, elevating Stoudt to reviled status among a certain segment of the fans.
Stoudt never responded in a negative manner – he was class all the way – and got the last laugh when he threw for over 300 yards and three touchdowns and led the Tigers to a 40-6 win over Oklahoma in the Russell Athletic Bowl.
Stoudt got confidence early when Artavis Scott

Artavis Scott
Fr. Wide Receiver
#3 5-11, 190
Oldsmar, FL
View Full Profile made a big move to score a 65-yard touchdown on Clemson's first offensive play, and he responded with the best night of his Clemson career. For those of us who have had to deal with Stoudt and have been taken aback at all of the negativity surrounding a young man who has represented the Clemson program with nothing but class it was a satisfying moment. Stoudt walked into the postgame interview area after the win cradling his much-deserved MVP trophy with a huge smile on his face.
1. One streak ends and another begins
Watson once again proved he might not be human when he beat South Carolina on one good leg, ending South Carolina's five-game winning streak in the series. Clemson's coaches and players were full of confidence heading into the game, and Scott and Watson and the Clemson defense put the streak to rest with a terrific performance.
It's hard to look into the future and predict what will happen, but the current direction of the two programs seems to indicate that Clemson might go on a run of their own. Five in a row? Who knows, but four out of five or even better isn't out of the realm of possibility.
Honorable mention moments and happenings
The rise of Clemson's top-ranked defense
Mike Williams' laying out to make the TD catch against the Pack
Ben Boulware

Ben Boulware
So. Outside Linebacker
#10 5-11, 235
Anderson, SC
View Full Profile 's INT return for a TD against Oklahoma
Vic Beasley

Vic Beasley
RS Sr. Defensive End
#3 6-2, 236
Adairsville, GA
View Full Profile 's strip of Dylan Thompson in the SC game
Vic Beasley's strip and TD against UNC
Any play that involves Grady Jarrett

Grady Jarrett
Sr. Defensive Tackle
#50 6-1, 290
Conyers, GA
View Full Profile
Scott's tiptoe run down the sidelines against SC
Watson's throw to Charone Peake

Charone Peake
RS Jr. Wide Receiver
#19 6-3, 204
Moore, SC
View Full Profile for a TD against Georgia
Scott's 65-yard reception against Oklahoma
The underclassmen waiting for the seniors at the bottom of the hill before the SC game
Watching MacKensie Alexander

MacKensie Alexander
RS Fr. Cornerback
#2 5-11, 190
Immokalee, FL
View Full Profile on any given play

Tags:
Vic Beasley
,
Tajh Boyd
,
Grady Jarrett
,
Charone Peake
,
DeShawn Williams
,
Stanton Seckinger
,
Stephone Anthony
,
Cole Stoudt
,
Sammy Watkins
,
Mike Williams
,
Ben Boulware
,
Mackensie Alexander
,
Jayron Kearse
,
Deshaun Watson
,
Artavis Scott