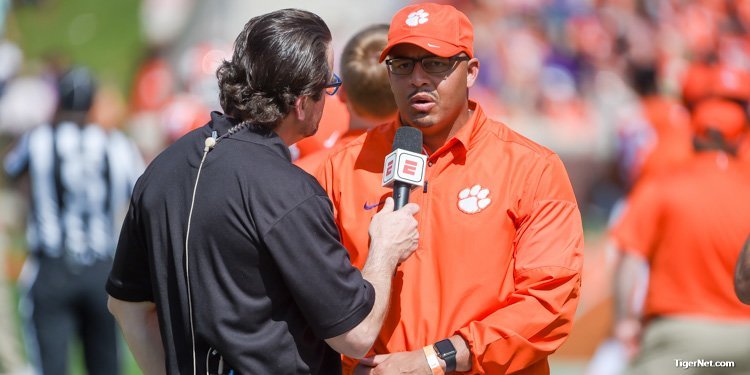 | | |
| --- | --- |
| Tony Elliott: Lessons learned from Chad Morris, Swinney preparing him to be head coach | |
---
| | | |
| --- | --- | --- |
| Monday, November 11, 2019, 5:07 PM | | |
CLEMSON – Former Clemson offensive coordinator Chad Morris was fired as the head coach at Arkansas Sunday following a blowout loss to Western Kentucky. For current co-offensive coordinator Tony Elliott, there are lessons to be learned from the Morris situation and lessons to be learned from watching Clemson head coach Dabo Swinney.
They are lessons that will be applied when Elliott becomes a head coach.
In less than two seasons, Morris was just 4-18 overall since replacing Bret Bielema in December 2017 and was winless in 14 SEC games. Arkansas suffered its second embarrassing home loss of the season on Saturday in a 45-19 setback to Western Kentucky. The Hogs also lost 31-24 at home to San Jose State on Sept. 21, triggering a seven-game losing streak. Morris left Clemson to become the head coach at SMU and then moved on to Arkansas after Bielema's departure.
Elliott has reached to Morris but hasn't heard back. He also remembers the first day he met the man who would become his boss.
"My first day on the job was picking him up from the airport," Elliott said Monday. "It was snowing. I can remember that, it was snowing, and I'm like please, please let me be able to get to the airport to pick up my new boss. I sent Chad a text. I haven't heard back yet, and I understand he's busy, so I didn't expect to hear back right away. And that's a difficult situation. I've been there once before. All I can say about that is I know the type of person Chad is, I know what type of coach he is. I'm grateful to Chad."
Elliott said he has no doubt that Morris will come back stronger than ever.
"I'm very grateful to him and his family for his willingness to believe in Coach Swinney to come and bring this style of offense and be willing to give me the ability to grow and develop in the offense and giving me some responsibility, which ultimately prepared me to be in this position," Elliott said. "But I have no doubt that he's going to bounce back. It's just tough for any coaching family to go through a situation like this because at the end of the day, I don't believe there's any coach out there that wants to do a bad job. I think every coach wants to do a good job and they do what they believe they need to do to get the job done, and sometimes it just doesn't work out and that's the unfortunate piece of it. So, just praying for him and his family, but I know the kind of man he is. I know he'll bounce back."
Elliott's name has turned up in coaching rumors over the last several seasons, but he hasn't found the right fit. When he does find the right fit, he will know.
"I don't believe so because I try to be an individual that operates based on faith and not what I see," Elliott said. "And so for me, when the time comes, it's going to be spirit-led. I just have to trust that it's the right move, and then you just put your head down and you don't worry about that kind of stuff. I think that's what we've been able to do as a program is to block out all the noise on the outside — who cares what's going on around college football and focus on our formula for success. So for me going forward when that time comes, it's going to be more spirit-led and focusing on the task at hand than what's going on outside, if that makes sense."